How to cut printed packaging film & avoid defects
Printed and plain plastic films are the most flexible packaging formats available today.
Printed packaging film - the most used packaging in the world
Printed and plain plastic films are the most flexible packaging formats available today. Since high-quality and multicolor printing on film creates opportunities for stronger positioning with end consumers, such flexible plastic packaging is found everywhere.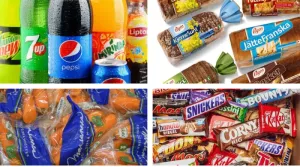 Flexible packaging is the fastest growing packaging type and is popular because of enhanced shelf appeal and lower transportation costs. Printed film gives consumers fresh, attractive packaging.
Typically, printed film packaging is made from materials such as PET, PE, PP, OPP, CPP, BOPP, laminate films, metallized PET and foil, and recyclable films. OPP and PET are preferred films for printing due to their high quality for imaging, rigidity, toughness and high productivity.
Printed film is suitable for many applications: for all types of food and non-food products, from consumables to health and beauty products.
Types of plastics from which printed plastic packaging is made (example)

| | | |
| --- | --- | --- |
| For packaging the following industry products | Form of delivery | Material the printed flexible film is made of |
| Pharmaceutical industry | spools/ rolls/ reels | PAP/PE/AL/PE, AL/PE, OPP/PE, PVC/PE |
| Dairy industry | spools/ rolls/ reels | AL foil/wax/PAP, AL/PP, PS, PP, PE, PET, PET/AL/PE, PVC, HDPE, APET, CPET |
| Coffee and tea | spools/ rolls/ reels | PP, PET/PP metallized/PP |
| Confectionery industry | spools/ rolls/ reels | AL/wax/PAP |
| Cosmetic products | spools/ rolls/ reels | PET/PAP/PE/AL/PE, OPP/PE |
The simplest plastic packaging films often use one black color, while bright plastic packaging films come in up to 11 colors.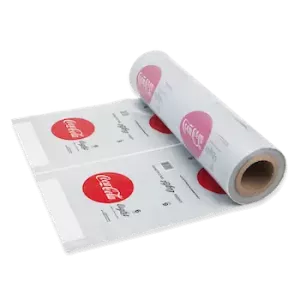 The flexible plastic film is first printed with the pattern required for the future packaging by the roll stock film packaging and printing supplier. The printed film is then wound onto spools/rolls/reels. Flexible packaging is usually printed using the following methods:
flexo printing/flexography,
rotogravure printing,
digital printing, and
lithography.
Then the printed film is supplied on a roll to the packaging manufacturer and can be turned into a package of any format in the process of forming, filling and sealing. Often in the process of creating packaging is required to cut the printed film on the roll.
How to cut printed packaging film
Food, medical, and agricultural are all applications that need precise film and foil. Cutting and slitting film and foil is a complex process. Material, additives, speed, and moisture effects film and blade performance.
Cutting or slitting packaging film is essential to the flexible packaging provider's finished product. Very easy the cut can turn into tear which immediately scraps the finished product.
Step one is to have a blade that works for cutting the particular plastic film. Three things affect this choice. The abrasive, additive, and friction characteristics for the blade with the specific film. In other words if the film tear down the blade edge or the film sticks on the edge the blade performance suffer.
How many blades do plastic film manufacturers need
In flexible film manufacturing a standard razor blade will last just down to 15 minutes (test made by Sollex customer). After that the blade edge is teared down and the discarded blade will generate a wavy and scrapable final product with lots of dust.
Different blades for cutting printed film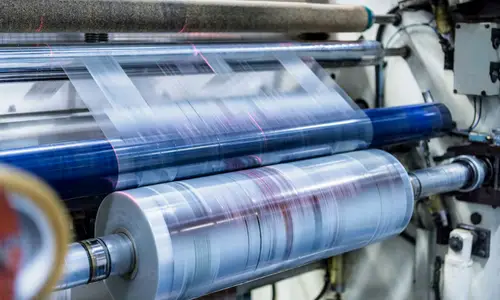 Sollex offers many types of coatings and blades that work and provide the best cutting performance. Our blades perform varying ways on different films. In general, our K-blades are suitable for cutting plastic films with additives, our Z-blades work well for thin stretched films without additives, and our C- and V-blades for cutting extremely abrasive multilayer films.
Coated blades for cutting and slitting packaging films
The first step to obtain knives with a longer life is to coat the edge of the blade. This gives the edge a protective layer that is much harder than steel. The protective coating makes the cutting edge much more durable. Sollex offers three basic coatings: T (titanium), K (ceramic) and Z (zero friction).
These three types of coatings typically last up to two weeks compared to an uncoated blade on the same machine (a test conducted by a Sollex customer). The three types have different characteristics, making them suitable for different types of film.
Click here to download the table
Product qualities & coatings

Quality

Example blade

Specification

Material to cut

P

Utility blade

PRO

Blade with good performance for professionals.

Cardboard, plastics and in industrial production

PT

Utility blade PRO Titan

PRO TITAN

Titanium coated blades for handheld tools, very good performance.

Paper, cardboard, plastic film

B

Utility blade Banzai

Banzai

Blades with extreme performance.

Reinforced flex materials and lead plates

T

Slitter blade Titan

Titanium

Titanium (TiN) coated blades for optimal slitting performance. Gold colored edge. Low friction which gives less dust. Competitive durability and performance. FDA-approved

Plastic film and foil with few additives

K

Slitter blade Ceramic

Ceramic

Ceramic coating with black color and fine grain structure. Protects the edge optimally when cutting plastic film with additives such as chalk or titanium. FDA and EC approved for contact with food. High durability and performance.

White plastics with additives

Z

Slitter blade Zero-Friction

Zero-friction

Zero-friction coating with grey color and extremely fine grain structure. This coating gives minimal friction, which is optimal for high speed cutting such as thin stretched film. FDA and EC approved for contact with food. High durability and performance.

Thin stretched film

X

Slitter blade Full Ceramic

Full Ceramic

Full ceramic coated blade where the sides of the blade are also coated. The coating is FDA and EC approved for coming into contact with food. Gives an extreme durability when cutting in materials with very grueling additives.

Plastic film with additives multilayer

C

Slitter blade Solid Ceramic

Solid Ceramic

Self grinding and heat resistant. Uncompromising quality for users with the highest requirements on blade performance. The blades are very fragile which sometimes makes handling difficult. Blade can be used for cutting soft elastic film that melts easily. The C-blade maintains sharpness and temperature. Extreme durability and performance.

Soft flexible film folies (EBA)

V

Slitter blade Solid Tungsten Carbide

Solid tungsten carbide

Industrial blade with extreme resistance and durability. Solid tungsten carbide gives robustness and performance. Extreme performance and durability.

Hard laminated films (PE) and plastic packaging
In some applications production are looking for better blades than ceramic coated. Assume one type of film where you use a raising agent in top layer, it means that there are harder pieces in the film and when the blade is not sharp it will start to tear. For these cases the solid tungsten carbide and ceramic are ideal razor blades.
Solid tungsten carbide or solid ceramic blades for extreme performance
Really tough film with extreme abrasive characteristics need blades in solid tungsten carbide or solid ceramics. These delicate materials are extremely hard but also a bit fragile to handle. Mounted correctly they will outlast and perform for a very long time. However, it might just not be the abrasive wear on the blade that is relevant when cutting film with print.
What to consider when cutting the printed film
When cutting film with printing one needs to take into account the characteristics of the film and the printing. Friction and the blade surface design are important considerations for cutting film with printing.
A blade that works well on unprinted film may not work when there are colors on the film. A production line can run very fast on clean film, but with a small amount of printed content, the blade builds fouling and fails. When printed content is applied to the blade layer by layer, the edge becomes blunt, dust forms, and finally begins to tear the film.
Generally, a thinner blade makes a better cut than a thicker one. In addition, Sollex customers have noted that full-coverage blades give less of an effect on printed materials on film. So Sollex customers have noticed that our X blades perform very well on printed film.
Recommended blades:
2-013-X
2-020-X
2-030-X
5X
Here can you find and download the new Sollex catalogue and guide about product qualities and coatings: https://www.sollex.se/en/page/...