Martor 614 or Sollex 950 Trapezoid Blade ❘ Special Design
Blade design, comparing with other blades, advantages, characteristics
Martor 614 blade - a special trapezoid blade with 2 short cutting sides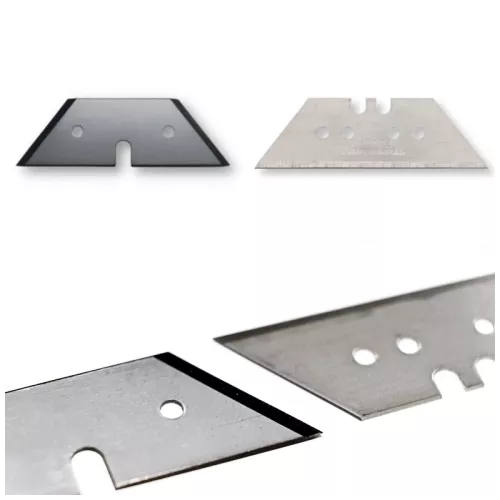 Sollex 950 or also known as Martor 614 is a trapezoid blade with grinding on the blade's short angled sides. It is a two edged, single sided, double bevel blade for industrial usage. A Martor blade differs from a regular trapezoid blade in that it has 2 sides of the trapezoid blade instead of 1 long lower side sharpened.
Given that the angle of attack of this blade is 38 degrees in relation to the material to be cut, it is ideal for cutting the material crosswise. Thanks to the blade's sturdy locking capabilities, you don't have to press it against the blade as with most other types of blades. Thus, a clear space advantage is achieved compared to conventional blades.
The cutting performance of the Sollex 950 or Martor 614 industrial packaging knives is quite specific. It does not require very high speed, but thanks to the single-sided double bevel grinding conical sharpening you get a very fine cut, suitable for cutting off surplus material when joining rolls of material in packaging machines.
By design and performance, this trapezoidal blade works elegantly. However, for packaging knives, durability is the key issue for trouble-free maintenance. That's why Sollex coated the 950K blade with a ceramic coating, making it as durable as possible for a blade with a carbon steel core. So if your job is to cut materials like paper or plastic film with additives, use the trapezoidal razor blade 950K for durability.
Martor discontinues 614 and Sollex starts with 950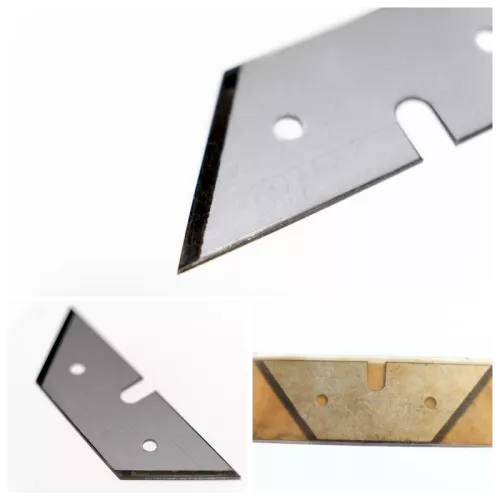 The German safety knife company Martor has been producing a trapezoid knife called 614. Martor blades for packaging machines have been well known for a long time. But in 2014 this blade was discontinued by Martor for focusing on safety knives.
However after a number of requests Sollex started making the same blade to support customers who had lost their only supplier. So Sollex is the only company that still makes this high quality Trapezoidal Blade for Industrial usage. In addition we are the only supplier that coats Martor industrial blade no. 614 with ceramic coating for extra long durability.
Application of Martor 614 or Sollex 950 trapezoidal blade
This blade is typically designed to be placed in a machine for cut material webs in transverse direction. It is not intended to cut materials in a lengthwise direction. Materials can be plastic film or paper like materials.
Buyers of Sollex 950 or Martor 614 are machine builders or packaging manufacturing companies. It has no use outside industrial manufacturing. Customers has been Europe's largest packaging company as well as machine builders in Sweden, the Baltics, South Africa, and Germany.
How to buy special blades for industrial use
Sollex is a supplier of various customer-specific blades and industrial knives. We can say that we have a lot of experience in manufacturing blades specifically for various packaging machines. The Martor 614 trapezoidal blade is an example of an industrial special purpose blade for the packaging industry. It does an excellent job of cross-cutting the web of material.
If you need Custom Industrial Blades Sollex is a trusted Knife Blade manufacturer in Sweden. Our company was started in 1927 and we are specialized in Blades For Automated Packaging Machines. We make blade like 950, 950K or Martor industrial blade no. 614 for packaging machine builders and maintenance.
About Sollex Knives and Blades
Our machine knives and industrial-type razor blades are made of high quality stainless steel with different coatings on the edge or side of the blades. Sole blades we make in solid tungsten carbide or ceramics. If you do not find the blade you are looking for Sollex is able to manufacture industrial knives and razor blades according to your drawing or needs. Feel free to contact us at +4635-15 75-00 or at info@sollex.se if you have any questions regarding our industrial razor blades.
About the author
Johan Falk is an expert on knives and blades and the CEO of Sollex. You can contact him directly on: 0046 708 744 786 or johan@sollex.se. For general sales questions drop an email to order@sollex.se or call us on 0046 35 15 75 00