Mirror Polished Slitter Blades for High Performance Cutting
Learn more about mirror polishing, its advantages and techniques
Mirror Polishing of Slitting Machine Blades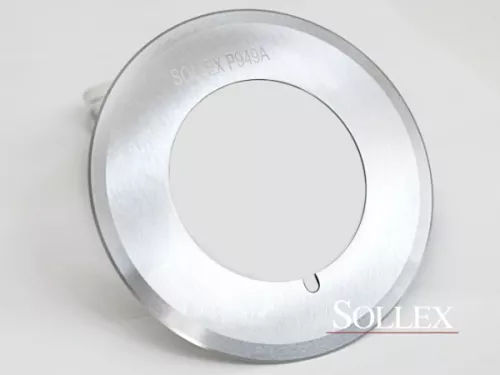 Mirror polishing is performed to remove fine surface elements and makes the surface of the knife smooth. This smoothness of the workpiece is achieved by rubbing the surface. Today, polishing is one of the best methods of obtaining the finest surface finish.
The mirror polishing process is used to improve the cutting performance of the product. It also reduces contamination when cutting materials such as sticky or dust-producing materials. In addition it removes oxidation. Polishing, as well as an additional coating such as ceramic, also helps by preventing corrosion of industrial knives and blades, especially the cutting edges. It is even advisable to use mirror polishing and additional coating of cutting edges together for the best effect.
Mirror polished slitting blades are most commonly used for the production and cutting of materials such as cardboard, corrugated board, paper, non-woven, fiber, plastic film and foil, adhesive tape, rubber.
What are the Advantages of Mirror Polished Machine Knives to Expect?
The mirror-polished edge of the knife increases cutting accuracy, reduces friction and increases blade durability. Polishing helps eliminate friction, excessive wear, and improves the blade's cutting performance.
Techniques for Mirror Polishing of Machine Blades
Several methods and techniques are available for polishing the edge of a knife, depending on the type of knife and its intended application.
This traditional method involves the use of abrasive materials such as sandpaper, sharpening stones, polishing compounds or diamond paste to manually polish the edge of a knife.
Automatic systems use abrasive wheels, belts, or polishing disks to remove surface roughness from the edge of a knife. These machines can be set up to achieve consistent results, ensuring the same edge quality on multiple knives. The mechanical polishing increases performance and is suitable for large-scale production.
This electrochemical process is ideal for stainless steel knives, providing an even smoother surface. By immersing the knife in an electrolyte solution and applying an electric current, metal ions are selectively removed, resulting in a polished surface. Electropolishing reduces surface roughness, increases corrosion resistance and improves the cutting properties of the knife.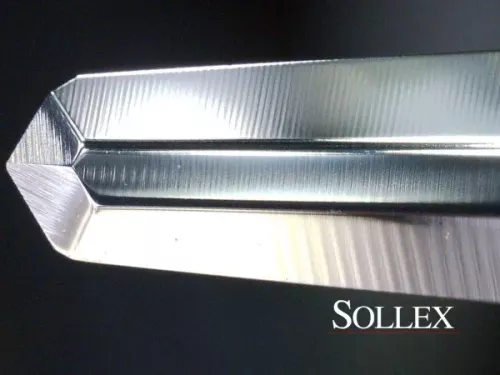 Customer Case - Mirror Polished Industrial Blades for Cutting Film, Non-Woven, Paper
Customers with edge smoothness requirements, such as Ra, can be assured that Sollex can support with technical know-how. In 2023 we had several customers with extreme Ra tolerance requirements. In one case we have supplied a customer an edge with Ra 0,01. This customers used this fine surface for injection molding in the Med tech industry. In Med tech plastic film manufacturing and nonwoven fabrication we saw that ordinary polishing wasn't up to the task. But with a mirror-polished cutting, the customer's cutting process worked fine.
One way that can reduce tearing and improve cutting is to polish the ground edge. When talking about knives and blades, we sometimes refer to polished blades as mirror ground edges. Sollex can polish cutting edges of industrial knives in D2, HSS and solid tungsten carbide. This will give you the cutting edge you need to work with tough materials. But back to our customer and how we helped him.
The opposite of cutting is tearing, and that's exactly the problem one of our customers encountered and asked for help with. Instead of cleanly slitting through the web material, the machine's knife was tearing it, resulting in jagged and irregular edges.
This problem had several negative consequences. First, the jagged edges impaired the quality of the final product. This led to an unsightly appearance and, in some cases, made the material unusable. Second, tears in the material caused disruptions in the production line, resulting in downtime and reduced efficiency. Finally, the excessive force applied during the ripping process accelerated the wear of the blade itself, resulting in frequent blade changes and increased costs.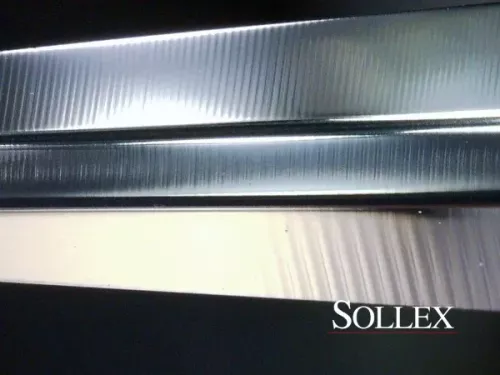 Sollex's thorough mirror polishing has transformed cutters into sharp knives that are ready to make precise cuts. The effect of the knife edge polishing was astounding. As soon as the knives were put back into operation, the tearing problem virtually disappeared. The mirror ground edges cut cleanly through the material, leaving smooth, even and high-quality cuts.
In addition, smooth cutting has made a lot of dust go away. That means faster and more efficient processes, resulting in higher productivity and less downtime. Eliminating surface defects and reducing tearing has reduced stress and wear on the knives. As a result, the company has noticeably reduced the number of knife replacements, resulting in significant cost savings in the long run.
Conclusions
These are just a few examples of the problems that can be solved effectively with industrial knife polishing. With mirror polished slitting blades you will Improve cutting of cardboard, PVC plastic, plastic with many additives, non-woven, foam, rubber, silicone rubber, composite materials
In conclusion, knife edge polishing technique is a critical factor in improving the cutting quality of machine knives. By mirror-polishing the edge, Sollex can achieve improved accuracy, reduced friction and extended knife life. Order mirror polished customized carbide slitting blades by phone or email order@sollex.se