Plotter Cutter VS CNC Digital Cutter - Overview
In this article, we talk about popular cutting machines such as cutting plotters and digital CNC cutting systems and identify their differences in definition and functionality.
What is an Automatic or Digital Cutting Machine?
An automatic or digital cutting machine is a cutting equipment used to accurately cut, shape and manipulate various materials using computer controlled technology. These CNC Digital Cutters use digital development and computer programming to automate and optimize the cutting process.
You can find these names of digital cutting systems: CNC cutting machine, CNC cutting plotter, Digital CNC cutters, Automated cutting system, CNC Automated Cutting Systems, Digital precision cutting machines, Precision Cutting Systems etc.
The automatic digital cutting machine is equipped with various knife tools and blades. Depending on the type of material processing, be it cutting, routing, creasing, scoring, plotting, perforating, different knives and tools are used in the cutting machine. The knife of this cutter moves along the surface of the material according to a preset tool path programmed by a computer.
Advantages of a Digital CNC Cutter
Automated digital cutting systems have a number of advantages that make them a highly valuable tool in various industries. Here are some of the main advantages of the use of CNC cutting machines:
Automatic cutters are controlled by computer programs, ensuring consistent, accurate cutting.
These digital plotter cutters can accomplish cutting tasks faster than manual methods.
Reduces the chance of errors and variations in the finished product because automatic cutting systems produce consistent results.
Plotter cutters are capable of processing many different materials, from textiles and plastics to metals and materials.
These digital cutting systems can cut complex shapes that are difficult or time consuming to cut manually.
For prototyping and one-off designs, the automated cutting plotters are ideal.
Customizable to meet different business needs, automatic cutting systems can operate in both low-volume and high-volume production.
Digital CNC cutters can utilize different cutting methods such as kiss-cutting, punching, routing, scoring, perforating, etc., depending on the type of cutter machine.
Plotter Cutter VS CNC Digital Cutter
"Plotter cutter" and "CNC digital cutter" are related terms that often refer to similar types of machines used to cut different materials. But depending on the context and features of the machinery, they can have some differences.

Overview of Plotter Cutter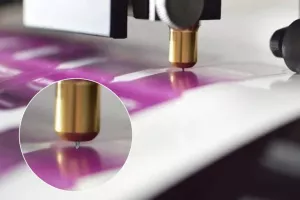 Plotter-Cutter is also known as vinyl cutter, vinyl plotter, cutting plotter, craft cutter etc. It is widely used in the graphics and sign industry. A cutting plotter is usually controlled by a computer that can digitally produce art pieces, vinyl signs, graphics, stickers, designs, posters, billboards, T-shirt logos. The vinyl graphics are used often for outdoor advertising and marketing campaigns. It is equipped with a cutting tool to cut out these shapes. Vinyl plotters are most often used to produce stickers and labels from adhesive vinyl, but they can also cut other thin materials.
This category of cutting plotters includes cutters and drafting equipment, such as flatbed cutters, roll cutters and hard sheet cutters from brands such as Summa, Gerber and Roland.
You should be aware that vinyl cutters are designed by default to cut vinyl, which means that the default settings and knives included with the plotter may not be suitable for cutting graphic designs such as paper. If you are cutting other materials than vinyl, you will need to change the blade and adjust the pressure and depth of the installed blade for a good result. The plotters have rollers that hold the cutting material and move it back and forth, and on top there is a head with a knife that rides right and left and cuts according to the design loaded in its program.
The knife in the head can rotate, so it is very flexible in cutting. The tip of the plotter blade is barely visible from the head, because the material, e.g. vinyl is thin and you only need to cut the top layer and only barely touch the adhesive layer underneath the vinyl. The tip of the blade extends out of the plotter head to a distance smaller than the thickness of the bank card.
Overview of CNC Digital Cutting Machine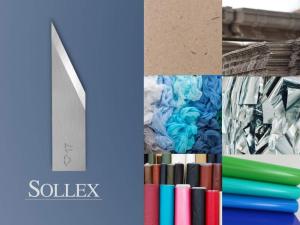 A CNC digital cutter, or CNC cutting machine, is a more general term that includes several types of computer-controlled cutting machines. These machines are used to cut a wide range of materials, including metals, plastics, textiles, wood, foam, and other materials. CNC digital cutting machines are very versatile and are used in the manufacturing, prototype, wood, aerospace, automotive and other sectors.
Indeed, a "plotter cutter" often refers to a specific type of equipment used to produce graphics and signage, as for example "vinyl cutter", while a "CNC digital cutting machine" is a broader term covering a wider range of computerized cutting machines used across a variety of industries and materials. Because the Digital Cutting Systems are modular, it makes it possible to cut and process many different materials.
Cutting materials with CNC cutters

| | | | |
| --- | --- | --- | --- |
| Aramid fiber | Leather | Sandwich board | Corrugated Plastic |
| Cardboard/ Corrugated cardboard / Folding carton | Fabrics/ Polyester fabric / Non woven fabrics | Films | Felt |
| Tarpaulin | Paper | Glass fiber | Canvas |
| Foam Board/ Foam / Hardfoam | Plywood | PVC banner / PVC | Polycarbonate / Polypropylene |
| Vinyls / Reflective vinyls / Self-adhesive vynils | Styrene | Soft Metals | Rubber |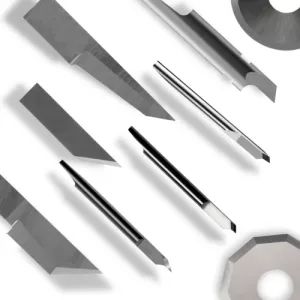 The digital cutter is often an industrial application and looks like a large flat vacuum table above which there are heads with knives or a pen mounted in them to process the material. The material is placed on the table, and a vacuum pump is turned on and air pressure is applied to the sheet, holding the material in place. The table then works like a normal vector plotter, using various cutting tools to cut holes or slits in the material.
Knives for Digital Cutting Systems and Vinyl Cutters
Sollex is the leading producer of blades for industrial use. Sollex knives and blades are chosen by manufacturers of graphic products, signage, labels, and packaging material for their superior quality and durability. We offer blades for Summa, Gerber, Aristo, Atom, and Zund plotters. We also manufacture blades for industrial machines to order.
We make knives in high quality steel and hard metal such as tungsten carbide, which guarantees their durability. If you do not find the knife you need on our website, please contact us with a detailed request by mail order@sollex.se or by phone +4635-15 75 00 and we will manufacture a plotter knife for your company.