What Kind of Solid Tungsten Carbide Does Sollex Use: Part 3
On the topic of "Tungsten Carbide Tools to Customer Drawings with Extreme Tolerances and Surface Characteristics" we have prepared a series of blog posts. We started by talking about the amazing material tungsten carbide, its properties and applications in the post "Tungsten Carbide - Properties and Applications of Tungsten Carbide". You can read the following parts "Tungsten Carbide and Technology" and "What Kind of Tungsten Carbide Does Sollex Use" on our blog.
______
What grades of solid tungsten carbide does Sollex produce tools, knives and industrial razor blades in?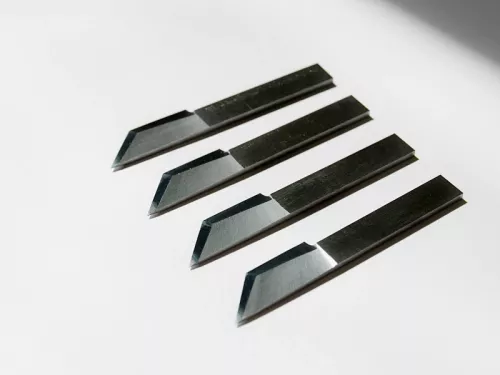 Sollex manufactures tools, knives and razor blades in the carbides K30UF, YG10X, K30MG and C40G-3000. Below is a description of the carbide types that Sollex manufactures tools and industrial razor blades from:
K30UF
K30UF tungsten carbide is a type of cemented carbide used for cutting tools, drills and other tools that require high durability and impact resistance. K30UF is an ultra-fine and homogeneous carbide with a grain size of less than 1 μm, which provides very high hardness and strength. This type of carbide contains 10% cobalt binder, making it a very tough alloy. K30UF has a density of 14.4 g/cm3 and a hardness of HRA 91.8.
K30UF is resistant to oxidation and corrosion and can be used at high temperatures. This makes it ideal for machining materials such as stainless steel, hardened steels and other hard materials. K30UF also has good precision and surface quality, making it an excellent material for high precision machining. K30UF is a high performance solid carbide that can be used in a variety of cutting and machining applications.
K30UF is our new tungsten carbide of choice due to its very fine grain structure. Sollex examples of knives and tools in K30UF are:
YG10X
YG10X tungsten carbide has a density of 14.5 g/cm3 and a hardness of HRA 91. The similarities with K30UF are many with approximately the same composition tungsten carbide 89.2%, cobalt 10.3%, tungsten carbide grain size is ≤0.8 μm,
YG10X is a type of cemented carbide used for cutting tools and inserts. It is mainly composed of tungsten carbide and cobalt binder.
YG10X is known for its high hardness, impact resistance and wear resistance, making it ideal for cutting materials such as stainless steel, titanium and cast iron. In addition, it can withstand high cutting speeds and high temperatures without loss of performance.
It should also be said that the YG10X is available in many different grades. Sollex uses only German produced so called AAA quality of YG10X.
Sollex has used YG10X to make plotter knives. The following knives are made from YG10X:
K30MG
K30MG cemented carbide is a type of tungsten carbide-based material used in cutting tools for its high strength, hardness and wear resistance. K30MG has a typical grain size of 1.5 microns and typically contains 6% cobalt as a binder metal.
K30MG tungsten carbide is suitable for machining a wide range of materials, including steel, cast iron and stainless steel. Its high hardness and wear resistance means that it can also be used to machine high hardness materials such as titanium and nickel based alloys.
K30MG is manufactured by powder metallurgy, in which tungsten carbide powder and cobalt powder are mixed and pressed into a mold. The mixture is then sintered at high temperatures to produce a dense, durable and wear resistant material.
Sollex has used the K30MG to produce injection molds. These have all been 100% custom, but with K30MG we have been able to achieve very close surface tolerances.
C40G-3000
Used in a wide variety of machining applications, the C40G tungsten carbide is a high performance cutting material. C40G is known for its high hardness, which provides excellent wear resistance and the ability to maintain cutting form for long periods of time. This makes it suitable for applications where a high degree of precision and repeatability is required, such as injection molding tools and cutting tools for machining hard materials such as cast iron and stainless steel.
C40G has high heat resistance and can withstand temperatures up to 1000°C without losing its metallic structure. This allows the material to be used for machining materials containing titanium and nickel alloys.
C40G also has high corrosion resistance, making it suitable for use in environments exposed to acidic or alkaline chemicals. In addition, it is very durable and can withstand high loads, making it an excellent choice for use in extreme applications. Various types of industrial razor blades have been produced by Sollex using C40G-300. Examples of industrial razor blades made with C40G-3000 are:
Brief Comparison of K30UF, YG10X, K30MF and C40G
These four tungsten carbides offered by Sollex have very similar physical composition. But the performance and lifetime of the carbides are very different.
What Kind of Solid Tungsten Carbide Tools Can Sollex Supply?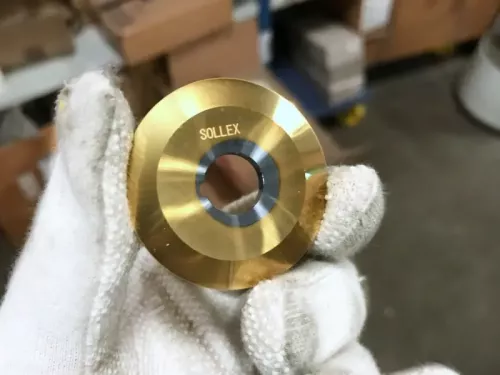 Sollex is a supplier of knife blades and industrial razor blades where we either use tungsten carbide as a coating on steel or manufacture products in solid tungsten carbide. This provides knife blades and industrial razor blades with extreme durability and exceptional cutting properties. Sollex manufactures knives, knife blades, industrial razor blades and injection molding tools in solid tungsten carbide. For both stock products and custom tooling, we use K30UF, YG10X, K30MG and C40G cemented carbides.
In injection molding, we have produced tungsten carbide injection molds with extreme tolerances and surface finishes using our knowledge of producing fine and precisely ground surfaces in solid tungsten carbide. In addition, we have extensive knowledge in the design and manufacture of radii and radial transitions in cemented carbide. Furthermore, we can offer our customers mirror polishing of complex surfaces.

Customer Case Study - Tolerances and Surface Characteristics of Solid Tungsten Carbide Tools Supplied by Sollex
For an industrial injection molding customer in Medtech, Sollex has delivered solid tungsten carbide tools according to customer drawings with extreme tolerances. The dimensions of the tool were measured to the nearest hundredth with tolerances down to five thousandths (+0/-0.005 to be precise). Similarly, the surface roughness of Ra 0.01 μm was achieved. In the project, Sollex provided measurement reports where we measured the tolerances and surface roughness of the tool.
Since 2019, we have continuously delivered tools for injection molding with extreme tolerances and surface finish requirements. The high repeatability of Sollex in the production of complex tungsten carbide tools is demonstrated by these continuous deliveries. The exact repeatability is due to the fact that we store all the speeds in which we make the tools. The tempo becomes an exact recipe to follow when our customer orders the same tool again.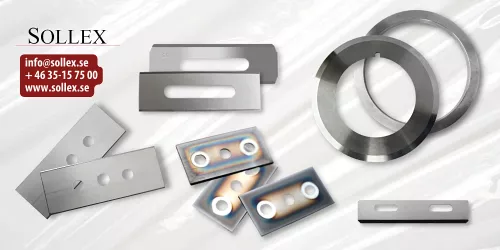 Sollex can also offer the almost impossible, which is to make radial transitions in the tools. Sollex is able to provide radial transfers between 0.4 mm and 0.1 mm thickness in solid carbide tools. The radial transitions provide a reduced capillary force in the production material when using the tool compared to a linear transition.
For the tungsten carbide tooling project, Sollex successfully developed a custom design with extreme dimensions, tolerances and roughness. We are proud and happy with our fine knives and can now say that we can also produce tools in solid carbide.
Order Solid Tungsten Carbide Machine Knives, Knife Blades and Plotter Knives
Sollex has a range of tungsten carbide knives which you can find on our website by searching for "tungsten carbide". Sollex will fulfill your order in a reasonable time, with the best workmanship, high quality material and at a reasonable price if you need custom-made solid tungsten carbide knives that are not in the range or that have a special design, characteristics, surface polishing and even surface coating.
To order tungsten carbide knives send us an email to order@sollex.se with your order details and we will send you a quote within an hour!