A wide range of short straight utility blades optimized for cutting in various materials. The blades are 52mm long and fit most knives on the market. Some of the blades have a coating on the edge so that they will be better suited for cutting in certain types of hard-wearing materials. You can read more about Sollex's coatings and product qualities here.
Short All purpose utility knife blade or Short Trapezoid blades
Short Trapezoid blades- description, shape, thickness, dimensions and grinding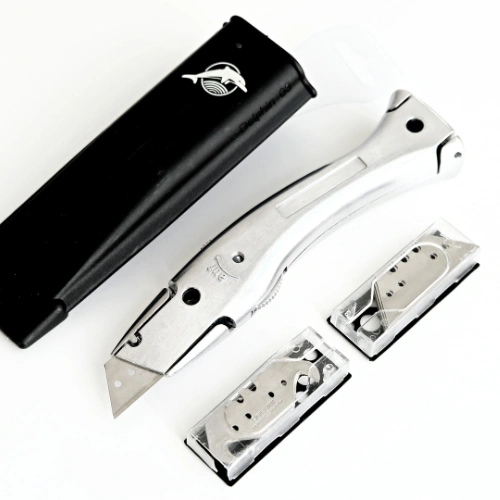 The most common All purpose utility knife blade on the market is what we call Long straight knife blades. The terms trapezoidal or universal blade works well. These are 59mm long and are excellent for cutting plasterboard. Another very useful Trapezoid blade is the short straight knife blade which has a length of 52mm and three mounting notches in the back. The short straight knife blade can be used when you want a shorter and more robust tip on the knife blade that is better fixed.
Generally, short straight knife blades are manufactured in 0.65mm thickness with the dimensions: 52x19x0.65mm or with two mounting notches 50x19x0.65mm.
The grinding is generally an edge, two-sided, double grinding. But Sollex also have blades in thinner steel and with three edge, two sided, double grinding.
Who uses short utility knife replacement blades
The short utility blade or trapezoid blade is used when you want a lot of force on a blade edge and when you want to fix the blade as hard as possible in your handle. There are three general users of short trapezoid blades: floor installers, safety knives and industrial machines. Floorers use short straight knife blades to cut folds and to be able to cut smaller cuts in plastic and linoleum carpets. With the short robust design of the knife blade, maximum stability is given in the blade and the blade can be fixed tightly so that the gap for the knife blade is minimal. By that you get a very stable and robust grip on your blade. Some safety knives use short trapezoid blades such as 9H with a large hole, mainly because they are less pointed but at the same time give similar properties as ordinary knife blades in a universal knife. For mounting in machines, the short straight knife blade provides robust and stable cutting properties when a more robust blade is preferable compared to industrial razor blades.
Material to cut with utility knife replacement blades
Short straight blades or short utility blades are used to cut carpets, plastics and packaging materials. The knife blades fit most common carpet knives and universal knives. Thanks to the three mounting jacks, you can relatively easily adjust how far the knife blade should protrude from the handle.
These utility blades are used by floor layers and craftsmen to cut:
carpets
felt and roofing felt
laminate
fabric, non-woven
cardboard and packaging
For industrial use, it is usually used in a machine that cuts plastic of a harder nature.
Coating on trapezoidal utility blades
Sollex 9PT and 9-065-T carries titanium carbide on the blade edges. This means that a very thin layer of titanium covers the blade's edge. The titanium protects the edge against abrasive wear and tear. The titanium is much harder than the steel, which gives good flexibility in the steel with high hardness on the cutting edge. For the right material, it means longer blade durability and retained sharpness.
The exception is if you cut gypsum boards, then the titanium tears the gypsum, which then sticks more easily to the titanium coating. So if you are going to cut plaster, you should choose article: 975P or 975B.
Sollex recommends the following short knife blades
To cut carpets, felt, laminate, fabric, cardboard and cardboard, we strongly recommend that you use our short straight knife blade or trapezoidal knife blade 9PT.
If you need a short universal blade with a large hole, 9H is suitable for safety knives and to be mounted I industrial machines. 9PT or 9-065-T usually works very well for cutting plastic of a harder nature. If you are looking for the cheapest possible knife blade, knife blade 9P or 913 (slightly thinner) is a good alternative.
Packaging for short utility blades
Sollex short utility knife blades are all delivered in plastic dispensers of 10 knife blades. These are packed in a box of 10 dispensers which in turn are packed in a box with ten boxes. Suitable to order are even hundreds or thousands. The box for Sollex Pro Titan is in Aluminum to provide the best possible storage of your short Trapezoid or Utility blades.
Can't find what you seek? Contact us at +46 35-157500, and we'll be happy to help you!