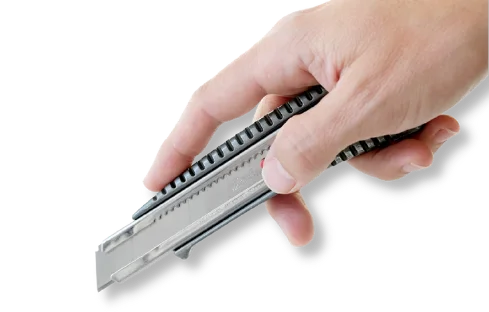 Sollex has a wide range of snap-off knives for both professional use and hobby projects. Amongst other things, there are robust knives in aluminum, fine knives for detail work, and lightweight knives in plastic. Our snap-off knives are well suited for cutting materials such as cardboard, wallpaper, plastic, paper, carpets and rubber, and are available in both large and small versions. Sollex also provides a large variation of snap-off blades, that keep high quality and sharpness.
Snap-off Knives and Snap-off Blades Online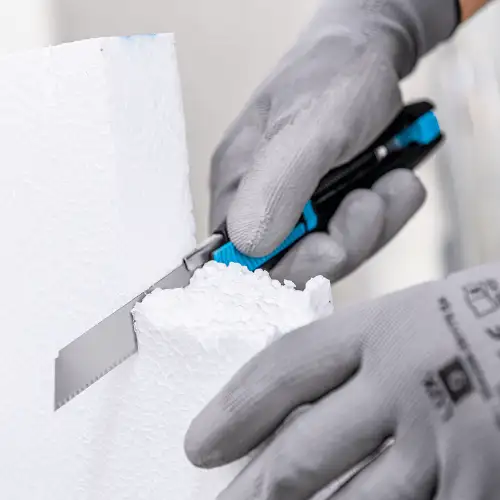 Welcome to the Swedish knife and blade specialist Sollex! We are experts in knife blades and have cutting tools for professionals that suit many applications. Our range is a mix of the highest quality safety knives available and knives for digital cutting systems, machines and industry.
With our 18mm and 9mm utility knives, you can give yourself and your employees sharpness and performance that lasts. Invest in quality and your work will be more efficient. We have knives in a variety of shapes and handles for 18mm and 9mm blade widths. By combining different types of blades, you can easily use your tool for a whole range of purposes. Please check out our product category "Snap-off blades" to see examples of different types of blades for different tasks. Sollex utility knives are of the highest quality and designed for professionals and craftsmen! We market a range of break off knives that meet the requirements and needs of professional users.
What is a Utility Snap-off Knife?
A snap-off knife is a knife with an interchangeable blade that can be broken into different segments. The blade can be pushed back and forth and locked in the desired position. The cutting blade usually consists of 8 or 9 segments. Use only one segment at a time and break it off when it becomes worn. Use pliers or a SAFETY BOX to break off the blade segments. The blade is broken off in a punched-in segment and an unused portion of the blade is brought forward and used. Then you, the user, have a very sharp knife blade quickly at hand. There are two standard widths of knife blades: 9mm and 18mm.
Snap-off Utility Blades without Segments
Do you like the idea of using more than 10 mm at a time of your utility knife? Then use blades without segments. These cannot be broken off and are well suited to use up to 70 mm out from the knife. Blades without segments are supplied as standard in the Martor 380001 safety knife. You can order knife blades without segments from Sollex and these are called Sollex 180LUS.
How is the Snap-off Knife Used?
Snap-off knives are used together with segmented snap-off blades. When the knife needs to change blades, it is easy to open the hilt and insert a new blade. When the blade becomes blunt, a new edge is simply snapped off, so you always have a sharp working tool. We recommend using Sollex knife blades, which will make any knife really sharp and durable. Sollex blades are made of special German ice-hardened steel and cut through most materials without resistance.
Sollex knife blades and knives can be used to cut through thick plastic, rubber, foil, cardboard, paper, textiles, wallpaper, flooring materials and leather, for example.
The right Utility Knives and Blades Can Save you a Lot of Money - Business Case
One Sollex customer employed 67 people in their warehouse. Approximately 30 Stanley snap off knives were used per week to open and cut cartons. The cost was about SEK 30 per disposable knife. The total cost over a four-year period was estimated at SEK 180 000. The Sollex 5180 utility knife was labeled with each employee's name. The cost of the knives and professional blades was SEK 3,772. The knives are still working today and have reduced the need for disposable knives and improved health and safety. The savings to the customer from using the correct blade was SEK 176,000 over four years.
High Quality is Important to Us
When you unpack the utility knives and blades you order, we want you to feel the same love for the product as we do when we make them. All of our utility blades are made to a high quality and are designed for professional users. By choosing high quality tools, you get cutting performance that won't fade over time. We also offer fast delivery because we know how important it is to have sharp blades for your pruning knife!
General Information about Sollex Utility Knives:
Use only 10 mm of the blade
Snap off the blade and the blade will be sharp again
Use pliers when breaking off the blade segment
Snap-off knives are suitable for many types of work
The Sollex snap-off blades are supplied in 10 packs
Contact Sollex
Utility snap-off knives are used for various tasks in construction and manufacturing operations. Whether you're looking for a sturdy utility knife for demanding cutting jobs or a more nimble version, Sollex has the knife for you. If you have any questions about our snap-off knives, how to buy or anything else - get in touch with our customer service and we will be happy to help you with your questions! Buy your blades and blades online!