Sollex supply both straight and circular toothed blades and perforation knives for packaging machines. Not all knives are online but we keep many in stock. So if you need serrated blades for cutting flexible packaging, adhesive tape, plastic film, poly-tube bags, foil, paper and composite in various material combinations write to us and we will find find the best solution adapted to your needs. Various shapes and sizes of packaging knives produced according to your drawings or samples.
Toothed Machine Knives for Packaging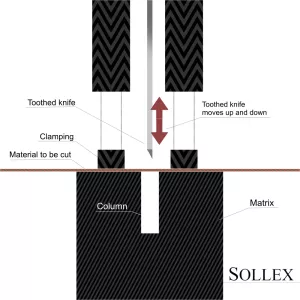 Toothed or serrated knives are defined by the fact that they have special sharpened teeth on the cutting part of the knife, which allow you to cut materials with the a low cutting force and a 90 degree cutting angle.
Nowadays, toothed knives with different shapes and pitches of teeth are used. Toothed blades can have a straight or circular design. Serrated blades have different lengths of teeth and different widths between them.
This category of machine knives has different names that you may come across: Toothed knives, Serrated knives, Serrated Machine knives, Tooth form blades, Straight Toothed knife blade, Circular Serrated knives, Knives with toothed edge, Scalloped knife, Toothed Cutter.
In addition, there are knives whose names are determined by the material they cut or the area of application: Tape packer blade, Tape cutter, Packaging machine knives,Toothed packaging knives, Bagging machine knives, Wrapping machine knives, and Packaging knives
Perforation Machine Knives for Packaging
Perforating blades or Perforation knives are versions of the "crush knife" that has a perforated edge. This results in a perforated cut. Depending on how many teeth the perforating knife has, you can design the perforation of the finished material.
There are two methods of cutting with perforating knives: roller cutting and vertical cutting. Roller cutting is performed with circular perforating knives by rolling over a counter knife or counter shaft, which allows continuous cutting of the web of material. Vertical cutting is performed with flat perforating knives and flat counter blades and resembles the chopping process. When cutting/perforating, perforating knives must be pressed with a certain force against the counter blade/shaft, so often when cutting (perforating) web materials, perforating knife heating technology is used to reduce the pressure applied and increase the life of the knives. A perforating knife for cross-cutting cuts small holes in the material. These holes together form a perforation.
Perforating knives are widely used in many pre-separation operations that require perforation lines and are used for cutting paper, cardboard, films, foil and other materials. The use of perforating knives is quite common in paper processing, packaging, food, printing and other equipment. An everyday use for perforated cuts is small plastic bags that are put together on a roll. To remove one of them, you simply tear open the perforation made by the knife.
What are Toothed and Perforated Blades for?
Toothed knives are used in all types of filling, cutting, sealing, packing machines. They are used to evenly divide the packaging material into products one at a time, which cannot be achieved with straight edge packaging knives. They are most often used in combination with heating sponges for sealing finished products.
Sollex supplies toothed knives for many different applications:
Packaging
Wrapping
Printing
Food processing
Cross cutting
Machine knives with toothed edge are widely used in the following manufacturing industries:
Packaging industry
Food industry
Non-Food- industry
Hygiene industries
Packaging machine
Form-, fill- and seal- packaging machines
Blister package
Paper industry
Polygraphic
Tyre manufacturing
Serrated blades are used for cutting and processing the following materials:
Materials to cut with toothed machine knives

| | | | |
| --- | --- | --- | --- |
| Plastics | Bio-Plastics | Poly-tube-bags | Soft and flexible materials |
| Non-woven | Film & Foil | Labels | Tape |
| Textile | Packaging | Bags | Rubber |
| Composite packaging | Aluminium | Cardboard / carton | Paper |
The leading manufacturers of various packaging equipment that use toothed form industrial knives in their machines and production lines: 3M, Aetna, Belcor, Bemis, Bosch, Bossar, Cermex, CFS, Colimatic, Condi film, Cryovac, Decca, Durable, Ez-Tek, Fuji, Hayssen, Hajek, Ilapak, Intertape, Kister, Love Shaw, M&H, Martini, Matrix, Marq, Mantaray, MGL, Mondini, Multivac, Omori, Pavan, PFM, Prasmatic, S&R, Reepack, Rowema, Sandiacre, Sapal, Sealpac, Siat, Sig, SMI, Supervac, Tapele, Technimodern, Tiromat, Tiropac, Tetra Pac, Ulma, Volpack, Wolf etc.
What are the Features of Toothed and Perforation Machine Knives
The main difference between toothed knives and other types of knives is that they, in most cases, do not require bottom knives. Cutting resembles chopping in the case of straight toothed knives and sawing in the case of circular toothed knives. The essence of cutting with toothed knives is that the material is stretched in the cutting area and the toothed knife strikes it with a certain acceleration, cutting it into two parts.
Toothed knives are commonly used to separate film, fabric, and polymer products. Such tools are widespread in packaging equipment. Perforation knives are used by industrial manufacturers for perforating materials and materials with many entry points. Industrial circular serrated knives are used to cut hard materials such as wood. Serrated machine knives have specific tooth designs that are optimized for each material to be cut.
Problem when using a toothed industrial knife?
The disadvantage of toothed machine knives is that they fray and when the blade becomes dull, resharpening them is very difficult and labor intensive. This work is mainly done by hand and is relatively time consuming as sharpening has to be done between each tooth.
In addition, cuts with serrated blades are less clean compared to cuts with a straight knife. A successful tooth form knife is a combination of the right angle of the tip and the distance between the teeth.
Order Toothed Machine Knives Online
Sollex can manufacture both circular and straight toothed knives for a variety of applications. For regular customers our company can keep toothed knives of certain sizes in stock.
Tooth form industrial blades for different equipment have numerous design differences, so each machine blade ordered is evaluated and agreed upon individually based on the peculiarities of its design. Sollex supply toothed and perforated machine knives based on customer's drawing, sketch or photo. If interested, contact us at order@sollex.se.