Knife like Zund Z608 (5210315) 5pcs
Max. cutting depth: 56 mm, 88°/ Oscillating blade, pointed for application in Zünd digital cutters EOT-250 & POT
Watch this product and we will notify you once it is back in stock.
Knife like Zund Z608 (5210315) 5pcs
Max. cutting depth: 56 mm, 88°/ Oscillating blade, pointed for application in Zünd digital cutters EOT-250 & POT
Oscillating blade – pointed Z608 , oscillating blade for soft foam up to 56 mm thickness and < 45 kg/m3.
Item no.: 5210315
Technical information:
Pre-cut: 3.8 + 0.03 x Tm

Post-cut: -

Max. cutting depth: 56 mm

Blade thickness: 1.5 mm

67 mm length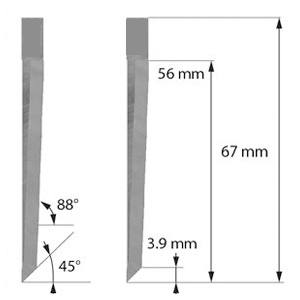 Recommended materials:
Blade material: HSS
Application:
EOT-250
POT, blade holder 1.5 mm