What Is PCR Plastic Packaging And How to Cut PCR
Read about Post-Consumer recycled resin (PCR)
Post-consumer recycled (PCR) packaging is materials such as metals, cardboard, plastic, wood that consumers have used and discarded.

The importance of using recycled plastic in packaging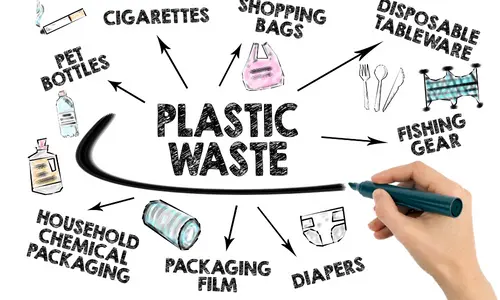 Flexible packaging providers continue to focus on sustainability, reducing waste, and energy efficiency. Sustainability is also becoming a competitive advantage. Recyclable and compostable packaging are the two most common types of sustainable packaging. However there is a third type beginning to shake the plastic film manufacturing world: post-consumer recycled (PCR) plastic film.
Pre-consumer recycled plastics has for long time been taken care of by flexible packaging manufactures. Recycling is a good business that also helps reduce the carbon footprint. This loop now includes the consumer as plastics can be recycled and recycled. So, the more you recycle those milk jugs and bottles, the more PCR material available and the lesser need for virgin petroleum based plastic.
Many brands have begun to use more PCR packaging over time, recognizing the environmental implications of plastic packaging and with the development of recycling technology. Over time, there have also been more conscious buyers and environmental friendliness requirements adopted by some states. The whole world realized the importance of recycling and reusing materials. With its growing popularity, recycled plastic packaging is being used more often than ever, and in the near future it may become an important part of the packaging strategy of manufacturing companies.

For example, the leading plastic film and packaging company Trioworld says it has developed a new multi-layer, recyclable, food contact labeled Loop packaging that contains recycled plastic. The material Loop can contain up to 80% recycled PCR and is 100% recyclable. Trioworld launched the first post-consumer recycled (PCR) plastic film, approved for frozen food packaging together with Lidl Sweden in May 2022. [1]
One of the goals of the plastics industry is to "close the loop," that is, to recycle and reuse in the production of products without losing material, thus using less raw material and reducing waste.

How is PCR film different from other types of plastics?
Recycled plastic is less wasteful than new plastic. New plastic mostly comes from non-renewable fossil fuels like petroleum, which are hard on the environment [2]. By contrast, recycled plastics require no "virgin" petroleum.
Post consumer recycled plastic film is recyclable as the film can be processed and used again as raw materials. Still it is very dependent on the consumer's ability and knowledge to recycle materials.
PCR resin include plastics such as PET, HDPE and PP, all of which are popular recyclable plastic options for product packaging. LDPE, PS, PP usually are not recycled because these types of plastics are more difficult and expensive to process.

Recycling of different plastic types

RIC number

Type of plastic

Properties

Common uses

Recycled in

1

PET

Polyethylene Terephthalate

Clear, lightweight

Plastic bottles,

Widely recycled

Example of new products after recycling PET: food containers, filling for cushions, toys etc

2

HDPE

High-density polyethylene

Stiff, hardwearing

Cleaning agents, cosmetics, food containers

Widely recycled

Example of new products after recycling HDPE: bins, containers, pipes

3

PVC

Polyvinyl chloride

Hard or soft depending on the amount of plasticizer content

Piping, flooring, cables

Often not recyclable

Example of new products after recycling PVC: pipes, traffic cones

4

LDPE

Low-density polyethylene

Low-cost, versatile

Plastic bags, stretch wrap film, food wrapping

Hard to recycle, usually is not recyclable

Example of new products after recycling LDPE: outdoor furniture, bins

5

PP

Polypropylene

Tough and resistant against chemicals

Different tubes, lids, medical, houseware

Rarely recyclable

Example of new products after recycling PP: trays, tools

6

PS

Polystyrene

Lightweight, easily dispersed

Food takeaway containers, cutlery

Rarely recyclable

Example of new products after recycling PS: packaging

7

Other

Diverse properties

Fiberglass, acrylic, nylon, composite plastics

Usually not recyclable

Example of new products after recycling other type of plastics and composite plastic: outdoor products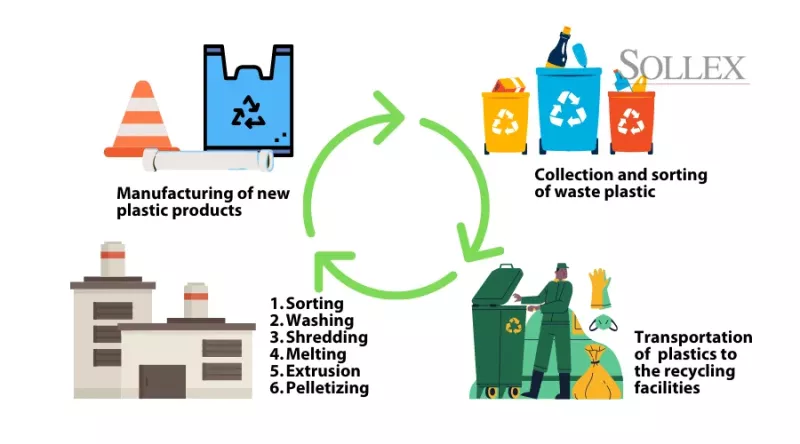 Recycling facilities collects these materials and sells them to recycling and recovery companies. They will melt the post consumer recycled plastics down into pellets. PCR pellets can then be molded into films of plastic resin that can be used in new products and packaging.
The Benefits of PCR Packaging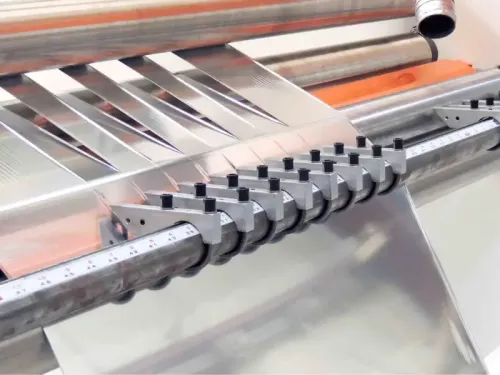 Most eco-friendly packaging are good for the environment. But PCR plastic film has some specific benefits that are worth noting. In general, PCR films are developed into stand-up pouches, lay flat pouches, and rollstock. This type of packaging can be used in most industries.
Post consumer recycled film gives the same level of protection, barrier performance, and strength as regular plastic film. The film will protect your product from oxygen, light, and gases.
From a consumer point of view there are advantages with PCR films, PCR packaging appeals to eco-conscious consumers. In fact, research shows that 70 percent of Millennials prioritize this issue when purchasing products.
When you use PCR packaging, you automatically make your product more appealing to consumers.
Finally PCR is a great a way to reduce your carbon footprint, avoid landfills, and greenwash your business. In addition its great option for companies and brands to offer a sustainable solution for consumers.
PCR in modern manufacturing
10 years ago, PCR was used for garbage bags. But with consumer minds shifting in favor of PCR flexible film manufactures has step by step increased the PCR percentage. First 30% was the goal, followed by 60%. Target for a film manufacturer today should be 80%.
Now this works not just for garbage bags. Packaging for food and medical can also be filled with PCR as as laminated film can protect the PCR from getting in contact with the product. Basically two layers of virgin film incapsulates the PCR making it applicable for medical usage. Printing on PCR has also seriously improved.
Slitting and cutting PCR
Sollex has many customers who use PCR in their production process. Blades recommended for slitting or cutting PCR film is the slitting blades 5Z, 5K, 2-013-K, and 2-013-X. 5Z are mostly used when cutting the wrapping stretch plastic film. The K and X coatings are used when cutting film with print as the color and additives is a tougher challenge for the blade.

Also the tests were conducted for cutting three-layer white agricultural plastic LDPE film with PCR 30% + PIR 6% with a thickness of 21 mi, which showed that Sollex blades 4-60-030-K and 4-60-030-Z showed excellent durability and fine cutting edge

For cutting pellets we strongly recommend the L24 blade. If you have any need for slitting or cutting PCR film, we would be happy to support. You can call us at 0046 35 15 75 00 #1 or drop us an email on info@sollex.se.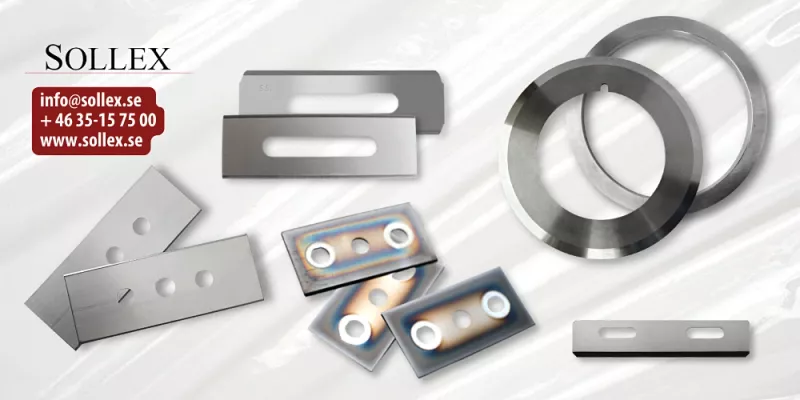 Sources:
[1] Website:https://www.mynewsdesk.com/trioworld/pressreleases/trioworld-launches-recycled-food-packaging-with-lidl-sweden-3182181
[2] What Are PCR Plastics And How Are They Used? : O.Berk Company
[3] Website:https://www.nationalgeographic.com
[4] National Overview: Facts and Figures on Materials, Wastes and Recycling | US EPA
[5] What to Know About Post-Consumer Recycled (PCR) Packaging
[6] All About PCR: Post-Consumer Recycled Material | Seventh Generation
[7] Website:https://ec.europa.eu/eurostat/web/products-eurostat-news/-/ddn-20210113-1