Blades for Agriculture film
The best way to find the right blade for Agriculture film such as bale wrap, silage wrap, and horticulture wrap is to try how some different blades performs in your process.
About agricultural plastic film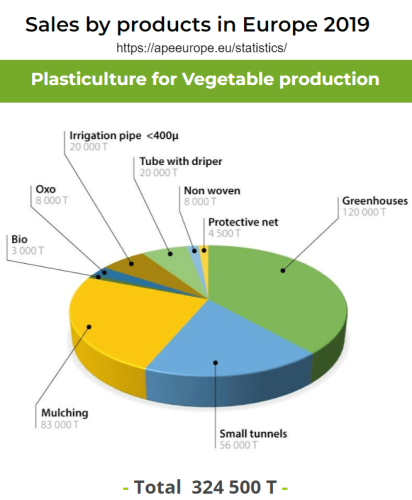 Plastic film is an important tool for the agricultural industry. It is used for improved productivity, crop quality, water, and fertilizer efficiency. Agricultural films shorten the growing season and make it easier for crops to grow. In addition, film provides long-term storage for feed and crops.
The annual worldwide use of plastic films in agricultural production is estimated to 7.4 million tons. This is about two percent of the total plastic production volume. The global agricultural film market is valued US$ 10.7 billion in 2022 and anticipated to reach US$ 18.8 billion in 2032.
Agricultural film is used first and foremost in early harvesting. But it also includes: greenhouse films, plastic film for row coverings, underlayer films, plastic mulch film, soil fumigation film, silage stretch films, silage sheets, and bale wraps. Mulch agricultural films account for 48.3% share of the global market in terms of money. In terms of production volumes Greenhouses, Small tunnels , and Mulching stands for 80%.
On the basis of application, the ag films are segmented into the following:
Greenhouse films: classic greenhouse films, macro tunnels, low tunnels
Mulch films: transparent mulch film, black mulch film, other
Silage: silage stretch wrap, silage sheet, silage bag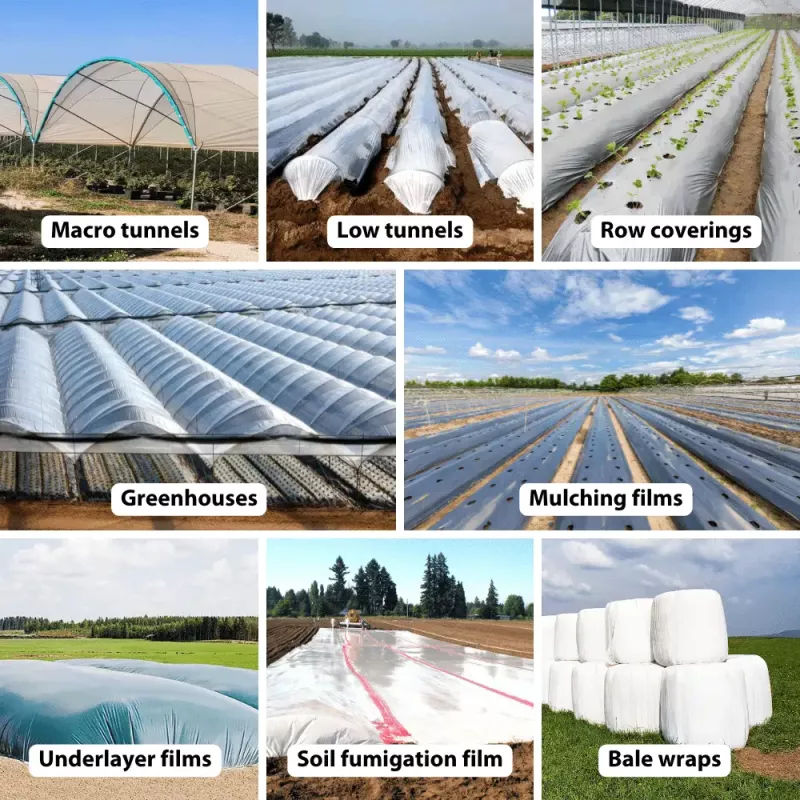 Examples of plastic films used in the agriculture and their lifespan

| | |
| --- | --- |
| Types of use of agricultural plastic films | Application time |
| Greenhouse | 3-4 years |
| Low tunnel | 6-8 months |
| Nursery cover | days to weeks |
| Direct cover | 2-4 months |
| Fumigation film | days to weeks |
| Silage film | 6-12 months |
| Bale wrap film | 6-12 months |
Manufacturers of agricultural films
The leading producers of agri films are: Berry Global Inc. (USA), Exxon Mobil Corporation (USA), Coveris (Austria), Kuraray Co. (Japan), AB Rani Plast OY (Finland), Trioworld AB (Sweden), CI Takiron (Japan), The RKW Group (Germany), BASF SE (Germany), The Dow Chemical Company (USA), RPC Group PLC (England), Plastika Kritis S.A. (Greece), POLIFILM GmbH (Germany), Grupo Armando Alvarez (Spain), Si.Sac. Spa (Italy), İstanbul Sera Plastik (Turkey), Sepaş Plastik A.S. (Turkey), Manuli Stretch S.p.A. (Italy), Agripolyane (France), Groupe BARBIER (France)
Types of plastics used for agricultural plastic film
The plastic materials used for agricultural films are: PE, LDPE, LLDPE, HDPE; PP, EVA, EBA. Plastic mulch films consist mostly of LLDPE or LDPE. Low tunnels consist of polymers EVA or EBA copolymers, due to their transparency, clarity and thermal insulating effects. Silage, stretch and silage bags made of PE, EVA and EBA protect fermented future livestock feed.
Polyethylene (PE) agricultural film
Polyethylene is the most used polymer for making agri-film. PE is also most often used for plastic mulch film. Polyethylene (PE) – a polymer of ethylene, that can be either Low density PE (LDPE) – blown into films (3- 5 and 7 layer co-extruded blown films), or Linear low density PE (LLDPE) – mulch film, or High density PE (HDPE) – extruded into rigid and semi-rigid products, and thick films, and protective and bale nets.
Polypropylene (PP) agricultural film
Polypropylene is often used in soil mulch coverings, films and bags (woven and nonwoven) and rigid boxes. Polypropylene has benefits such as sun protection.
In addition the PP film decreases changes in temperature and humidity thanks to its airtight seal.
Ethylene-vinyl acetate copolymer (EVA) agricultural film
Products produced from this polymer are soft and flexible, in addition they have good transparency and glossiness, low temperature strength, resistance to stress cracking, water-resistant hot melt adhesive properties and resistance to ultraviolet radiation (UV). The materials that are made from EVA are thin films for covering macro and low tunnels.
Ethylene-butyl acrylate copolymer (EBA) agricultural film
EBA polymer is used for covers, silage wraps and agricultural mulch film. EBA plastic films as well as EVA films are characterized by high strength and resistance which makes them useful in agriculture.
Additional specifications of agri films
With additives and masterbatches it is possible to optimize the final product, extend the life time, and reduce sensitivity to ultraviolet light and agrochemicals.
Plastic films can have properties such as UV, IR, light scattering, chemical resistance, anti-fog, anti-drop, etc. In addition to additional physical properties, dyes are added to agricultural film for various purposes, and the film comes in green, black, white, etc.
In addition to all these additional characteristics of agrofilms take into account the thickness and number of layers of film when choosing an industrial knife or blade for cutting plastic films.
Blades for cutting agricultural films - Trial
Each film is unique in composition and characteristics and all the above mentioned factors such as which plastic polymer, pigment, masterbatch, thickness and number of layers play a significant role when choosing your blade.
In order to make a recommendation on which industrial razor blade for cutting agricultural plastic film, we conducted a customer test study in Gemba (customer production environment). Recommendations below are based on tests on two different films and serve as a starting point for your choice. For an optimized blade we advise a trial of different industrial blades in your production
In this test two types of agri film were cut. White thin stretch film 0.035mil thick and black film 1.25mil thick. Eight Sollex industrial blades of two types were used in the test - three-hole razor blades and slotted slitter blades, as well as two industrial blades from competitors.
Cutting Test 1 - Thin white stretch film 0.035mil thick
When test cutting thin stretch white agricultural film, the5Z slotted blade 0.40mm thick, with Zero Friction coating and 5K slotted blade 0.40mm thick with ceramic coating showed the best cutting results. These blades gave no dust formation and a high quality straight cut line. The 5T and 5X blades worked well, but received a slight formation of plastic dust on the edges of the blade. Competitors' blades produced dust and bubbles on the edges of the plastic film.
For cutting this type of film, we also used 0.20mm and 0.30mm thick uncoated and ceramic-coated three-hole industrial blades. 0.20mm thick blades wobbled and did not work well. The 4-60-030-K blade with a blade thickness of 0.30mm and ceramic-coated edges showed the best results in the tests. A similar uncoated blade, 4-60-030, showed an equally satisfying result of cutting stretched plastic film but without endurance.
Therefore, for cutting white stretched film 0.035mil thick, we would recommend trying firstly the 5Z or 5K slitter blades or the 4-60-030-K three-hole blade.
Cutting Test 2 - Black agricultural plastic film 1.25mil thick
For cutting this type of film, we used 0.20mm and 0.30mm thick uncoated blades and three-hole industrial blades with various edge coating, as well as slitter blades. Three hole blades with ceramic and zero-friction coatings, and with 0.20mm and 0.30mm thickness and slotted slitter blades with ceramic coating didn't show satisfying results. The blade that is suitable for cutting thick agricultural film turned out to be the 5Z slitter blade with Zero friction coating, which did not produce dust, bubbles, and gave a clean edge.
Based on experience and customer testing Sollex K coating is strong and hard and can handle the tough additives found in agricultural film or wraps. For film or wrap with really tough additives, Sollex X and V products can be examined.

Conclusions
Agriculture film is usually the collective word for bale wrap, silage wrap, and horticulture wrap. It can sometimes be tricky to cut or slit and demands knives or razor blades with extra performance for an optimal cut of slit bale wrap, silage wrap, and horticulture wrap.
Tests conducted by Sollex have shown that ceramic and zero-friction coated blades were well suited for slitting or cutting agricultural film with additives. In particular the 5K and 5Z slotted blades, as well as the 4-60-030-K three-hole blade can be recommended.
This is a general recommendation for razor blades and agricultural film cutting blades. Sollex will support you in finding the optimal blade for bale wrapping, silage or horticulture in your process.
You can order blades at sollex.se , or drop us a line at info@sollex.se or call us on 00 46 35 15 75 00 #1.
Sources:
PlasticsEurope e.V., 2019
APE Europe. Statistics - Plasticulture in Europe https://apeeurope.eu/statistics/
Agricultural Films Market Opportunities & Growth Analysis.https://www.factmr.com/report/3450/agricultural-films-market
PlasticsEurope e.V. 2020. Plastics in agricultural applications. In: www.plasticseurope.org [online]. https://www.plasticseurope. org/en/about-plastics/agriculture.