On this page you can find safety knife blades which fit different types of safety knives. We have blades for Martor, Slice, Klever and Mure & Peyrot safety knives in stock. Some of the blades have coatings on the edge to increase performance and durability. Read more about Sollex coatings and product qualities here. In addition, some blades are universal (for example 9H) which also fit knives from other manufacturers. Check out our safe knives here.
Buy Spare Utility Blades for Safety Knives Online
What is a safety knife blade?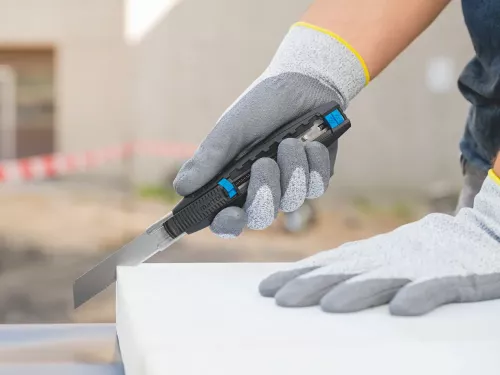 A safety knife blade is a sharp tool with a sometimes adapted design, usually used in conjunction with a knife handle, that is used to safely hand-cut various materials. They are usually made of carbon steel, stainless steel or even ceramic. Blades for safety knives are strong, sharp, but also relatively safe when used in a proper safety knife.
Your choice of blades for safety knives depends on what type of work you perform.
Blades for Safety Knives with Automatic Blade Retraction
Safety knives with automatic blade retraction guarantee some safety for users. The fully automatic blade retraction function lets the blade retract into the handle immediately after leaving the material being cut. Knife blades for these kinds of safety knives come in many shapes and types, each designed for a specific purpose or job.
There are different types of knife blades used with these safety knives with automatic blade retraction:
trapezoid utility blades ( cutting depth 9 - 20mm)

snap-off blades (cutting depth depends on the length of blade, approx. up to 70mm)

rounded-tip hook blades (cutting depth approx. 7mm)

industrial knife blades with 4 corners (cutting depth approx. 10mm) and others
Safety Knife with a Concealed Blade
The blade shape allows easy and safe opening and cutting with a "pull" motion. The user grips the hook on the material to be cut and pulls it sideways at a 45-degree angle, downward or toward him. Such a blade also guarantees protection not only for the worker, but also for the goods in boxes and packages. This provides maximum safety from cuts and at the same time protects your goods reliably. A safety knife with concealed blade prevent users from hurting themselves.
Cutting depth of knives with concealed knife blades varies usually between 4-6mm.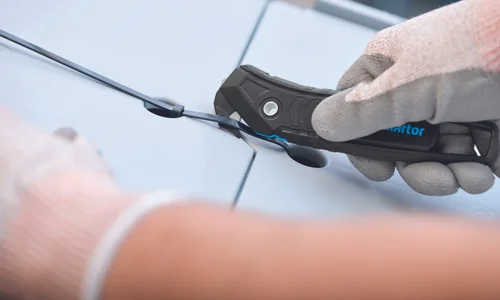 Material to cut with safety knives with concealed blades:
packaging

tape

plastic strapping bands

plastic film, wrapping, stretch and shrink foil

safety belt

coated and laminated film

textiles

cardboard max 1-ply
Sollex keeps most spare blades for concealed blade holders in stock.
We recommend the following disposable safety knives with concealed blade:
We recommend the following knives with a concealed blade whose blade can be replaced:
Safety knife blades with rounded tips
One way to make blades safer is to round their tips. Such blades cannot accidentally pierce the user's hand, for example. Blades with rounded tips are only sharp along the edge of the blade. The American safety knife manufacturer Slice have almost all blades without tips. In addition spare blades for Slice safety knives are grinded and in a material to reduce cuts in skin making the Slice blades very safe to use.
The key rule in safe knife handling
The key rule in safe knife handling is to change the blunt blade on time! The duller the blade, the less safe the knife becomes, because the user will apply more force and pressure to cut the material. So keep an eye on this and keep a supply of new blades so that your employees can replace the blunt blades of the knife when needed.
If you need help choosing the right safety knife or blades for your company - contact Sollex, we can help you!