Snap-off blades for wallpaper, floors, cardboard and rubber materials.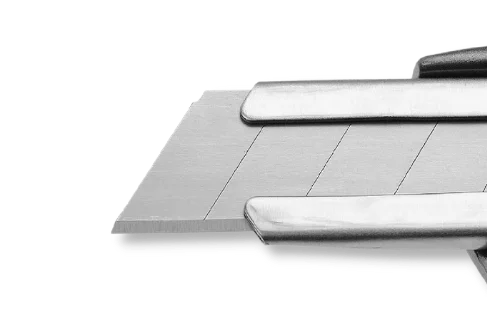 Here you will find our full range of snap-off blades for the professional user. We want our customers to be able to find something that suits their needs perfectly. The snap-off blades are optimized for cutting wallpaper, flooring, cardboard and rubber materials. With our 18mm and 9mm utility knives, you can give yourself and your employees sharpness and performance that lasts. Invest in quality and your work will be more efficient.
We have also utility snap-off knives in a variety of shapes and handles for 18mm and 9mm blade widths. By combining different types of blades, you can easily use your tool for a whole range of purposes.
Snap-Off Blade - Seven times the durability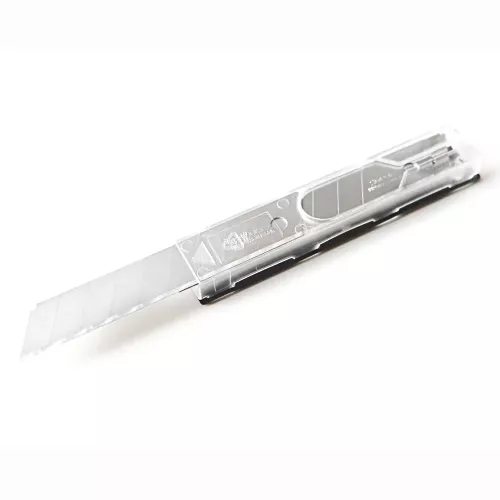 There are many reasons for you to to choose one of our high quality snap-off blades over our other types of blades. As you can easily snap off the segment that lost it's sharpness, each blade will last seven times longer! The blade change is faster, safer and you will always have a sharp blade ready which increases productivity.
How is a Snap-off Blade Used?
The snap-off knife blade is designed to use only 10mm of the blade at a time. Therefore, use only one blade segment at a time. So leave only about 10mm of the blade in front. This is to avoid damage and to get a better cut. If you want a longer blade, use only blades without segments such as the Sollex 180LUS.
What is the Utility Snap-off Blade Used for?
Small snap off knives with 9mm wide blade work optimally for non-strength work such as in thin materials like paper, cardboard, wallpaper, cardboard, leather, vinyl, film and wood. Breakaway knives are not suitable for cutting larger pieces of wood. The small snap off knife is used for various crafts and hobbies, but also for packing and unpacking.
Sollex 18mm snap off knives are used daily for cutting wallpaper, corrugated board, flooring materials, plasterboard and polyurethane. Remember that the blade needs to be changed from time to time. Browse our wide range and buy the best blade for your knife.
Mozart's blade is extra robust and well suited to flooring materials. We also have blades with hooks for cutting carpets and a 30-degree point for the finest detail work. Last but not least, Sollex has utility snap off blades without segments. These are great because no segments can come off the blade and are perfect for cutting down cardboard and thick materials.
Do you like the idea of using more than 10 mm at a time of your utility knife? Then use blades without segments. These cannot be broken off and are well suited to use up to 70 mm out from the knife. Blades without segments are supplied as standard in the Martor 380001 safety knife. You can order knife blades without segments from Sollex and these are called 180LUS.
Snap-Off Blade Pro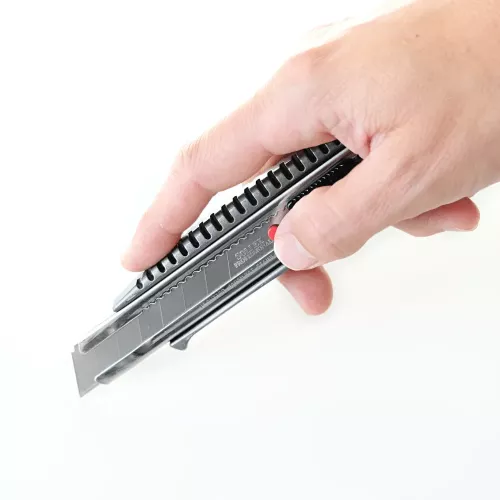 Here you will find, among other things, our professional utility snap off blade 180P, which can handle everything from wallpaper and corrugated cardboard, to flooring material and polyurethane. The blade is double-cut to ensure that the blade always cuts and does not tear the material.

Snap-Off Blade Pro Titan
If you require both performance and extreme durability in your daily work, the 180L knife blade is for you! The double-edged blade is protected by a titanium coating which increases the service life, and will deliver fine cuts time and time again when working with tough materials such as rubber and polyurethane.

Extra sharp Snap-Off Blade
If, on the other hand, you are in need of the sharpest blade on the market, we recommend the 180S. The blade delivers extreme sharpness and is suitable for compact materials such as hardened foam and hard glue.

Fits most holders on the market
The blades are adapted for our snap off knives 7180, 8180 and 5180 but fit most knives on the market. You can always read more about our product qualities and edge coatings here.
Contact Sollex
Utility snap-off knives and blades are used for various tasks in construction and manufacturing operations. Whether you're looking for a sturdy utility knife for demanding cutting jobs or a more nimble version, Sollex has the knife for you. If you have any questions about our snap-off knives, how to buy or anything else - get in touch with our customer service and we will be happy to help you with your questions! Buy your blades and blades online!