Robust utility and construction knives for professional users. Sollex different knives for carpenters are well suited for cutting in several different materials such as plasterboards, roofing paper and floors. Sollex award winning construction knife 2000 is definitely the favorite in the group, but the other knives are not far behind as they all fill separate purposes.
What Is a Utility Knife?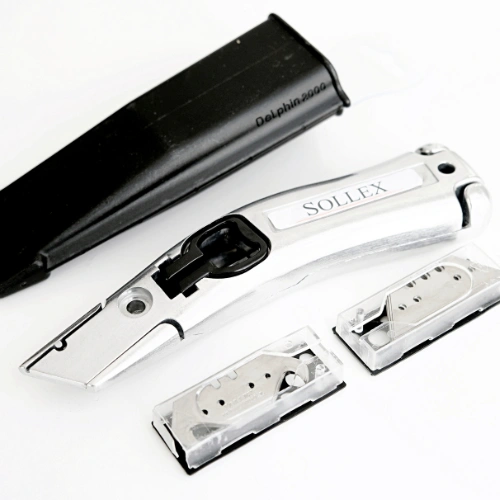 A utility knife is a knife with a sharp, replaceable and often retractable blade designed for cutting various materials such as cardboard, drywall, corrugated packaging, plastic and other materials. With its general purpose design, compact size and usually sturdy but ergonomic handle, the utility knife is a versatile tool.
The user can adjust the blade with the handle. Therefore the utility knife can be used for different purposes. For example, by advancing the blade up to 1 cm forward, it is possible to use the utility knife as a Box Cutter. For cutting the tape of a box without damaging the contents inside. When the blade becomes blunt, it can be quickly replaced, prolonging the knife's life time. The main thing is to always have a spare blade that fits your knife and the job at hand.
Utility Knives Types
There are many types of utility knives that resemble each other in appearance. The main difference between utility knives is whether the blade is retractable or not and the type of blade that is placed in them. By replacing the blade you can change the functionality of the knife. For example, by inserting a heavy-duty blade into a knife that is extra durable, thicker, and possibly coated, you will increase the knife's performance and can use it to cut particularly tough objects for a longer period of time.
There are some knives that don't have a slider to extend the blade, and they in turn have a more stable locking of the blade. Some utility knives has a screw that holds the body together and fixes the blade. Most utility knives have a blade storage or compartment in its handle. It is also possible to find utility knives with folding handles. These knives are called folding knives.
Therefore, we can distinguish these types of knives:
folding utility knife
box cutter
safety utility knife
retractable utility knife
auto retracting utility knife
non retractable utility knife
fixed blade utility knife
heavy duty utility knife
automatic utility knife
snap off utility knife
serrated utility knife
Types of Utility Knives

Folding utility knife

Folding utility knives are knives with a trapezoidal blade that folds into a handle for easy storage and use. These knives are commonly used by workers in factories, warehouses, construction projects and other situations where a compact tool is needed. A folding utility knife can be used to mark cutting lines, trim various construction materials, as well as tape, cord, strapping, cardboard or other packaging material. The problem with these knives is that they are often difficult to open-close with one free hand

Safety utility knife

Safe utility knives are knives that are designed to reduce the risk of cutting when used by the user. They include utility knives with automatic blade retraction, knives with a rounded blade tip, and others. It can be said that almost every safety knife can be considered a safety utility knife.

Visit our "Safety Knives" category with a huge selection of different knives and find the right safety knife for you

Heavy-duty utility knife

Heavy-duty knives are characterized by a robust construction and a thicker, stronger installed blade. They are suitable for use in the construction industry, e.g. for cutting drywall, linoleum, carpets and other materials. We recommend looking at the Sollex 2000 universal and durable construction knife and the Sollex Heavy-duty blade Banzai.

Box Cutter Knife

Utility knives that are considered good for cutting boxes are called box cutters. These knives are mostly used by warehouse workers and shipping departments. They are designed to open sealed boxes without damaging the contents inside. Such knives often have a protection at the place where the blade leaves the handle, which allows only slightly exposing the blade. Great for cutting materials such as tape, film, corrugated cardboard, cardboard

Snap-Off Utility Knife

These utility knives are sometimes called "wallpaper knives". Blades go through the body of the knife and have segments. It is possible to extend the blade with a slider. When the edge of the tip get blunt, the blade segment can be snapped off. It is not advisable to extend the blade much forward and do heavy work, as there is a risk that the blade will snap off where the blade notches on the blade and this can cause injury to the user of the knife. These knives almost always come in bright colors such as orange, blue, and yellow.

Visit our "Snap off Knives" category with a wide range of different knives and find the right snap off knife for your needs
What Is a Utility Knife Used For?
Utility knives are used mainly in construction and therefore we can define their main areas of application as:
utility knife for cutting drywall
utility knife for cutting carpet
utility knife for cutting vinyl flooring
utility knife for cutting thin plastic sheeting
But because utility knives are multi-purpose tools, they can be used for all cutting operations. The most important thing is to make sure that the blade does not get blunt and replace it as it wears out.
Types of Utility Knife Blades
There are several kinds of blades for utility knives: utility hook blade, trapezoidal short and long utility blades, utility snap off blade, utility long blades, utility serrated blades
Sollex Utility Knife 2000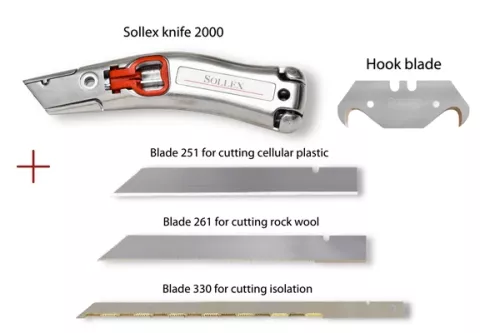 At Sollex we offer a universal utility knife 2000 to use as the 2-in-1 knife / all-around utility knife that goes well with the most standard utility, concave, hook blades, long knife blades. Dimensions of the blades that fit perfectly in the knife are standard. The utility knife can be easily accessed by the user and comes with a holster to keep your knife by your side.
The different types of blades on this knife are perfect for various tasks that require cutting or slicing through different materials. Such as roofing felt, cardboard, rubber or polystyrene foam insulation panels and more. Changing blades goes very easy and it takes less than 10 seconds.
A blade dispenser can be stored inside the handle of the 2000 knife. The most important thing is that the blade sits stably in the knife Sollex 2000.
There is a small magnet where you place the blade. This to let the user always inserting the blade correctly. When the knife is closed the blade is fixed. Among other things, it is the most versatile knife, which fits almost any utility blade, such as hook blade, straight utility blade, concave blade, long blades etc
Stanley Utility Knife
The Stanley knife has a cast metal body and is available in both a retractable version and a fixed blade version with no depth adjustment. There are several versions of the classic Stanley No. 99. The Stanley 199E fixed-blade knife model is widely used for construction work. This knife, like other utility knives, has a place in the handle for storing spare or used blades. We offer Stanley knives of models 99E and 199E.