Sollex keeps high quality scalpels and precision cutting blades in stock, for both industrial and surgical purposes. Non-sterile are almost always preferable for industrial use as they easily can be re-grinded. The scalpel is the perfect tool for designers, artists and model makers to cut various materials such as cardboard, paper, wallpaper, plastics, textiles, leather, graphic design and all kinds of precision cutting. Besides from our own scalpel blades 900, Sollex has popular scalpels from Swann-Morton, Martor & Slice.
Scalpels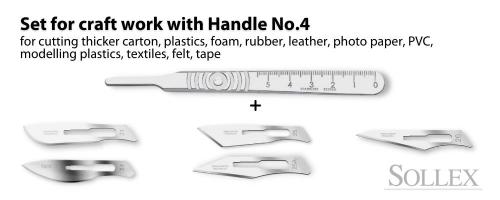 Here you will find our full range of scalpels and precision craft blades! We have a wide range to suit most applications. Our range of scalpels is continuously updated so that you as a customer will always find something that suits you. Sollex stocks high quality scalpels for both industrial and medical purposes. Our scalpels are not sterile, which is preferable for industrial use. It is also possible to special order coated scalpel blades (for Mozart precision knife 3F) for even longer durability in industrial use. In addition to our own scalpel blades, Sollex has popular scalpels from Mozart, Swann-Morton, Martor and Slice. Use professional tools with Sollex scalpels!
Scalpels, precision cutting blades or craft knife blades?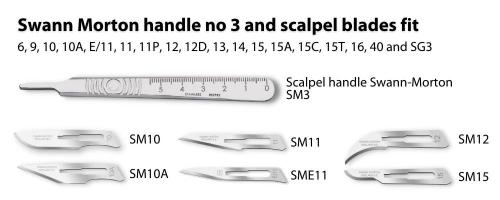 Historically, knife blades have had many names. Often the terms scalpel and knife blade are mixed quite liberally. Sollex sees the scalpel as a type of knife blade for hand-held tools. Scalpels as we see them are relatively short and thin blades for penknives. These are used purely for precision cutting. We prefer the term scalpel for all our knife blades that fit penknives as it describes our product most accurately. Our scalpels are of high quality and are made from quality materials that have been specially ground. Our posters have a luxurious matte finish with no shine, the quality is both felt and seen!
Use good tools - scalpels from Sollex!
With our scalpels you can give your employees a little extra love. Invest in high-quality scalpels if you want to put the user first! We have scalpels in all sizes and shapes. Choose the scalpel that suits you and your interests. By combining several different scalpels, you can easily create the perfect combination for your application.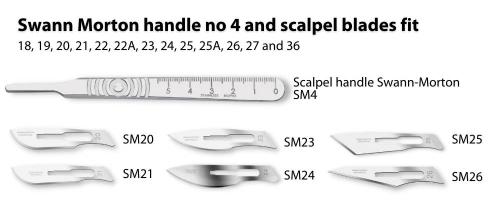 You can purchase a scalpel knife handle and the blade itself. There are many types and shapes of surgical blade that are designed for different purposes. For example, Swann Morton's scalpel blades of numbers 10 and 11 have a sharpened end and are great for very detailed work. At the same time, surgical knives are extremely sharp and you have to be very careful when working with them and adhere to safety rules.
TIP: Make sure the size of the scalpel blade and handle are the same - this is especially important.
Scalpels from Swann-Morton, Sollex, Mozart, Martor and Slice
Our scalpels are divided into different categories to make it easy for you to find what you are looking for. We have chosen to offer scalpels from Sollex, Mozart, Swann-Morton, Martor and Slice in order to have as wide a range as possible. We keep almost all scalpels in stock to be able to deliver your order quickly.
We have in our assortment blades that resemble Swann Morton in their shape and the way they are used, but the end of the blade is flat or rounded. They are used in a set with a special non-surgical MOZART precision-cutting knife. The Mozart precision cutting knife is more robust compared to the more commonly used medical scalpels. Use the Mozart precision cutting knife for more industrial cutting. The scalpel is very flexible and easy to use for detailed work. It is an ideal tool for cutting various materials such as cardboard, paper, wallpaper, plastic and textiles, gently deburring plastic parts, cutting leather, graphic design, and all kinds of precision cutting. A special stand station for safe storage of the scalpel and additional tools is available for purchase.

High quality is important to us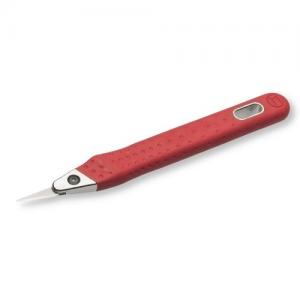 When you unpack your shipment of scalpels, we want you to feel the same love for the product that we do when we manufacture and deliver your order. All Sollex scalpels are made to a high quality. We use only quality steel that is ice hardened and specially ground for optimal sharpness. We also offer lightning fast delivery because we know how important it is to always keep the cutting process running. We pride ourselves on the fact that our scalpels are from the most renowned scalpel manufacturers.
Our scalpels:
Swann-Morton (Scalpels developed for medical use, used where a very sharp or thin scalpel is desired)
Sollex pointed blade (Very similar to a scalpel but stiffer and made of carbon steel, which allows you to re-sharpen the superblade. Best used for cutting leather and shoe materials)
Mozart scalpels (Coarse scalpels for fine work where a more robust blade is needed than a standard medical scalpel)
Martor's scalpels (Wide range of various scalpels for a wide variety of uses)
Slice craft knife blades (Scalpels in ceramics which gives a very good durability. Slice scalpels are not so sharp but have a long durability)
Sollex coated scalpels (If you want a scalpel blade with sharpness and with longer durability than usual, Sollex can specially coat scalpels for you. Please contact us regarding the type of scalpel)
Choosing the right scalpel
Using the right scalpel brings well-being and peace of mind. Choosing the right scalpel can sometimes feel like a challenge, which is why we have chosen to collect our scalpels on this page so that you can find the scalpel that gives you the right function. By combining different shapes, sharpenings and brands, you can confidently choose the scalpel at Sollex that will be just the way you want it. If you need inspiration, we recommend you to lite different scalpels and see which type of scalpel suits your business best.
When is it time to change a scalpel blade?
The length of time you can use one blade depends on the material you are cutting as well as the cutting techniques and pressure on a scalpel. But if you hear a specific sound while cutting, for example, a carton, it is time to replace the blade. It is advisable not to spare the blade, because a blunt blade can begin to tear the cutting material and the ends of the cut will be torn and sloppy.
Guidelines for removing a used scalpel blade from scalpel knife holder
Using pliers, grasp the end of the blade closest to the handle by the blunt edge (where there is no sharp edge). Face away the cutting edge from the body and hand
Lift the blade by the edge with the pliers, bending it slightly and being careful not to break the blade. Move it slowly forward from the handle, being sure to guide the movement away from yourself and others and then slide the handle away to the opposite side. Make sure to hold the blade downwards towards the instrument tray.
Always dispose of the blade safely, such as in a safety blade box. Do not leave the blade lying around the work area or anywhere else; it is your responsibility to dispose of the blade safely.
Get in touch
If you have any questions about our scalpels, how to shop or anything else - get in touch with our customer service team and we will be happy to help you with your questions! Buy your knife blades and scalpels from Sollex to create the best conditions for your cutting process!
Call us on +4635-15 75 00 or email us if you need help with any question about scalpels.