Utility blades with cutting edge performance
If it's sharp knife blades of high quality you are looking for, look no further!

Thanks to the metal composition, ice-hardening, and special grinding of our knife blades, we have achieved outstanding sharpness and durability to allow you to cut through most materials quickly and easily! No matter if it's your first cut or hundredth.
Here you will find blades optimized for cutting drywall, floor mats and linoleum. Including our Knife blade Banzai 975B.
Knife blade Banzai is the flagship of knife blades and is specifically manufactured for you who are cutting tough materials such as fireproof drywall and lead plate throughout your workday. Backed by nearly 100 years of experience, we can guarantee that this is the best knife blade that you have ever heard of!
Utility Trapezoid blades - description, shape, thickness, dimensions and grinding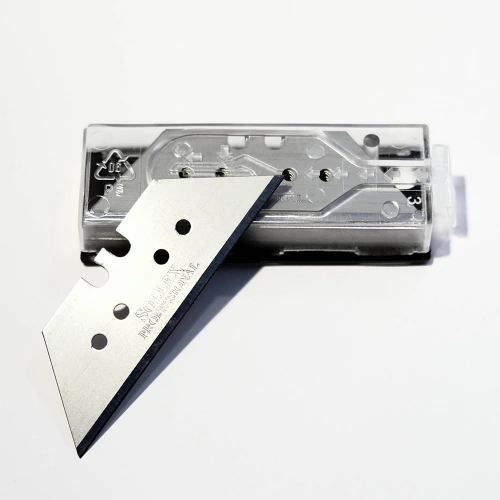 The most common All purpose utility knife blade on the market is what we call Long straight knife blades. The terms trapezoidal or universal blade works well. These are 59mm long and are excellent for cutting plasterboard. Another very useful Trapezoid blade is the short straight knife blade which has a length of 52mm and three mounting notches in the back. The short straight knife blade can be used when you want a shorter and more robust tip on the knife blade that is better fixed.
Sollex engineers and makes high-quality knife blades with durability and performance. The metal composition, ice-hardening and special grinding give Sollex knife blades fantastic cutting edge performance. Sharpness and durability mean that it feels like cutting butter with Sollex's blade even in the toughest material. Even if it is the first or hundredth time the blade is used. Sollex has a wide range of Utility blades for cutting different materials. The blades are 59 / 60mm long and fit most holders on the market. Some of the blades have a coating on the edge, which makes them better suited to cutting some tougher materials.
The grinding is generally an edge, two-sided, double grinding.
There are three general users of short trapezoid blades: floor installers, safety knives and industrial machines.
Utility blades that fit most holders
Sollex's range of long utility blades for different materials. The blades are 59/60mm long and fit most knives on the market. Some of the blades have a coating on the edge, which makes them better suited for cutting in certain tougher materials. You can read more about Sollex's qualities and coatings here.
Sollex utility blades are adapted for our knives Utility knife Mozart S2 1002.00, Construction knife 2000 and Dolphin knife 1280, but fit most knives on the market.

Utility blade Pro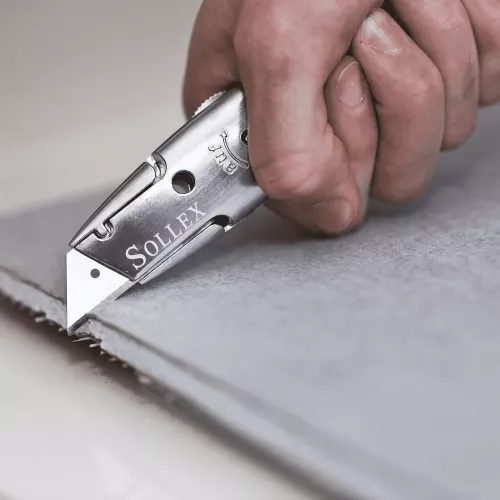 Sollex Pro 975P for plaster, which delivers both better performance and longer life at high wear and tear than most other blades on the market. The knife blade is designed to cut plasterboard for construction professionals.
Utility blades Pro Titan
However, if you are a flooring professional we recommend Sollex Pro Titan 975PT. The blade has a titanium coating which gives unmatched durability when cutting floor mats and linoleum. The edge of the blade is titanium coated, which means that the titanium protects the blade from damage before the edge is worn down. The long blade Sollex pro-Titan 975PT is fantastic for linoleum flooring, paper and industrial materials. Unfortunately, the blade of the Sollex Pro Titan 975PT does not work optimally for cutting plasterboard. This is when the titanium breaks up the plaster and it settles like a membrane on top of the blade's coating. The utility blade then becomes thicker and it becomes slower to cut the plasterboard. But for cutting floor material or paper rolls, the blade Sollex Pro Titan is perfect.
Utility blade blades Banzai
For the most abrasive materials like fire-resistant plaster, lead sheet and reinforced flex material we recommend that you choose the knife blade Banzai 975B. The knife blade banzai is Sollex's flagship. Probably the best utility blade for a hand knife that has existed. Ideal for the toughest materials such as paper rolls r and the like. A customer in the printing industry expressed it as follows: "Sollex Banzai is the sharpest utility blade I've ever tried". Fun with customers who appreciate quality and durability, With almost 100 years of experience, we promise that this utility blade is really extra everything for the one with the highest claim on blade durability and performance.
Durability by Design!
Sollex has been delivering utility blades quickly and safely since 1927. You can read more about our product qualities and coatings at product qualities. Can't find what you're looking for? Get in touch with us at +46 35-157500, and we'll help you!
Sollex utility blades - Cutting Edge Performance