Metal Detectable Safety Knives for Food and Pharmaceutical Industry
This blog post explains how Sollex safety knives from Klever and Martor can be used in separate hygiene zones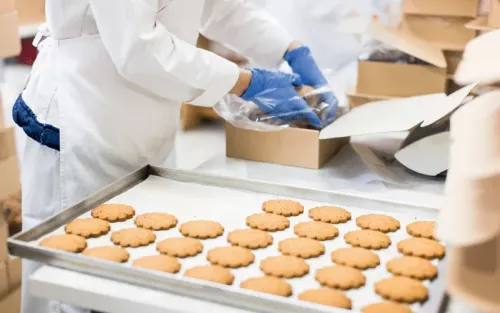 Packaging manufacturers who produce food and medical contact materials divide their production into different hygiene zones. It is important to be able to separate tools such as safety knives in the different hygiene zones. This blog post explains how Sollex safety knives from Klever and Martor can be used in separate hygiene zones.
Why Metal Detectable Knives in the Food and Pharmaceutical Industry
Materials and articles intended to come into contact with food and medicines must not contain particles of other materials that have accidentally got there during manufacture. Contamination in the manufacturing process can cause extensive damage to equipment, product recalls and, in the worst case, damage to customers. The result: high costs and a potential loss of reputation that should not be underestimated. To avoid this, manufacturers should use special equipment that is metallically detectable. If a small piece of plastic from a safety knife is made of metallic detectable plastic, it can be detected in a metal scanner or X-ray and removed from the final product.
Legislative Requirements for Contact Materials
Companies that manufacture, process or distribute contact materials for the food and medical industries are called contact material companies. The contact material company is responsible for ensuring that the material and products are suitable for use in the intended food and that the law is complied with. It must have a traceability system in place to facilitate control and recall of defective products. The main function of the packaging is to protect the food and must not itself present a risk.
Standards, legislation and rules for packaging materials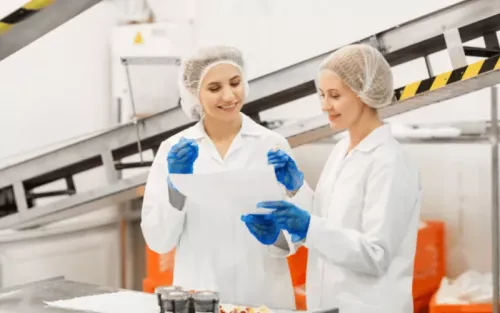 Normpack is a system in Sweden that evaluates standards, laws and regulations for packaging. Packaging manufacturers should comply with the German BfR, the Dutch Warenwet or the US FDA. Normpack also issues certificates to check and evaluate materials and products.
The Food and Consumer Product Safety Agency gives clear guidelines on contact materials: "Materials and products intended to come into contact with food must not transfer substances to the food in such quantities that they: constitute a danger to human health, bring about an unacceptable change in the composition of the food, impair its taste and smell".
Critical Aspects, Declaration of Compliance and Risk Profile
What are you afraid to find in food or medical production? Chemicals are found in printed materials and paint. BPA, plasticisers, amines, melanin and phthalates are found in plastics and polyamide. Recycled paper and packaging contain MOHA and mineral oils.
The packaging supplier is responsible for control, documentation and Declaration of Compliance (DoC), which shows what the packaging can be used for. A risk profile for food contact materials is often referred to. It is very difficult to estimate exposure from food contact materials. This is particularly true for packaging materials. The risk profile for packaging materials includes several different substances or groups that have been linked to high migration and toxicological effects, such as phthalates, perfluorinated substances, heavy metals, aromatic amines and melamine.
It is not easy to be a packaging manufacturer of contact materials for the food industry. Packaging often has several layers of paint, adhesives and coatings. The risk of residues from a tool such as a knife must be totally excluded.
Why Hygiene Zones are Important
High customer demands for quality, cleanliness and compliance with standards force food producers and manufacturing in a laboratory environment to take hygiene zones into account. Strict hygiene zones are, among other things, a requirement for BRC or BRC/IOP, which is a certification for packaging materials for the food industry. Premises, equipment and hygiene are of paramount importance for food safety.
Metal Detectable and X-Ray Visible Safety Knives
Specifically, food manufacturers require all tools in the hygiene zone to be metal-detectable. It must be possible to X-ray the final product and guarantee that nothing but the food is in the package. This is why metal detectable safety knives are used, with plastic handles that are traceable.
How to distinguish metal detectable knives by color coding in different hygiene zones? There are requirements for food manufacturers to be able to separate equipment between different strict hygiene zones. Sollex has received the following question from a food manufacturer:
- I am interested in the Klever Kutter, KCJ-1MD, but I have a question. Does it come in different colors? I have different hygiene zones that I need to use them in and would like to be able to separate them by color coding.
Sollex replies:
- We sell metal detectable safety knives from Martor, Klever and Mure & Peyrot.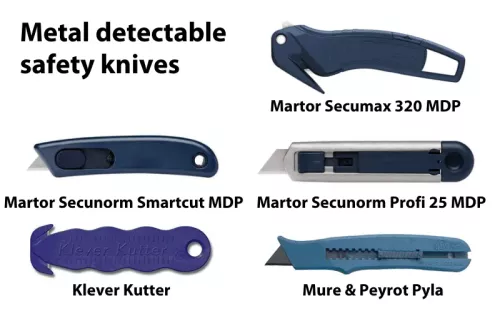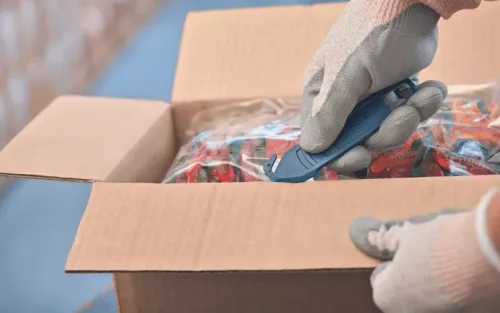 Klever's Kutter KCJ-1MD is blue and metal detectable. Unfortunately, the metal detectable KCJ-1MD is only available in blue. But there is a yellow Klever cutter that is not metal detectable. So if you only have two hygiene zones, you can have the blue one inside the hygiene zone and the yellow one outside.
In a case where you have several different hygiene zones and you need to separate metal detectable knives, choose a Martor MDP knife that is also metal detectable. The MDP knives are always unpainted to eliminate colored chips and are made of a special high quality plastic designed specifically for use in industrial hygiene zones.
Buy Safety Knives from Sollex
Sollex has a wide range of safety knives for warehouse and industry. Sollex is a registered reseller for the leading supplier of safety knives in the world, and keeps most knives in stock for fast deliveries. The safety knives are available in different varieties with different safety levels in order to suit various application areas and work places. Some of the safety knives have blades that can not be replaced, in order to prevent cutting injuries connected to the blade change. For the remaining safety knives, Sollex supplies replacement blades in a number of variations, where some have a coating on the blade for the longest possible durability.