Welcome to Sollex, your one-stop destination for high-quality blades designed specifically for plastic film, cardboard and flexible packaging applications. We understand the unique challenges that come with working with plastic films and flexible packaging materials. That's why we have developed a comprehensive collection of industrial blades that deliver exceptional performance, precision, and durability.
Whether you need blades for slitting cardboard rolls, perforating plastic film, or cutting PCR plastic films, our products are engineered to meet your exact requirements. Trust in our expertise to elevate your cutting processes and take your business to new heights of success.
Sollex – Supplier of Industrial Machine Knives & Blades for Packaging Industry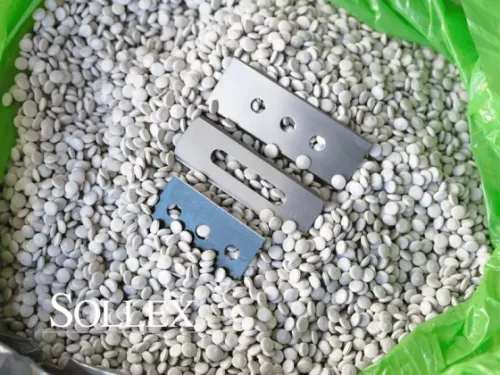 For flexible packaging and plastic film manufacturers, it is critical to have a reliable supplier of industrial knives and blades for a continuous production flow. Sollex can be your one-stop-shop supplier that will supply you with high-quality industrial knives and blades. We manufacture and solve your production problems related to cutting and converting flexible packaging materials from 1927.
Whether you are looking for circular paper slitting knives that cut paper and cardboard on rolls, knives for print packaging, 3-hole ceramic-coated blades for cutting plastic film with PCR or PIR, ultra precision knives with an extreme Ra 0.01 tolerance for application in Med tech, or blades for pelletizing and recycling industry, we can provide it all to your order.
Sollex ensures that each blade is made from the highest quality materials so that they last as long as possible. But just as importantly, we have some of the most affordable pricing on knives and blades for production and conversion packaging lines that you can find among machine knife suppliers.
Blades for Flexible Packaging Converting
Flexible packaging is defined as packaging designed to hold products, goods, solids, liquids, pastes, creams, or powders that is flexible when applied to it and the shape can be easily changed.
Various materials are used to produce flexible packaging, but mainly we can say plastic polymers polystyrene PS, polyethylene (PE, LDPE, HDPE, LLDPE), polypropylene PP in the form of plastic foil or thermoforming films, nylon, aluminum foil, cardboard, paperboard, paper, rubber and others.
BLADES FOR FLEXIBLE PACKAGING CONVERTING

| | |
| --- | --- |
| Razor Slitting Blades | Slotted slitter blades, industrial razor blades with 3 holes, injector blades are meant for slitting and converting mainly of plastic film and foil, aluminum foil, paper and thin carton used for flexible packaging manufacturing. Learn more about razor slitting of flexible materials in our blog |
| Top & Bottom Knives for Shear Cutting | Shear slitting can be used on a wide variety of materials including film, paper, laminates, textiles, foils and more. Top knife usually has a dished design and works in pairs with the bottom knife. Learn more about shear cutting of flexible materials in our blog |
| Circular Slitting Blades | Rotary slitting blades are often used in the flexible packaging industry for longitudinal cutting - slitting - of cardboard, paper, aluminum foil, film on converters and rewinders. |
| Crush Cutter Knives | Crush cut knives are machine knives used in crush or score cutting. These industrial knives are also referred to as Crushing knife, Perforating knife, Crush cut perf knife, Score / crush cutter, Score cut knives, Circular Crush / Score knife. Crush cutters are available in D2, HSS-M2, Tungsten Carbide. |
| Perforating Knives | Perforating is often carried out in the production of flexible packaging, such as plastic bags, cardboard packaging, and wherever the user will need to make an impact to tear off or change the shape of the package. Perforating knives a whole lot depending on the perforation pattern, the number of teeth, material |
The table above lists only some of the industrial blades used in one way or another for the production of flexible packaging and plastic film.
Razor Blades for Flexible Packaging Slitting and Converting
Industrial razor blades are used for razor slitting in slitter or converter machinery. These blades are thin, straight slitting blades optimized for cutting narrow strips of material. Industrial razor blades are used in various manufacturing and processing industries to cut through different materials such as paper, plastic film and foil, and other soft materials.
We can say with confidence that you won't find such a range of Industrial Razor Blades for Flexible Packaging Slitting and Converting as Sollex's anywhere else.
For flexible packaging manufacturers, we offer a number of different industrial blades: Slotted slitter blades, 3-hole industrial razor blades, Injector blades.
1. Slotted slitter blades. They come with straight or rounded corners. Thickness of such slitter blades are 0.40 mm and 0.20mm. Standard blade size is 57x19x0.40mm.
2. 3-hole industrial razor blades. Such slitting blades also come with straight and rounded corners. The blade sizes are as follows:
43x22x0.13 mm
43x22x0.15 mm
43x22x0.20 mm
43x22x0.30 mm
43x22x0.40 mm
3. Injector blades. These are small industrial blades, usually sized 38x8x0.25mm. They have 2 holes for mounting in the slitter machine.
Industrial razor blades are usually made of high-quality steel or other durable materials, such as tungsten carbide, ceramic, allowing them to withstand heavy use and produce precise cuts for long periods of time.
Contact our support at order@sollex.se and we'll help you find the right blade, material, thickness and additional coating for your application.
Custom Machine Knives for Flexible Packaging Production
Customized knives for the packaging industry are quite common and in demand. Sollex manufactures such machine knives for its customers by selecting and manufacturing the right cutting solutions or adapting existing knives to customer needs.
We can offer you these customization solutions for industrial machine knives and blades for packaging industry:
1. Manufacturing and refining industrial blades to suit your application and material. Also manufacture packaging industry blades according to your drawing or OEM
2. Coating industrial knives and blades with ceramic, titanium, and other additional and enhanced cutting properties.
3. Manufacturing machine knives and blades of high quality materials, proven by time and experience. We produce our knives from German and Swedish steel, and we have proven suppliers of other raw materials used in the production of knives from carbide, bi-metal, and other alloys.
4. Mirror polishing of circular cutting knives will surprise you with excellent results. Read more about this technique to increase performance and cutting quality of slitter knives in our blog. We will mirror polish industrial knives and blades when you order from us.
Recycling of Plastic Material
Plastic recycling is usually one of the processes accompanying the production of plastic film or flexible packaging. All defective plastic products can and should be recycled into Post-Industrial Resin and produced again into plastic film or flexible packaging.
Post-Industrial Resin (PIR) is a term used to describe plastic resin that is recycled from industrial waste streams. It refers to plastic waste generated during the manufacturing process or other industrial operations. This waste is collected, processed, and recycled into new plastic products or incorporated into other manufacturing processes. Polyethylene (PE), high-density polyethylene (HDPE), polypropylene (PP) or polystyrene (PS) are the types of plastic waste that usually get regranulated.
The use of PIR plastic helps reduce waste and the demand for virgin plastic materials. It promotes sustainable practices by diverting industrial waste from landfills and supporting the circular economy.
Knives for Recycling of Plastic / PCR, PIR Resins
Pelletizer / pelletizing blades are specially designed blades used in the recycling process to cut extruded plastic strands into pellets or also called resin, granulate, regranulate, PIR, PCR. Pelletizing occurs after shredding waste plastic or film into small pellets or pieces, which are then melted and molded into new plastic products or blown into plastic film.
The knives and blades for plastics recycling are also known as: pelletizer blades, pelletizing blades, pellet cutting blades, pelletizer knives, pelletizing cutter blades, die face cutter blades, granulating knives, die face blades, die face knives, hot die face cutter blades, densifier knives, granulator cutter knives.
Sollex manufactures all of the above-mentioned knife types used in plastic recycling on such plastic recycling systems manufactured by Erema, Munchy, Gala, NGR, Weima or others. Learn more about blades for industrial plastic recycling machines in our blog.
Only some of the pelletizing knives for plastics recycling machines are shown on this page. You are always welcome to contact our support and we will provide you with the full range of blades and knives for the plastic producing and converting industry.