Choose the Right Snap-off Knife [Guide]
The right snap-off knife can save you a lot of money...
Welcome to the Swedish knife and blade specialist Sollex! We are experts in knife blades and have cutting tools for professionals that suit many applications. Our range is a mix of the highest quality safety knives available and knives for digital cutting systems, machines and industry.
What is a Utility Snap-off Knife?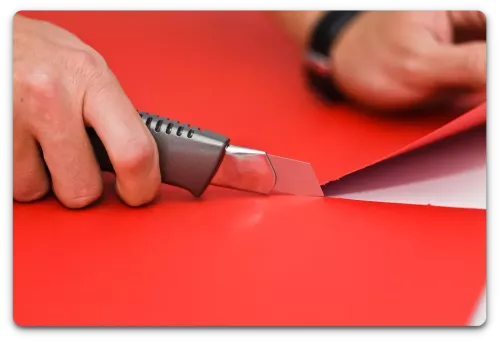 A utility snap-off knife is a type of cutting tool that is commonly used in various industries and applications such as construction, crafts, and hobbies.
The blade of a utility snap-off knife is made of a series of small segments that can be snapped off to reveal a fresh, sharp cutting edge. This makes the knife highly versatile, as the user can adjust the blade to the required length by snapping off a segment or two. The segments are usually marked with lines that indicate where to snap the blade, allowing for precise adjustments.
The handle of a utility snap-off knife is typically made of durable plastic or metal and is designed to provide a comfortable grip. Some models have a retractable blade that can be locked in place when not in use, providing added safety.
Use pliers or a SAFETY BOX to break off the blade segments. The blade is broken off in a punched-in segment and an unused portion of the blade is brought forward and used. Then you, the user, have a very sharp knife blade quickly at hand. There are two standard widths of knife blades: 9mm and 18mm.
Utility snap-off knives are available in a variety of sizes and styles, with some models featuring additional features such as a built-in blade storage compartment or a snap-off blade disposal chamber. They are an essential tool for anyone who needs to make precise cuts on a regular basis.

How is the Snap-off Knife Used?
Snap-off knives are used together with segmented snap-off blades. When the knife needs to change blades, it is easy to open the hilt and insert a new blade. When the blade becomes blunt, a new edge is simply snapped off, so you always have a sharp working tool.
The snap-off knife is a versatile cutting tool that can be used in a variety of applications. Here are some common ways it is used:
Cutting materials: The snap-off knife is used to cut various materials such as paper, cardboard, foam board, plastic, leather, and more.
Trimming edges: The snap-off knife is useful for trimming edges of materials, such as cutting the excess material off the edges of a carpet or trimming wallpaper.
Score and snap: The snap-off knife is ideal for scoring materials such as drywall, plastic, or wood. After scoring the material, it can be snapped along the scored line with a pair of pliers or by bending it back and forth.
Precision cuts: The snap-off knife is a great tool for making precise cuts in materials such as fabric, paper, and foam.
DIY projects: The snap-off knife is a popular tool for DIY projects, such as cutting shapes out of foam board, trimming wallpaper, or cutting plastic sheets for model building.
We recommend using Sollex knife blades, which will make any knife really sharp and durable. Sollex blades are made of special German ice-hardened steel and cut through most materials without resistance. Sollex knife blades and knives can be used to cut through thick plastic, rubber, foil, cardboard, paper, textiles, wallpaper, flooring materials and leather, for example.
What is the Utility Snap-off Blade Used for?
Snap-off knives are usually used when you want to make cuts in different materials and are great to use because you can easily have a sharp knife blade by breaking the knife blade segments. Small snap off knives with 9mm wide blade work optimally for non-strength work such as in thin materials like paper, cardboard, wallpaper, leather, vinyl, film and wood. Breakaway knives are not suitable for cutting larger pieces of wood. The small snap off knife is used for various crafts and hobbies, but also for packing and unpacking.
Sollex 18mm snap off knives are used daily for cutting wallpaper, corrugated board, flooring materials, plasterboard and polyurethane. Remember that the blade needs to be changed from time to time. Browse our wide range and buy the best blade for your knife.
The snap-off knife blade is designed to use only 10mm of the blade at a time. Therefore, use only one blade segment at a time. So leave only about 10mm of the blade in front. This is to avoid damage and to get a better cut. How to snap off a utility knife's blade? Always use pliers or the Sollex Safety box 988 when breaking off a blade segment. Never use the supplied plastic pieces or your fingers to break off a blade segment, as the segments may be pushed away and injure you when using that knife. If you want a longer blade, use only blades without segments such as the Sollex 180LUS.

Buy Utility Knives & Blades with Coated Cutting Edges
With our 18mm and 9mm utility knives, you can give yourself and your employees sharpness and performance that lasts. Invest in quality and your work will be more efficient. We have knives in a variety of shapes and handles for 18mm and 9mm blade widths. By combining different types of blades, you can easily use your tool for a whole range of purposes. Please check out our category "Snap-off blades" to see examples of different types of blades for different tasks. Sollex utility knives are of the highest quality and designed for professionals and craftsmen! We market a range of break off knives that meet the requirements and needs of professional users. Perfect precision you can rely on.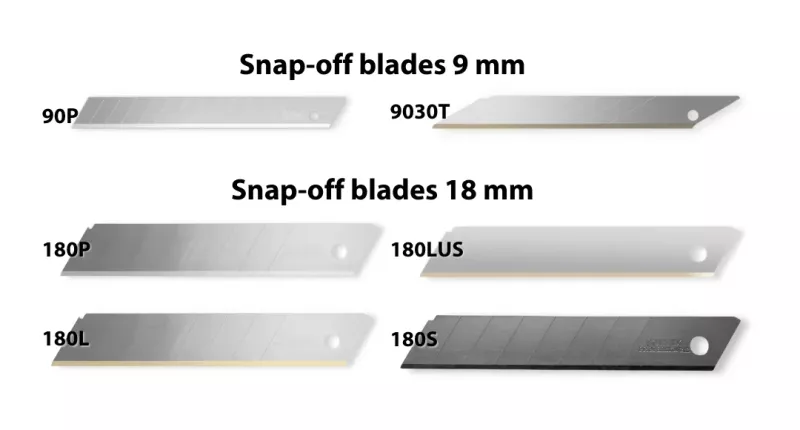 18mm or 9mm? Many Different Blades to Choose from
Our blades are divided into 9mm, 18mm, 22mm and 25mm. Visit our blades page and read about the top rated blades. These generally work the best. Sollex's best seller is called 180P and is a utility blade optimized for wallpaper and flooring materials. 180L has titanium coating on the edge and lasts longer. The black 180S blade is extra sharply ground for a finer cut but slightly less durable.
Mozart's blade is extra robust and well suited to flooring materials. We also have blades with hooks for cutting carpets and a 30-degree blade for the finest detail work. Last but not least, Sollex has utility snap off blades without segments. These are great because no segments can come off the blade and are perfect for cutting down cardboard and thick materials.
If you're looking for a specific knife blade, please get in touch and we can help sort out what might suit you.
Snap-off Utility Blades without Segments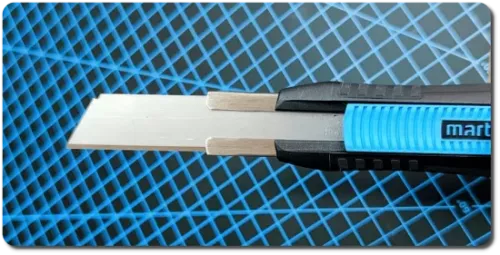 Do you like the idea of using more than 10 mm at a time of your utility knife? Then use blades without segments. These cannot be broken off and are well suited to use up to 70 mm out from the knife. Blades without segments are supplied as standard in the Martor 380001 safety knife. You can order knife blades without segments from Sollex and these are called 180LUS.
Safe Snap-off Knives
Snap off knives are very popular because they have such a simple and robust design. However, if you work in the food industry or feel unsure about using knives with blades, choose a suitable safety knife. Sollex offers many different safety knives that completely replace the blade knife if you so wish.
Choosing the Right Utility Knife
Choosing the right cutting tool can sometimes feel like a challenge, which is why we have chosen to explain how to think about finding the right utility knife. As a first rule, choose a snap off knife with a metal blade rail. This will make the blade last longer and give you a better grip on the blade. This will give you better cutting quality.
Historically, many different manufacturers have made utility snap off knives. Often the knives are referred to as Olfa knives, which has long been a favorite term. Sollex utility knives and blades are sturdy tools for professionals and are available in 18mm and 9mm versions. First consider the type of material you will be cutting. Often the small utility knife is very good for simple cutting work such as on wallpaper, diy or in construction. The slightly larger 18mm utility knife works better on tougher and thicker materials such as flooring, cutting rubber or cutting PUR materials.
Choose the Right 18mm Snap-off Cutter
The optimal snap-off knife for a floor layer is the 8180 NT-Cutter L-2000RP which has a magazine with 6 breakable blades and a screw to fix the blade right at the tip of the blade. This gives precision and a fixed blade which is useful when the floor layer is cutting upstands in bathrooms. The 8180 is a utility knife with a metal blade rail and a robust magnesium construction and an extendable blade with locking mechanism. Automatic blade feed from magazine containing 6 extra blades.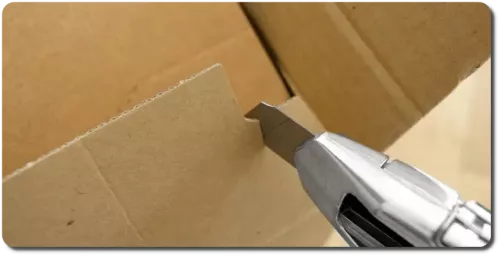 The slightly more agile 9180 NTCutter L-550GP has a screw to secure the blade in the holder. However, not at the tip of the blade so the function of the screw does not really work optimally.
Sollex by far the best-selling snap off knife is the 5180 or NTCutter L-500GRP. It is a handy snap-off knife with an auto-lock function that works. We have customers who have used their 5180 for more than ten years.
Sollex also offers the 2180, 6180 and 1180, which are slightly simpler blades. But with the right blades they have their place in our range as we have customers who want blades with minimal weight. As a general recommendation for 18mm blades we recommend the Sollex 180P Blade PRO 18mm.
Choose the Right 9mm Snap-off Cutter
The Sollex bestseller of 9mm snap off knives is the 5190 or as it is called the NT Cutter A-300GR. A stockist told us that he has had his 5190 for more than 16 years. By changing the blades, the knife stays functional for a much longer time.
The 2090, 4090 and S202 are our lightest blades. Olfa's nice little knife SVR-2 is in our range as some customers want as minimal a 9mm blade as possible. As a general recommendation for 9mm blades we recommend the Sollex 90P Blade PRO 9mm.
The right Utility Knives and Blades Can Save you a Lot of Money - Business Case
One Sollex customer employed 67 people in their warehouse. Approximately 30 Stanley snap off knives were used per week to open and cut cartons. The cost was about SEK 30 per disposable knife. The total cost over a four-year period was estimated at SEK 180 000. The Sollex 5180 utility knife was labeled with each employee's name. The cost of the knives and professional blades was SEK 3,772. The knives are still working today and have reduced the need for disposable knives and improved health and safety. The savings to the customer from using the correct blade was SEK 176,000 over four years.
General Tips for Cutting with Utility Knives:
Use only 10 mm of the blade
Snap off the blade and the blade will be sharp again
Use pliers when breaking off the blade segment
Snap-off knives are suitable for many types of work
The Sollex snap-off blades are supplied in 10 packs
High Quality is Important to Us
When you unpack the utility knives and blades you order, we want you to feel the same love for the product as we do when we make them. All of our utility blades are made to a high quality and are designed for professional users. By choosing high quality tools, you get cutting performance that won't fade over time. We also offer fast delivery because we know how important it is to have sharp blades for your pruning knife!
Contact Sollex
Utility snap off knives are used for various tasks in construction and manufacturing operations. Whether you're looking for a sturdy utility knife for demanding cutting jobs or a more nimble version, Sollex has the knife for you. If you have any questions about our snap-off knives, how to buy or anything else - get in touch with our customer service and we will be happy to help you with your questions! Buy your blades and blades online!