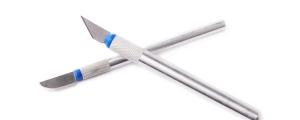 We have scalpel handles, including scalpel handles from the manufacturer Swann Morton, as well as pen knives ( pens with blade ) for both surgical use and crafts. Learn in our blog article how to use a scalpel safely, how to hold it properly in your hand, and how to change the blade and many more.
Scalpel and craft blades for scalpels can be found here.

Scalpel handles and knives for art, scrapbooking, stencils, and DIY online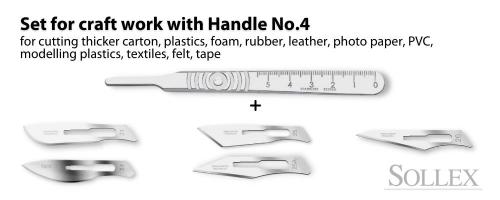 There are various cutting hand tools used for precise and detailed cutting for hobby projects, design, carving, etc. There are many English names that you can find on the internet that all mean about the same scalpel-like tool: precise craft knife, precision knife, hobby knife, craft knife, carving knife, hobby scalpel etc. These are scalpel-like cutting tools which are the perfect tools for designers, artists, and model makers for cutting materials such as cardboard, paper, wallpaper, plastic, textiles, leather, graphic design, gently deburring plastic parts and all kinds of precision cutting.
Common applications of precision knives / hobby scalpels / pen knives
Hobby scalpels and precision pen knives are used to cut a variety of materials, depending on the specific application.
Paper: Precision knives are often used to cut paper in crafts such as scrapbooking, card-making, and papercraft.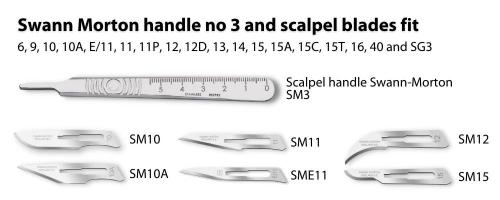 Cardboard: Scalpels and precision knives can be used to cut cardboard for model-making, packaging, and other applications.
Foam: Scalpels and pen knives are commonly used to cut foam, such as Styrofoam, for model-making and other craft applications.
Fabric: Precision knives and scalpels can be used to cut fabric for sewing and quilting projects.
Plastic: Scalpels and precision knives can be used to cut thin sheets of plastic for model-making and other applications.
Wood: Hobby scalpels and precision knives can be used to cut and carve small pieces of wood for model-making, woodworking, and other craft applications.

When should I replace my hobby scalpel blade?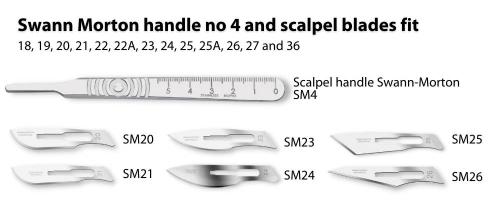 Crafting professionals know the importance of replacing their scalpel blades regularly, rather than waiting for them to break or chip. Dull scalpel blades can hinder your creativity and lead to subpar results.A fresh blade allows for ultra-precision, enabling you to make clean cuts that set your work apart.The frequency of blade replacement when crafting depends on several factors, such as the material being cut, the amount of use, and the level of precision required for the task at hand.But if you hear a specific sound while cutting, for example, a carton, it is time to replace the blade. It is advisable not to spare the blade, because a blunt blade can begin to tear the cutting material and the ends of the cut will be torn and sloppy.
Safety guidelines for using scalpels and precision knives in craft and hobby work
When using scalpels, it's important to consider the position of the blade to achieve the desired results. The position as a writing pen is best for small cuts and punctures, while the position as a table knife provides more pressure force and a larger cut. The position as a bow provides more scope, but less force.
To ensure safety and longevity of the scalpel, it should be stored properly.
Always remove the mounted blade after use and store it in a safe place.
Avoid dropping the blade onto hard surfaces such as metal or stone as this can damage the cutting edge and reduce its performance.
Never grip the cutting edge with pliers or other tools.
While working at a table, protect yourself from a potential injury by placing something on your lap in case the scalpel accidentally falls.
Do not throw the scalpel into a drawer or leave it on a table. Consider using a special case, work station, or cap to protect the blade.
To improve the quality of the cut and protect your work surface, use special cutting mats or self-healing cutting mats as a base for the material. These mats often come with useful markings and rulers. Avoid using fabric gloves that can slip on the metal surface, or gloves that are too thick, which can cause your fingers to slip.
Finally, never check the sharpness of a scalpel blade with your skin. This can lead to serious injury.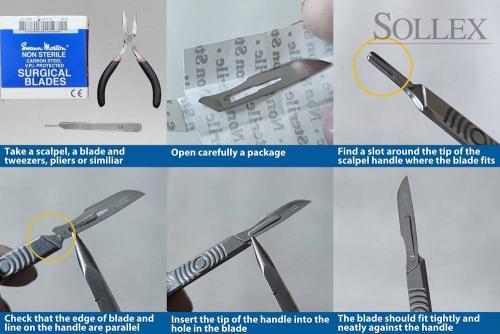 Swann-Morton Blades & Handles for Dermaplaning
Dermaplaning is a cosmetic procedure used to remove facial hair and dead skin cells from the skin's surface, leaving it smoother and more radiant. Swann-Morton Scalpel Handles and Blades are a popular choice among trained aestheticians and estheticians for performing dermaplaning treatments.
For a dermaplaning procedure, are used the Swann Morton 10R scalpel blade with Swann-Morton No.3 scalpel handle. In addition, we recommend having a blade removal tool, such as pliers, and a blade disposal box, such as the Sollex 988 Safety Box.
One of the main advantages of the 10R blade is its ability to access more restricted areas of the skin and face, providing precision in delicate areas. Additionally, the rounded nose of the blade reduces the chance of accidental nicks to the skin, providing a safer and more consistent experience for the user.
Swann-Morton scalpel handles and blades are made of durable stainless steel. Scalpel handles can be reused multiple times, making them a cost-effective option. Moreover, Swann-Morton Scalpel Handles and Blades are a reliable and efficient tool for performing professional-grade dermaplaning treatments, and are commonly used by trained professionals in a clinical setting.
Buy high-quality knives for for art, scrapbooking, stencils, and DIY online
We carefully select goods in our range and always guarantee quality and reasonable prices. If you need quality blades and knife handles for hobby, craft and detail work, then you've come to the right store. If you have any questions, please contact our customer service