Guide: How to Order Industrial Machine Knives Correctly
This article is about ordering the custom machine knife based on your application
When contacting a machine knife manufacturer to order custom made machine knives, providing accurate and detailed information is critical to ensure you receive industrial knives that meet the needs of your operation and the material you will be cutting.
Here's a step-by-step guide on what information to include and why it's important.
Machine Information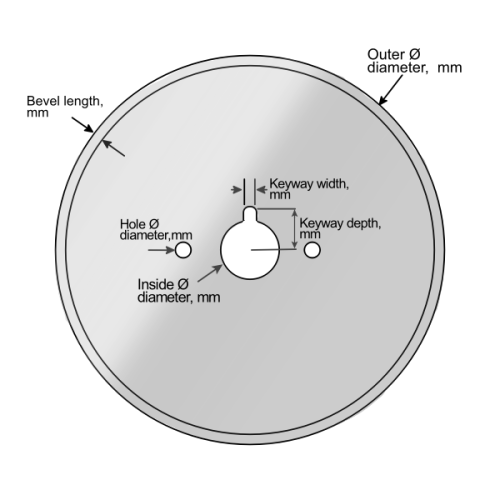 The machine name or machine model is the first thing you need to provide to the knife manufacturer. Providing the exact machine name and model helps the manufacturer understand the specific application and operational requirements. This ensures that the knife will be designed to fit seamlessly into your equipment.
Drawing or Sketch of Machine Knife
Including a detailed drawing or sketch with all specifications minimizes the risk of miscommunication.
Designed for specific applications, many machine knives are custom-engineered. This helps the manufacturer understand the unique needs of the client, so that knife features like hole positions, bevel type, angles can be adjusted for optimum knife performance in the application.

OEM and Part Numbers
Including the OEM number (Original Equipment Manufacturer Number), if available, facilitates quick identification of the knife's specifications. This is especially important when replacing existing knives to maintain compatibility and performance.
Blade Specifications like Part Numbers
Sharing any part numbers or markings present on the existing blade helps the manufacturer with the design and function of your knife.
Compatibility with specific machines or applications may be indicated by part numbers. Providing this information helps the manufacturer confirm that the new knife will fit your equipment, preventing fit or function problems.
Part numbers and markings allow the manufacturer to make fine-tuning adjustments while retaining key features that work well if changes or improvements are needed to an existing knife.
Machine Knife Dimensions
Height / Length / Thickness
Specifying precise dimensions helps in crafting a knife that fits perfectly within the machine's designated space while optimizing cutting efficiency.
Inside and Outside Diameter (if applicable)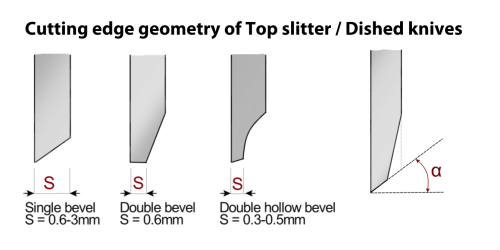 Providing both inside and outside diameters is essential for circular or perforated knives, ensuring precise fitting and alignment.
Hole Details
Clearly stating the number of holes required prevents unnecessary modifications later and ensures the knife is manufactured with the correct hole configuration. Accurate hole diameter information is vital for accommodating fasteners or shafts securely and maintaining structural integrity.
Bevel Type and Angles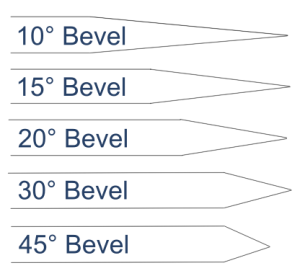 Various types of bevels and angles are available for particular applications. Specification of bevel type and angle allows the knife to be optimized for its intended use, ensuring efficient and precise cutting.

Specific bevels and angles are more appropriate for specific materials. For example, a higher bevel angle is preferred for harder materials and a lower bevel angle is preferred for softer materials. The selection of the correct combination will increase the knife's ability to effectively cut the material of interest. Sharper angles can make the edges thinner and sharper, but can also be fragile. Conversely, a steeper angle can result in a slight loss of sharpness, but increased edge life. Choosing the right angle provides a balance between sharpness and durability.
Providing the bevel angle helps achieve desired cutting characteristics, making sure the knife's edge is tailored for the intended application.
Industrial Knife Material
Clearly stating the desired material prevents compatibility issues and ensures the knife's durability and performance align with the machine's demands.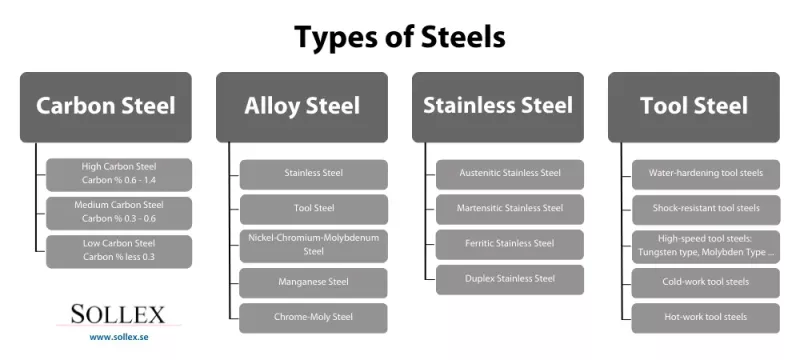 Additional Features
Polishing. Opting for polishing enhances cutting precision and reduces friction, prolonging the knife's lifespan and maintaining consistent performance.
Coating. Choosing coating options based on your application (e.g., ceramic, titanium) improves longevity and efficiency.
The mirror polishing process is used to improve the cutting performance of the product. It also reduces contamination when cutting materials such as sticky or dust-producing materials. In addition it removes oxidation. Polishing, as well as an additional coating such as ceramic, also helps by preventing corrosion of industrial knives and blades, especially the cutting edges. It is even advisable to use mirror polishing and additional coating of cutting edges together for the best effect. Learn more about mirror-polishing technique in our article "Mirror Polished Slitter Blades for High Performance Cutting"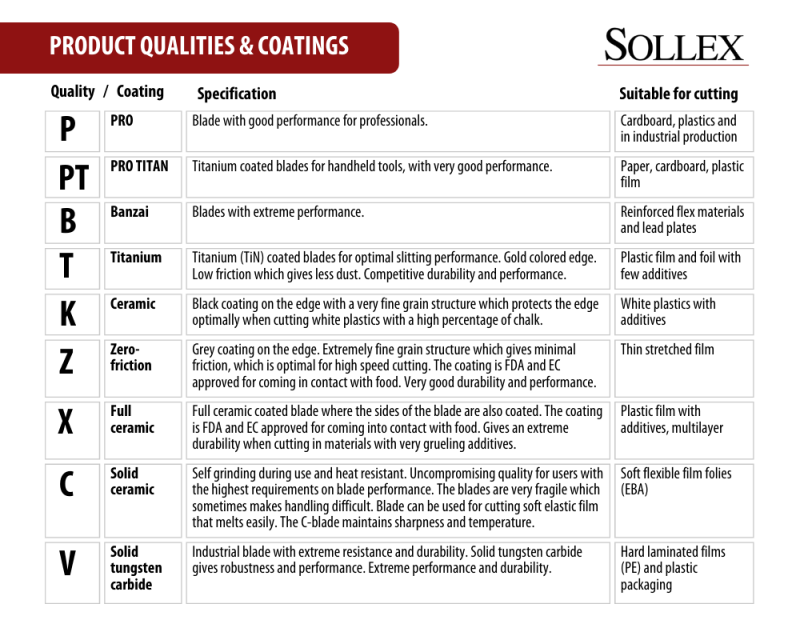 Quantities and Lead Times
Quantity. Clearly indicating the required quantity assists the manufacturer in planning production and ensuring you receive the necessary knives.
Lead Time. Providing a lead time helps align production schedules with your needs, ensuring timely delivery.
Every knife information you possess is important to ordering industrial machine knives. You can effectively collaborate with the manufacturer to create custom machine knives that optimize the performance and longevity of your machinery by also providing information about your experience with previous machine knives, sharing their shortcomings and drawbacks. Effective communication and accurate information are key to obtaining high quality, accurate machine knives that meet your unique needs.
Order Industrial Machine Knives at Sollex
Industrial knives or machine knives are types of cutting tools that have been manufactured by Sollex to exact customer specifications for over 96 years. We specialize in industrial machine knives for all cutting applications whether cutting plastic film, paper production or plastic and packaging recycling. Sollex knives are custom designed to meet your needs.