Knives & Blades Used for Roofing
Frequently asked questions about roofing knives and blades
Utility knives are very multifunctional and every roofer has one. A knife with a hook blade is particularly useful when cutting roofing shingles and other roofing materials because it hooks into the material and makes a clean cut instead of just dragging across the thick roofing shingle without cutting all the way through.
What type of knife do roofers use?
Roofing knives and utility knives are indispensable and important tools in a roofer's work. These tools are commonly used in the installation, repair and replacement of roofs. It is common for roofers to carry a utility knife to use with both straight utility knives and hook blades due to the fact that they cut different thicknesses of material. Materials that are cut when repairing roofs are roofing felt ( Other names for this material are asphalt roll roofing, rolled roofing, sanded bituminous felt, asphaltic felt), roof shingles, fiberglass, various insulations and building paper underlayment.
95% of Sweden's top roofers use a heavy-duty universal knife that is curved to cut roofing felt with the blade always extended. E.g. Sollex construction knife 2000 or one of Stanley's curved knives. Sturdy is good because you work outdoors with gloves. If the knife is slightly bent or curved, the grip is better.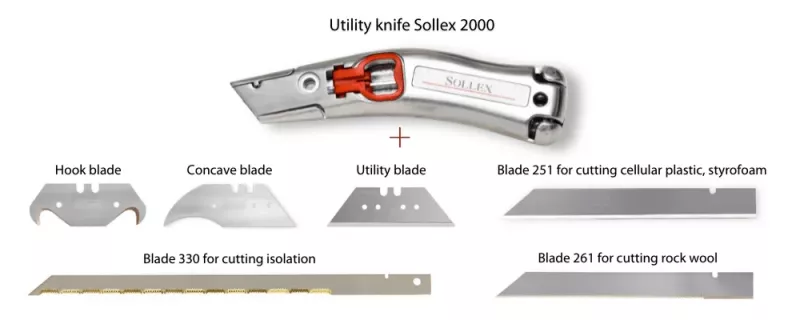 Hook blades for roofers
A hook blade is a tool blade that has hooks at both ends and is designed to cut thick materials such as roofing felt. The user can reach areas where it is difficult for a standard utility knife to reach without damaging the surroundings. Of all the knives we offer to use for roofing felt, hook blades are the strongest and provide a more precise cut. Coated hook blades ( for example with titanium TiN) are even more robust and have a longer durability and better performance.

The main cutting method for using the roofing utility knife in combination with a hook blade is to pull. This involves the user hooking the hooked edge of the blade onto the end of the material and gently pulling downwards. There is a video below where we show how this works with the utility knife 2000. Usually a hook blade is used in conjunction with a utility knife or a roofing knife to cut underlayment for roofing, roofing felt, slate.
Every roofer needs roofing felt knife or roofing twin blade knife
Together with the Sollex hook blade, the Construction Knife 2000 makes a great cardboard knife for the professional roofer. The hook blades are designed to minimize the force needed to cut roofing felt or roofing underlayment. In addition, the hook blades protect the substrate. The hook blades are also very suitable for cutting PVC cloth or EPDM. The Construction Knife 2000 comes with an accompanying plastic sheath to protect the user. This becomes an obvious roofing favorite as in one movement you have your knife ready to use, cutting the material and safely storing the Construction Knife after it has been used.
Long straight utility blades and concave blades for roofing
After more than ten years of supplying Construction Knives and Hook Blades to Sweden's leading roofing companies, we have noticed that the need for straight utility blades and concave blades is quite small by roofers. So most of the work can be done with the hook blades. But if you are cutting plaster, long straight blades are optimal. Similarly, if you are cutting a fold of roofing felt or other detail work, the concave blade is perfectly suited for narrow passages.
Cutting systems for roofing felt, rock wool insulation and foam board
In addition to hook blades, longer blades can be used in the Construction Knife 2000. These for cutting insulation. Rock wool or foam can be cut with the longer blades 251, 261 and 330. For these longer blades there is also a slightly longer sheath and belt holder that makes it a pleasure to use the construction knife when cutting insulation. The Sollex asphalt roofing knife 2000 becomes your mineral wool knife, craftsman's knife and insulation knife in one.
Snap off blades for the professional roofer
Sollex professional utility snap-off knives can be used to some extent to cut insulation. It is preferable to use blades without a break 180LUS in order not to harm the user in case segments of the blade come loose. An alternative is the Martor 380, which automatically retracts the blade when the cut is completed and comes with a blade without segments.
A best-in-test knife for the roofer
Sollex offers a complete knife system for roofers. The basic Byggkniv 2000 was voted best-in-test by Byggnadsarbetaren magazine back in 2011. The Construction Knife is the only optimized knife on the market for roofing and plasterboard work.
The utility knife should ideally be large and preferably slightly curved. This gives a better grip when wearing gloves. It is also important that there are not too many details on the knife in which the roofing felt can get stuck. The roofing felt will smudge the knives and if the batter gets on small moving parts, the knife will not work as well. To top it all off, the utility knife is difficult to clean. But the most important thing for a felt cutter is that the knife has as few plastic parts as possible. Roofers often work with the burner's open flame in one hand while holding the knife in the other. If the torch comes into contact with plastic parts, they melt.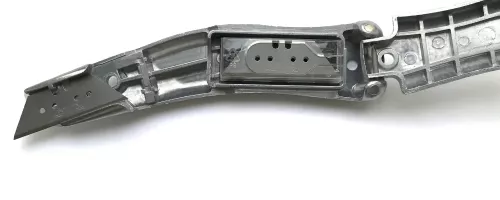 The Sollex Construction and Utility Knife 2000 is perceived to be stable with a good grip. It is easy to change blades and it was just the right size. The plastic detail that is the opener is made of pump plastic. That is, the same plastic that German car manufacturers use in gearboxes for its high resistance to heat and wear. The Sollex Construction Knife is easy to clean and easy to use even if it is greasy. At the same time, it is extremely easy to change the hook blades in the construction knife.

Most roofers use knives where the blade is always unfolded because there should be as few moving parts as possible. Roofers often change the blade because it gets sticky with asphaltic felt and then the sharpness is lost. To work on details, you need sharp hook blades. This requires a knife that works, and changing blades is quite easy. The Sollex construction knife is easy to open, place the knife blade on the magnet that fixes the blade in place and when you close the knife you have an optimal tool for cutting roofing felt.
________________
FAQs

1. Why are hook blades used? What is hook blade used for?
- Hook blades are used to advantage by roofers because less force is needed to cut roofing felt compared to a straight blade. Instead of pushing and pulling, the roofer only needs to pull for a perfect cut. The hook blades are also designed not to damage the substrate. The back of the hook blade is not sharp and slips on the substrate. Usually a hook blade is used in conjunction with a utility knife or a roofing knife to cut underlayment for roofing, roofing felt, shingles.
2. How to cut roofing felt?
- When cutting roofing felt, use gloves. Therefore, a strong, stable and slightly curved knife is needed. It is better to use hook blades in the knife as this saves energy by using less force when the hook blade is pulled and cuts the roofing felt.
3. What knife blades are used by roofers?
- Roofers use hook blades, utility straight blades and long knife blades to cut insulation and roof underlayment.
4. What is the best knife blade to use to cut shingles?
- When laying roofing felt and cutting roofing shingles you need hook blades.
5. What is the best knife for cutting roofing felt?
- The Sollex Construction Knife 2000 was voted best in test by Byggnadsarbetaren magazine. Try the Sollex 2000 next time you need to cut roofing felt.
6. What is a concave blade? What is a concave blade used for?
- A concave blade is another type of hook blade, but with a much wider hook. Concave blades are most often used by floor layers for detail work such as folding up or cutting around element pipes. For roofers, half-moon blades can be useful for cutting out details from roofing felt.
_______________________
Knives and Blades for Professionals
Sollex develops and markets knives, knife blades and industrial razor blades to distributors, wholesalers, retailers and professionals in FLOORING, PAINTING, BUILDING and INDUSTRY. Sollex has a world-leading quality range of industrial razor blades, knife blades, hook blades, scrapers and pointed blades. For our durable knife blades we have hand held tools such as universal utility knives, dolphin knives, construction knives, roofing knives and carpeting knives. Sollex also offers scalpels, circular blades, Mozart blades, cutting tools and customized knife blades. We own and manage the Sollex brand. Sollex has been owned and operated by the Falk family for four generations since 1927.