Blades for Windmöller & Hölscher plastic film machines
Long industrial razor blades and slitter blades for W&H machines
Windmöller & Hölscher makes machines for extruding, printing, and converting flexible packaging film
Windmöller & Hölscher is a world leading manufacturer of machinery and systems for the production and processing of flexible packaging. W&H was founded in 1869 and has a wide range of high-tech machines and lines for film extrusion, printing processes, industrial sack systems and converting lines. "Passion for Innovation" is true for all products in paper, wovens and plastics materials.
Industry 4.0 and the Internet of Things (IoT) are strong mantras for W&H. Since 2015, the company has been digitizing its technology, calling the entire process PACKAGING 4.0, which includes intelligent machines, integrated processes, and intuitive control.
Windmöller & Hölscher makes machines and equipment for three major industries: paper, woven, and film
W&H Paper Machines
Windmöller & Hölscher offer machines for paper bag and paper sack production.
The following machines and techniques are the most relevant W&H products for paper sack and bag production.
Web printing: FLEXA 820 Flexographic tail-end printer for integration in paper sack tubers, FLEXA II The premium stack type printing press for heavy duty packaging
Tuber: AM 8115 CL tuber for cement and building material sacks, AM 8715 tuber for universal sacks and product flexibility, AM 8125 tuber for universal sacks and fast set-up, AM 8135 tuber for universal sacks with digital glue application
Rotaliner for liner sack production
Bottomer: AD 8320 CL, AD 8320, AD 8330, AD 8370
Material flow system
Palletising: Arcomat 3+ for paper sacks
W&H Woven machines
Woven materials are essential for the W&H machine line-up. The company makes machines for Fabric production, Woven printing, and Woven bag production
Fabric production lines by W&H
Extrusion: Tiratex - a tape extrusion and -stretching line for production of polyolefin tapes made of PP
Winding: Filatex 2000 winder is used for the cylindrical cross winding of polyolefin tapes on cylindrical tubes
Circular weaving looms: Advantex CL, 850, 1300, 1700 and 2250
Coating: Ecotex extrusion coating/laminating line
Woven printing lines by W&H
Servotex 850/4C, 850 6/C roll-to-roll flexographic printing machine for printing PP fabric, circular woven or flat, coated or uncoated
Woven bag production lines by W&H
Tuber: Polytex multi-purpose tuber for the production of one-ply or two-ply flat and side gusseted tubes from PE plastic films, PP woven fabric and composite materials
Bottomer: Convertex SL 100, SLC, CL 140, Nanotex for Woven-PP sacks
Converting: Sacotex for producing bottom sewn tubular bags from uncoated or coated woven fabric; Cuttex 750 and 1300 fabric slitting machines; Slittex fabric slitting machine for woven fabric; the hydraulic baling press Presstex Compact
W&H Plastic film machines
Plastic blown and casted film is the core essence of the Winmöller & Hölscher machine line-up. The company has a strong position in film production, film printing, film bag production, and Form-Fill-Seal-Sacks (FFS). The machines that transforms pellets to film like Varex, Optimex, and Filmex are household names for flexible packaging companies.
Film production lines by W&H
W&H core business is making film. Its done by three different processes: Blown film, Cast films and Tape extrusion. When the film is created it needs to be winded. Alternatively it can be cut and printed upon before winded. The big question is if this can be done in line or as a separate process.
To do so it is vital to understand the extruder and die technologies provides a perfect melt homogeneity and melt distribution. These are the keys for a successful extrusion process that gives the film consistent thickness of all individual layers and barriers. With precise temperature and stretch rollers gives the film its wished characteristics.
Range of machinery for extrusion, printing, converting:
Machinery for blown and cast film and tape extrusion: blown film lines, cast film lines, tape extrusion and coating lines, winders, stretching unit, woven lines, retrofits.
Machinery for printing: CI Flexo Presses, Stack-type Flexo Presses, Rotogravure Presses, Inspection & Automation systems, Winding systems
Machinery for converting: New Paper Sack line, Tuber, Bottomer, Material flow & palletising, Converting systems, Form, Feal and Seal, Small Bags / Carrier Bags machines
W&H blown film lines for flexible packaging industry
Blown film lines: modular blown film line Varex II for PE, PP ,PA, PLA, EVOH, Ionomers, biomaterials, recycling materials; Optimex II

for films with 3- or 5-layers PE, PP, PLA, Ionomers, biomaterials, recycling materials; extrusion line Optimex II FFS for heavy duty sack applications; Aquarex Water-quench blown film line for extrusion turned up-side-down
Cast film lines: Filmex II for stretch applications, Filmex II for CPP and CPE applications, FILMEX II for barrier applications. FILMEX II enables 3-11 layers, a net film width of 2-4m at a thickness of 15-400microns. It's output is up to 2500kg/h at a line speed of 350m/min.
Tape extrusion and coating lines: Tiratex tape extrusion and stretching line for production of polyolefin tapes made of PP; Filatex for the cylindrical cross winding of polyolefin tapes on cylindrical tubes; Ecotex CL, 1600L, 1600LC extrusion coating and laminating lines
Film printing presses lines by W&H
CI Flexographic presses: Miraflex, Novoflex, Vistaflex for flexible packaging printing
Rotogravure presses: Heliostar II A, Heliostar II S
Stack-type Flexo presses for sack production: Flexa II,820, 600 , Servotex for woven fabric packaging
Unwinding and rewinding systems: Filmatic II C, Reelmatic, Corematic
Film bag production lines by W&H
Blown film lines: Varex II modular system, Optimex II extrusion line
Tuber and bottomer: AD PLASTIC 2 bottomer for universal sacks made of PE film; POLYTEX tuber for universal sacks made of PE film or PP woven
WINDMÖLLER & HÖLSCHER at K 2022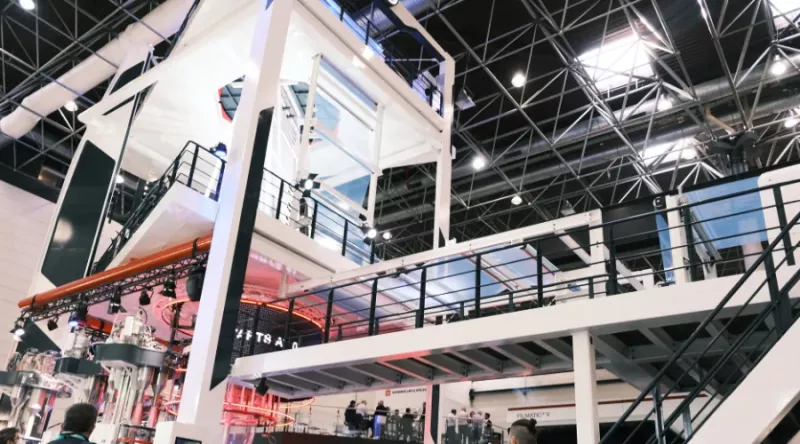 K 2022, the world's leading trade show for the plastics and rubber industry and took place in Düsseldorf, Germany, October 19-26, 2022. Leading manufacturing companies from around the world presented future perspectives and solutions at the plastics and rubber K trade fair on three vital topics, such as the circular economy, digitalization, and climate protection. According to the organizers of the fair, the circular economy and climate protection are complementary processes, which in turn are unthinkable in today's world without digitalization.
Equipment manufacturer Windmöller & Hölscher was exhibiting at K 2022 in Düsseldorf, Germany, under the slogan "Get in the Loop." "New challenges to create a circular economy, new opportunities through digitalization and a constant drive to make production more efficient - the flexible packaging industry in 2022 is changing like never before," - W&H writes on its website (3). The central theme at the K 2022 will be automation and digital systems for improving efficiency.
At last K 2019 trade W&H demonstrated its new ways to produce sustainable products - from mono-material recipes to the use of recycled resins in question of circular economy, recycling and green future; and new technologies that improves efficient production like Turbostart, Die Control Wizard, Retrofit, Vacuum skin packaging, 5-layer Heavy-duty Sack HDS film.
At K2022 visitors to the W&H stand was asked to "Get in the loop". Sustainability and recycling is here to stay. In addition a big cry out for reducing waste in the main presentation makes the message super clear. W&H also demonstrated a fast product change. Blue film went red in less than 7 minutes. Several new sensors is measuring the bubble to keep the process at optimal level.
The best W&H machine needs perfect blades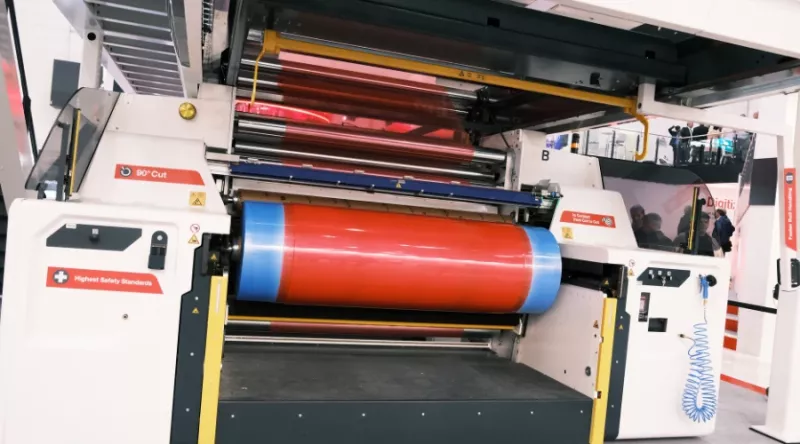 Varex, Optimex, and Filmex might be world class in film extrusion. But in the end blown and casted film needs to be cut to have any customer usage. This usually happens in the slitting and winding department. From a manufacturers point of view it is a superb advantage to do the cutting inline just be before the winding. This process is perfectly performed by W&H's Filmatic winders.
The objective of the Filmatic winding machines is an easy operation and high safety standard. The start of the winding process is critical as it will set the final result of the roll. With light curtains and laser-supported core alignment the Filmatic should make winding easy and reliable for all operators. The Filmatic winding machine give the operator a stable and flexible process for different applications. However, to cut film at high speed requires optimal knives and blades.
Sollex has been make cutting edge performing blades since 1927. We have a wide range of blades for different film and processes. We are proud to say that our 60mm long three hole blades perform really well in Windmöller & Hölsher's machines. We also have slotted slitter blades that perform beautifully in Filmatic stations.
Choosing the optimal blade for your film is related to what type of film, speed, and film density. For instance LDPE and LLPE are technically easy to cut. Tough strong materials like LLDPE with very high film density takes hard beat on the blade. Sollex has a number of knives and blades with proven track record in W&H's machines, but the best way forward is usually to test our different blades in your process.

Your choice depend on what type of film you are making. The W&H machine may produce record level output. But Sollex blades will make it possible to slit your film in line. Hence avoiding expensive slitting with rewinding.
Sources:
https://www.wh.group/int/en/company/news_events/e_magazine/get_in_the_loop/get_in_the_loop.html