Choose the Right Industrial Blade
Sollex tips on how to choose the right industrial knife and what should affect the choice
Thickness performs
Thinner blades perform better. Therefore you should try to use the thinnest blade possible. A thinner blade demands less force and gives less shear in the material you are slitting. A thinner blade is helpful to avoid web breaks and gives a better cut.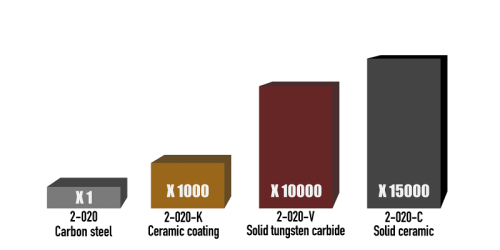 Material performs
Optimized materials increase blade lifetime. Depending on your slitting process we are able to engineer blades that will outlast and outperform wear resistant materials. Sollex makes blades in the following materials: Carbon steel, Stainless Steel (SS), Tooling steel, HSS-M2 steel, D2 steel, Tungsten Solid Carbide, Solid ceramic.
Angle performs
Most blades and materials are engineered to be positioned at a 45 degree angle to the material. Lower angles give slicing motion and spread wear out over more of the cutting surface.
Surface finish performs
A clean surface finish or cutting edge will lower the friction which reduces heat and wear. This results in cleaner edge cuts.
Edge quality performs
Multi-facet grinding and burr free edges give the best cutting results, cleaner edge cuts and reduced web breaks.

You can save money by using double sided blades where all four corners of the blade are used. Sollex reduces your costs and inventory.
Coating performs
Different coatings prolong blade lifetime and cutting quality. As an extra benefit coatings can improve surface finish and reduce friction which reduces heat and wear.
Download our catalog for manufacturers of plastic film and packaging, where you can find a more detailed table on what knife coating to choose for cutting a certain material