How to Cut Reinforced & Extremely Adhesive Sealing Tape
Sollex cuts reinforced construction tape Tectis Sitko Flex with different blades
Sollex, a manufacturer and supplier of knives and blades for industrial applications, regularly receives inquiries from customers to help analyze production issues or to find better cutting solutions. In this video we tested which blades that are optimal for cutting reinforced adhesive tape Tectis Sitko Flex used for permanent splicing and sealing windshields (HDPE/PP/PE-fleece) in roofing, construction and facade applications
Toothed blades for cutting extremely adhesive construction tape
Toothed blades works well on tape with much glue. The advantage of using a toothed blades compared with a continuous grinded blade is multiple entry point in the material. With this fact you can approach the material with a 90 degree attack angle and make a lot of small cut into the material.
In a machine this means that a smaller area is needed. When looking on the design of toothed blades there are four major things that affect its cutting abilities:
Thickness

Tooth angle

Teeth width

and Teeth length
The tooth design will determine the quality and shape of the cut material. Using toothed blades you will get at secreted cut or rather many small cuts. Blade thickness is important to get correct. A tough material needs a thicker blade and higher force to cut compared to a simple material. Teeth width determine how serrated the cut will be. Small teeth width gives a small wavy cut. Larger teeth width generates longer waves. But smother teeth gives almost straight cut.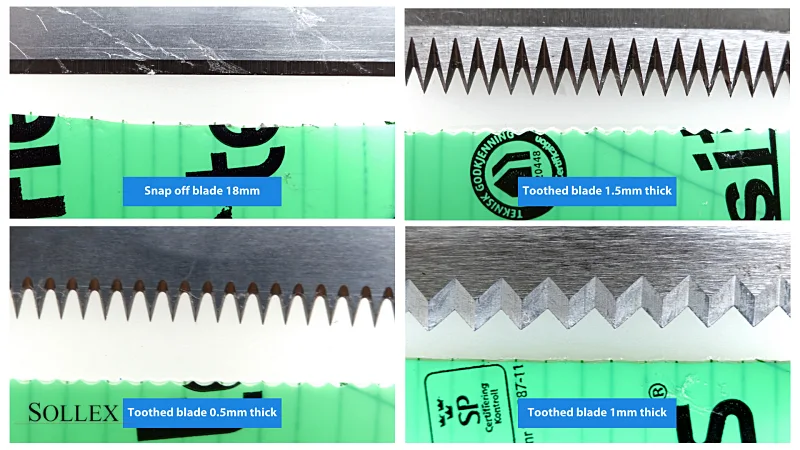 ____
About the tested sealing tape Tectis Sitko Flex
Tectis Sitko Flex is one of the strongest sealing tapes on the market and is composed of a polyethylene membrane with polyacrylic adhesive. The sealing tape has a very strong adhesion and a superior ageing resistance. The tape is heat resistant from -40 degrees up to +80 degrees. Sealing tape Sitko Flex is used for permanent splicing, patching and sealing of age-resistant construction films in polyethylene. As a sealing tape for polyethylene film penetrations. Also for permanent splicing and sealing of windscreens (HDPE/PP/PE-fleece) in roofing, construction and facade work. Also adheres well to wood, glass, metal etc.
___
Sollex is your supplier of knives and blades! We have products with cutting edge technology and performance that improves your cutting process and solve problems. With the right knives and blades, you can get simplified maintenance, time savings and an improved final product.
Feel free to contact us with your questions:
Company's name: Sollex AB
Customer service and orders: order@sollex.se
Tel: +4635-15 75 00
Address: Box 5161, 200 71, Malmö, Sverige