Industrial Blade Maintenance: Extending Cutting Performance
About cleaning, sharpening, regrinding, coatings of machine knives
In manufacturing, machine knife life and performance is critical to manufacturing company's productivity and profitability. That's why we've put together this guide to industrial knife maintenance. It's designed to help companies extend the life of industrial knives and blades while optimizing their performance for the best results.
Proper Maintenance of Industrial Blades is Key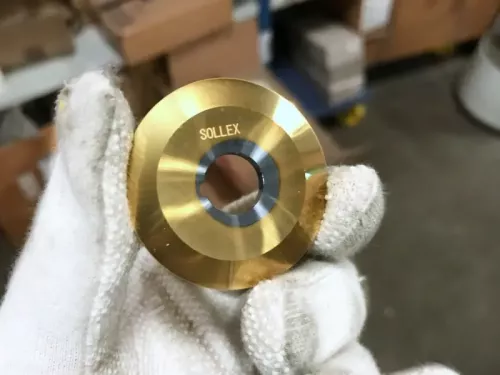 Replace dull industrial machine knives in a timely manner. Blunt machine knives and not replacing them in time can cost a lot of money and losses to the company's production. Therefore, it is important to choose industrial knives of a material suitable for cutting your material, of the right hardness, with the right grinding, sharpening angle and coating. In addition, always have a good quantity of sharp replacement knives in stock so that production does not stop.If you're unsure about machine knife specifications, always contact a professional or industry cutting tool supplier like Sollex to get the right industrial knife specifications for conversion and production.
Effective cleaning is also critical to maintaining the performance of your industrial knives. Regularly remove any debris, adhesive residue or contaminants that may accumulate during the slitting process.
Routine inspections are another important aspect of industrial knife maintenance. Sollex stresses the importance of regular industrial knife evaluations to detect signs of wear, damage or misalignment. By catching these problems early, you can take proactive steps to correct them, preventing costly downtime and optimizing your production efficiency.
Sharpening and Regrinding of Machine Knives and Blades
Another important aspect of machine knife maintenance is the sharpening and regrinding process. Due to constant use, machine knives can become dull over time. Sharpening and regrinding are essential to restore the cutting edge. Consider investing in quality sharpening equipment or professional services to ensure accurate and consistent results. Check with your machine knife supplier to ensure that the proper sharpening techniques and angles specific to your blade type are followed for optimal performance. Read more about machine knives, their types, materials for industrial knives in our article"Learn about Industrial knives and blades from A to Z"
Industrial Knife Coatings for Better Cutting Performance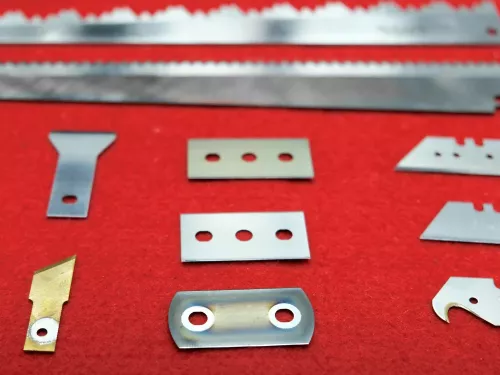 Protective coatings are another secret weapon in extending the life of your industrial knives. We highlight the different types of coatings available and their benefits, from increasing blade durability to reducing friction and minimizing the risk of adhesive buildup. With the right coating in place, your machine blades will be able to withstand even the most demanding cutting applications. Read more about coatings of industrial knives and blades here.
Sollex - Manufacturer of Industrial Knives with Cutting Edge Performance
When it comes to industrial knife manufacturing, Sollex has been a trusted name in the industry since 1927. We have built our reputation on producing high quality machine knives with the best performance. With Sollex on your side, you can be confident that your industrial blades are in the hands of experts who prioritize precision, durability and customer satisfaction.
Sollex knows how important precision and durability are in industrial blade servicing. That's why we manufacture high quality industrial blades that are known for their exceptional performance. Our knives are meticulously crafted using the finest materials and the most advanced technology to ensure that they deliver consistent results, cut after cut after cut.
Don't let your industrial knives fall short of their potential. Discover the transformative power of proper maintenance and explore the exceptional performance of Sollex Machine Knives. Together, we can optimize your cutting operations and take your productivity to new heights. Contact us today to unlock the full potential of your industrial knives!