About Interpack Fair and Blades for Flexible Packaging Machinery
Packaging plays a critical role for product integrity, brand identity, and efficient supply chains. The Interpack Fair serves as Europe's main event for professionals, researchers, and manufacturers to explore the latest news in packaging technologies and solutions.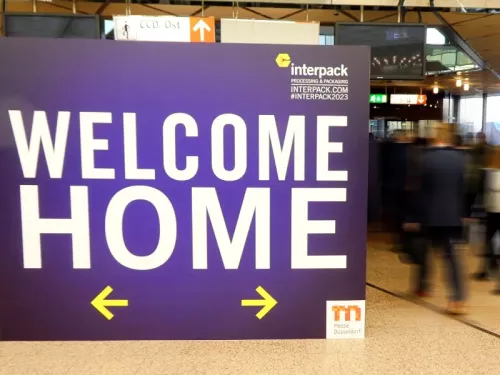 The simply unique Interpack Fair for processing and packaging opened its doors from the 4th to the 10th of May 2023. Big signs saying "welcome home" welcomed participants. Main focus was sustainable packaging, circular economy, and minimizing environmental impact. The event serves as a global platform that showcases the packaging innovations, sustainability challenges, and collaborations within the packaging industry.
Still knives and blades are imperative for the packaging industry to function. A main chunk of Sollex sales goes to packaging manufactures and at Interpack we saw loads of final products being introduced and shown.
Sollex at Interpack Fair
Visiting the Dusseldorf Messe and the Interpack Fair is a massive experience. The fair was divided in special areas and the fair arranged daily focus areas.
The Interpack fair was divided in the following areas:
Processes and machinery for the packaging of food beverages, consumer goods, and industrial goods
Processes and machinery for the packaging of confectionery and bakery
Processes and machinery for the packaging of pharmaceuticals and cosmetics
Machinery for labeling and marking technology, packaging production, and integrated packaging printing
Packaging materials, packaging means, and auxiliary packaging means.
Components
As always the Dusseldorf Messe is crowded, and the 18 gigantic halls offer everything you can possibly dream of when it comes to processes, machinery, and components for the packaging industry.
Product highlights of Interpack 2023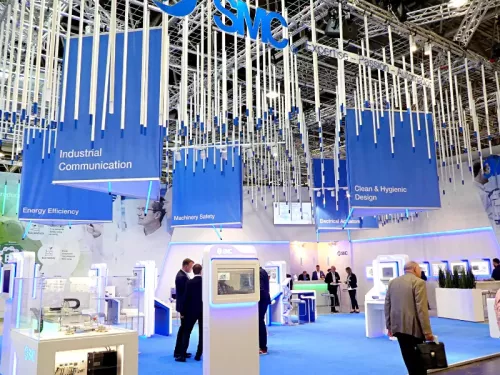 At the Interpack Fair we had the privilege to see some real highlights:
Modular high speed packaging machines, that can twist and fold chocolate in 9 different ways
New packaging lines for Pharma gel in stick-packs with high speed, micro dosing, and digital printer
The Unirob packaging machine, for all packaging processes such as erecting boxes, mixing products, top loading, and closing
The spider 300v case packer vision, allowing processors to pack both vertical and horizontal.
Italian Bisio Progetti, launches a home compost capsule, with the slogan: Is our love for coffee sustainable or a guilty pleasure?
Loesh is presenting the FHW-S flow wrapping machine that optimizes speed and efficiency that is suitable for cold and heat seals. Changeovers require nothing more than pressing a button
Jiangsu Libin Advanced Material is a polyolefin shrink film manufacturer. At Interpack they showed high quality polyolefin shrink film such as cross-link film, anti-fog film, and printing film
Green choice sustainable packaging from Wipak is a recyclable
Packaging lines at the Interpack 2023
Flexibility and sustainability are the buzzwords of fair. Interpack covers every possible detail for manufacturers of complete packaging lines. All from open bags to pallets. Basically everything and anything for packaging leaders. We are talking complete production lines and robots that handle, pack, seal, and protect food. Small and large robots in multiple robot cells for food packaging are really impressive to watch. Halls filled with vertical and horizontal filling, inspection and quality control. Filling, closing and sealing packaging find various halls. Finally labeling and printing is covered to every possible dimension. The mantra "End of line packaging" you can find in numerous stalls when checking out fill and seal machines.
Sollex blades for PCR, PIR, BIO flexible packaging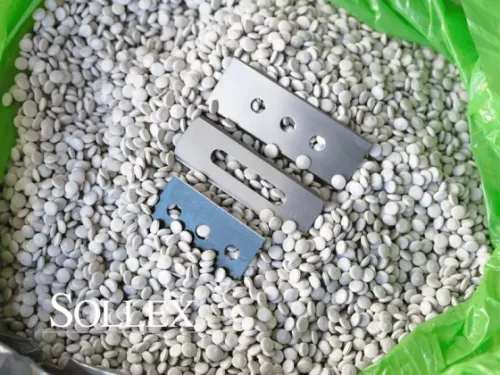 The really interesting part for Sollex is the flexible packaging area. We are talking about packaging machinery such as stretched film rewinders and flexographic printing. At Interpack many of Sollex customers present finished products that Sollex blades have been part of the making.
Flexible packaging products covers:
BOPP film
BOPE film
PE
PET
Strap
Stretch film
Flexible packaging
Renewable film
Compostable film
Bioplastics
Recyclates
AluFlex Pack
Stretched film PP PET Strap
Flexible solutions for packaging reduction are very hot in the packaging industry. Likewise PCR Post Consumer Recycling and PIR Post Industrial Recycling are the thing to be if you are a manufacturer of flexible packaging.
Traditionally for flexible packaging manufacturers companies have bragged about revenue in EUR and Production capacity in Kton. Maybe something about global presence, market share and number of employees. At Interpack it is clear that the traditional flexible packaging manufacturer receives less interest compared to companies producing circular and Bio products. It is our understanding from Interpack that traditional products are losing to a global bio and circular rapid expansion. Luckily Sollex offers top performing blades for PCR, PIR, and BIO flexible packaging.
Sollex Machine Knives for Packaging Industry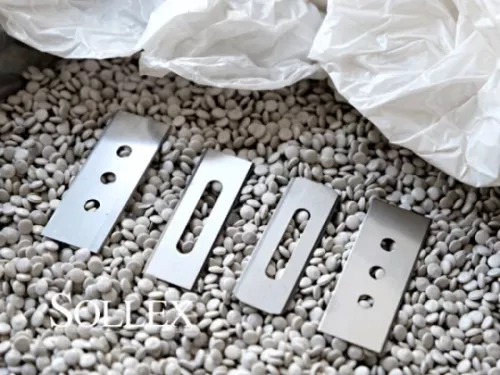 At Interpack most major packaging manufactures were represented. Many Sollex customers were recognized. You can make packaging but in some way it always comes down to a Sollex blade that cuts or slits your material in the desired shape and width.
Sollex offers knives and blades for processes and machinery for packaging. An estimate would be that 60% of Sollex turnover is related to industrial packaging manufacturing in plastics, paper or recycled materials. We at Sollex devote ourselves to provide professional packaging providers with top quality blades. Our blades are widely used in food, cosmetic, electronic, and med tech industries.
We make and ship blades for end of line packaging, fill and seal machines, and flexible packaging in numerous forms. In addition Sollex has products for stretched film rewinders and flexographic printing. Basically Sollex provides knives and blades for almost all packaging machinery and flexible packaging solutions.
Blades for Mechanical and Advanced Recycling
Mechanical recycling basically means chopping up plastic recycled materials, cleaning, heating and cutting new pellets of the heated material. This gives you PCR or Post Consumer recycled resin to produce new plastic products with.
Advanced recycling is a bit different. The initial face is the same as chopping up the plastic material. Then the material is mixed with hydro carbide fluid. Adding extensive heat converts the recyclables to PE with virgin capabilities.
For now the advanced recycling process is pretty expensive which is why it's only available on a small scale. But advanced recycling is usually when you want to make mono-material products for food and hygiene products.
CGP - Remove Obscene Amount of Wrapped Pallet Plastics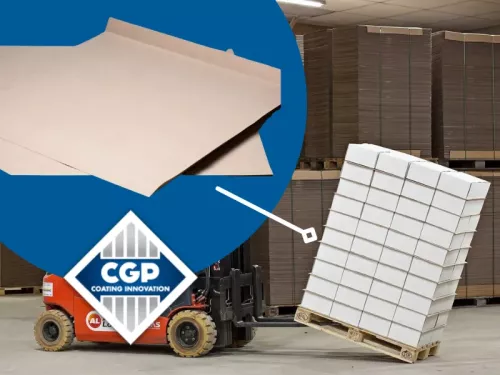 We met a company exhibitor and our client CGP at the fair. Long time Sollex customer CGP that makes anti-slip sheets in paper, solid boards, and corrugated boards. These products gives warehouse personnel the ability to stabilize pallet loads, improve load heights, and reduce stretched film.
CGP's anti-slip sheets are a really cool logistical innovation. It serves as a barrier between layers and makes it stick in place. Available in sheets or rolls and suitable for automated palletizing lines. In addition it protects from moisture and is suitable for food contact.
The coated CGP paper first serves as an anti-slip solution between pallet layers. Secondly it serves as a moisture protector that protects the goods under it. Working with customers in the food industry, consuming goods, and chemicals, CGP protects and stabilizes more than 50 million pallets per year.
Interesting news at ExxonMobil
All talk about recycling plastics makes you wonder where the large virgin resin suppliers put their energy. ExxonMobil has for many years supplied Sollex customers with top quality virgin plastic resin such as PE.
At Interplast PE Market Development Manager Darren Walshe stipulates the ExxonMobil hard line about recycling. Basically final products made in PE mono-materials that are easy to recycle.
The Exxon Mobile PE pouches contain 95% PE with a thin coating giving it the same preferences as mixed materials when it comes to full barrier packaging solutions. Being 95% PE makes it really recyclable and almost mono material. One pouch is even made in PE with a print that can be washed away. It is called "deinkable"
So from Exxonmobil the key benefit is no longer just volume of virgin produced oil based PE. Focus has shifted to full PE recyclability, where the ink easily can be washed away, similar packaging integrity maintained, and top class barrier solutions.
The really interesting part is that Exxonmobil is very open with the fact that their future lies in cooperation with other partners. At Interpack ExxonMobil presents its products Exceed XP, Exceed S, Enable, and Exact but they make an even bigger thing about cooperation with their business partners. Henkel, Windmöller & Hölscher, Kraus Folie, Siegwerk, Hosokawa Alpine, Erema, Nordmeccanica group, Karlville, and HP are companies and brands that gets as much exposure as ExxonMobil on their products and at the fair.
Seda's trends in packaging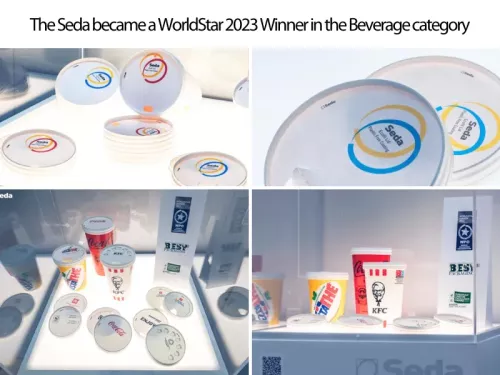 Talking packaging with producer Seda International Packaging Group, the sustainability wave becomes even stronger. Seda is moving from plastic in all aspects to use fiber based materials instead.
PLA or in other words Bioplastics that claim to be compostable are just industrial compostable. Industrial compostable means that if it is not industrial composted it will be just as bad as non compostable plastic to be put in the soil. Hence consumers should look for the wording FULLY compostable when buying packaging.
Fiber based materials are just that, fully compostable.
Seda's way forwards is:
Mono-materials flexible - several formats: HFFS / VFFS bags, pouches, stand-up bags, ideal for a wide range of products like coffee, snack, bakery confectionery, dried food and HPC. Gives the packaging hig barrier performance. 100% PE or 100% PP structure for full recyclability.
Transparent paper membrane. Paper is recyclable. The first transparent paper membrane is a big advance on conventional windowed or opaque paper products. Performance and sustainability and 68% reduction of plastic content compared to most commonly used conventional membranes. It falls within the CONAI category of poly laminates suitable for recycling in the paper stream.
Paper-based flexible, available in several formats: HFFS / VFFS bags, pouches, stand-up bags and overwraps for coffee, snacks, bakery etc. Replaces aluminum without compromising barrier performance. Fully recyclable in the paper stream.
So in general flexible packaging with less plastic and aluminum with the same barrier performances as before. And the key is fully recyclable in the paper stream.
Conclusion from the Interpack fair
Global challenges and trends shape the future of packaging. The Interpack Fair continues to drive innovation and inspire industry professionals to create a more sustainable and efficient packaging landscape. It is contributing to the reduction of environmental impact, the optimization of supply chains, and the creation of a circular economy.
Readers can be assured that Sollex is prepared for the coming changes in the packaging industry. We have blades for virgin and recycled film, foil, and paper. With Sollex cutting edge technology you can be certain to have top notch slitting performance in your operation.