Monthly report: October 2022
Sollex best sellers, delivery accuracy, our customers, activities, charity
Monthly report: October 2022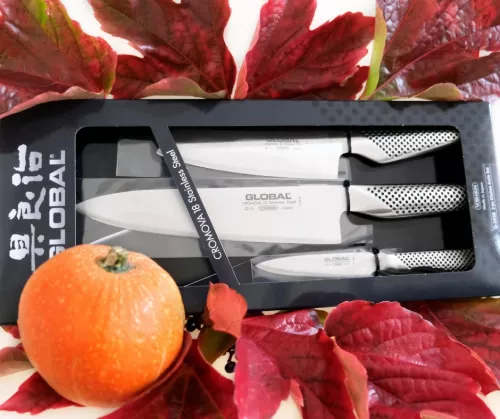 October will be a good month for Sollex billing: +46% compared to October 2021. But compared to October 2020, the figure is only +13%. The order situation, on the other hand, is mediocre with -10% compared to last year.
Delivery accuracy and logistics at Sollex in October 2022
Delivery accuracy and logistics at Sollex in October 2022 score 92%. This is encouraging in times of delayed semiconductors and component shortages. Two custom made items were about 14 days late against order confirmation. The remaining 11 late deliveries were one or two days behind the agreed time. 148 deliveries were shipped the same day or the day before the agreed delivery time.
Win Global G-2538 Knife Set from Sollex
We would like to remind you that from 24 October to 15 November, Sollex is running a very easy-to-enter competition where you can win the sharpest knives from Global. Hurry up - there's only one week left! Good luck!
Sollex stocks tens of thousands of knives for fast deliveries
As of the end of October, we have 129,726 packs of 488 different knives, knife blades and industrial razor blades in stock with a total value of around 1.75 million SEK. Stable inventory and world-class logistics put us in a good position to win new customers and business.
EURO EXPO Industrial Fair, Scanpack and K2022 in October 2022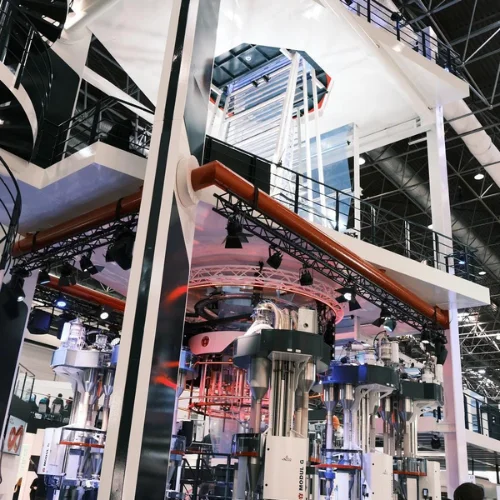 October has been an intense trade fair period. Sollex has been an exhibitor at Euro Expo in Lund and visited Scanpack in Gothenburg and K2022 in Dusseldorf.
It was great to meet interesting visitors and other exhibitors to exchange experiences, new ideas and technologies at the EuroExpo Industrial Fair in Lund on 12-13 October.
Scanpack 2022 was four days packed with inspiration, seminars, networking and practical workshops. A creative hub entirely dedicated to sharing ideas on new technologies, new materials and new solutions in the packaging industry. Topics covered included machinery & equipment, consumer packaging, label/marking, design, automation, print, bioplastics. Product groups: packaging machinery & equipment, packaging materials, raw materials, control equipment, consumer packaging, RFID, biopack, computer controlled equipment, labelling & marking equipment, etc.
We find this fair particularly interesting because Sollex develops and sells knives and blades for the packaging and plastics industry. In particular, our product range includes many knives for machines that are no longer produced, but are only available from us. Write to us or call us and we will easily find a solution for your production.
Link to the new Sollex catalogue 2022/23: Digital Catalogues & Brochures | Industrial Knives | Sollex
K22 is the coolest and most gigantic trade fair Sollex has ever seen. Serious machine builders spend months bringing machines to the show. In pavilion 16 and 17, these huge technical devices look absolutely natural. K 2022 was the premier global event for the plastics industry, featuring extrusion, converting, cutting, winding, rewinding and, let's not forget, recycling.
We learned a lot about packaging and plastics manufacturing. We try to report more about these important meetings and and news from them on our blog on an ongoing basis.
Order in October 2022
Planers for trade wholesaler
Ceramic coated slitter blades
Tools for medtec companies
Machine knives for manufacturing industry
Utility blades, hook blades and scraper blades for the paint trade
Machine knives and safety knives for manufacturing industry
Three-hole and slotted blades for plastics manufacturers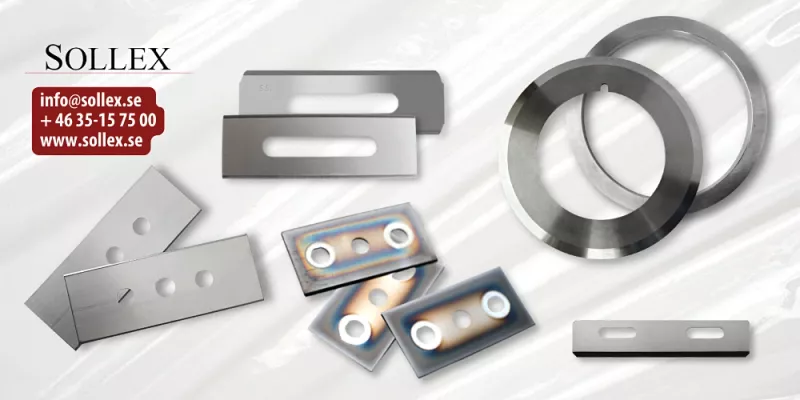 __________
Monthly report: September 2022
The late summer month of September kicks off the fall season and Sollex has a neutral month billing-wise
June will be a really good billing month for Sollex after all. 7% more invoiced than September 2021. The order situation is mediocre +5% compared to last year.
Delivery accuracy and logistics at Sollex in September 2022
Delivery accuracy of stable 94% is pleasing in times of delayed semiconductors and component shortages. One item we produced was delivered 9 days later than agreed. The remaining 8 late deliveries were one or two days behind the agreed time. 159 deliveries were shipped the same day or the day before the agreed delivery time.
At the end of September, we had 125,969 packages of 462 different knives, knife blades and industrial razor blades in stock with a total value of approximately SEK 1.6 million. Stable inventory and world-class logistics put us in a good position to win new customers and business.
New warehousing agreement for customers
The majority of Sollex items are on the shelf to ensure stable and secure deliveries. From summer 2022, we have introduced something we call Warehouse Agreement. This means that we agree with certain customers on specific or customized items that we stock for the customer. We manufacture the knives in advance and can thus guarantee super-fast deliveries and security for our customers. Please contact us if you have a special item that is important to your business.
New products September 2022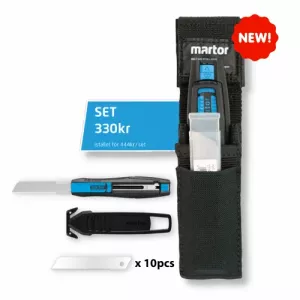 In September 2022 we are developing and launching seven new items. One of these is a one set of Martor Secunorm 380 and another is Z29 which can be used in Zund machines. We also have an over knife RDD105x65x1.2mm that many will enjoy. The remaining four new items are custom knives that customers have come in with drawings and asked us to make.
Sollex supplies knives, knife blades and industrial razor blades in September

During September 2022 we make 168 deliveries to both old and new customers:
New American customer orders a large quantity of 752.42. Also known as Martor 752 which Sollex manufactures and supplies even though Martor has stopped. We also have it in solid tungsten carbide.
The Slitter Blade 5K is our second most important item September 2022.
Round three-hole blades with ceramic coating qualify for an honorable third place. Coated industrial razor blades are Sollex's true specialist competence. We have an extremely wide range of different industrial shaving blades with different cutting properties for different materials.
Sollex manufactures the Martor 111.62 expired special knife for an English company that uses this to produce flooring materials.
Industrial snap-off blades are Sollex's bread and butter and are always on the top ten list. Very useful for trade, craftsmen and industry.
Craft razor blades are the staple of the Swedish paint trade. If you have a paint store and need really good professional sheets, Sollex is the right partner.
Long straight knife blades 975P are excellent for cutting plasterboard on Swedish building sites.
Knife blades for Atomic machine P898V. A major manufacturer of non-woven materials had problems with Atom's blades breaking and fracturing. Sollex developed the special knife P898V which is a rounded type of Atom knife which increased the durability fivefold for the customer.
Sollex has a customer in Medtech where we manufacture carbide tools. These allow the customer to use to produce small plastic parts with extreme precision and specific surface properties. The carbide has the advantage of being a poor conductor of heat which increases output and provides design benefits for the customer.
The Construction Knife 2000 is the ultimate tool for cutting plaster and roofing felt. The knife was best in test in 2011 but will still work in September 2022.
950K or Martor 614 with ceramic coating is used by a global packaging company to splice cut rolls of packaging material. We supply the 950K knife blade to a number of machine manufacturers around the world for installation in the packaging company's machines.
In addition, Sollex supplied 143 other different knives, knife blades and industrial razor blades September 2022.
_________
Monthly report: June 2022
June 2022 is a strong month for Sollex in terms of invoicing
June will be a really good billing month for Sollex after all. 37% more invoiced than June 2021. The order situation is unfortunately -2% compared to last year.
Delivery accuracy and logistics at Sollex in June 2022
Delivery accuracy of 93% gives us confidence that we have a stable and good business. 142 deliveries out of 152 were spot on. Six deliveries were within 1-4 days of confirmed delivery time. 4 deliveries were between 5 or 7 days late compared to communicated delivery time.
At the end of June, we have 132,428 packages of 451 different knives, knife blades and industrial razor blades in stock with a total value of approximately SEK 1.6 million. Good inventory and logistics enable us to continue to take new business and deliver on time despite major disruptions in various production chains around the world.
New products June 2022
New knives for the month are four different top knives, a straight circular knife and a cross-cut knife. All according to drawing and customer spec. We've also made a splash and added the popular Istor sharpening board which is perfect in the kitchen, amongst garden tools or wherever you want to quickly frame a raw edge.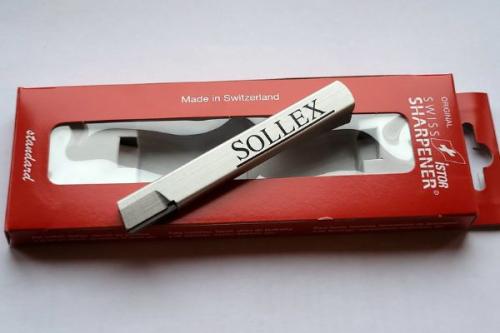 Sollex supplies knives, knife blades and industrial razor blades in June
During June 2022 we are making many exciting deliveries to both old and new customers:
Slitting blades for maintenance at the world's largest packaging manufacturer.
Injector blades for Croatian tape manufacturer
Top blades for Swedish label manufacturer
Three-hole blades with ceramic edge for plastic film production both in Sweden and in Europe
Large quantities of PRO 180P blades for many different Swedish companies
Reinforced single edge scraper blades for painting and window renovation companies and companies that make car glass
Slitting blade for one of the world's largest packaging companies
A 90mm circular knife in tool steel for the paper industry
Grepin safety knife for Sweden's largest industrial wholesaler
Sweden's largest plastic film manufacturer orders three-hole blades for film with additives and a major printing company orders Slitter blades.
______
Monthly report: May 2022
Good order intake for Sollex but slightly reduced invoicing
May is the first month of Sollex's fiscal year 2022/2023. Compared to May 2021, Sollex has a strong order intake (+60%) but a weak invoicing month (-10%). We enter the summer period with a lot to do. The Ukraine crisis is taking its toll as energy prices continue to rise, driving up production prices in Germany where we manufacture almost all of our products.
Delivery accuracy for the period: 87%
13% was missing for us to be satisfied with the delivery accuracy for the month of May 2022. Of course, we want to increase the delivery precision. The products we have in stock are usually delivered the same day. However, we have developed more special knives where we have temporarily increased delivery times. This is basically due to two things: the Ukraine crisis which is rescheduling production in Europe and the Fedex/TNT system change which is disrupting and delaying our shipments.
Knives and knife blades for Aristo, Zund, Med tech and to customers' drawings
During May we are developing new Aristo knives for delivery to customers in June. These fit the Aristo knife holders but have a new design that makes them more durable and robust. We are also launching new knives for Zund's Z53 and Z60 machines. For a med tech company, we are developing a new special product for them to learn more about centrifugal force.
Zund Decagonal knife Z53 Ø25mm and Zund Z60 Oscillating knife - pointed

New items for May also include a battery of new top and bottom knives custom-made to customers' drawings. We are also producing a new special knife for the large packaging company and booking an order for Martor 761 pointed blades for a major textile manufacturer of protective and work clothing.
Circular knives for paper, knife blades for cutting cartons
Best-selling products for Sollex in May 2022 are a circular knife for recycling paper. Knife blades for opening cartons are strong runners-up. These are straight short knife blades for a distributor supplying a nationwide chain of stores with supplies for opening cartons on a continuous basis. Then there are the Sollex stalwarts at the top: the PRO 18mm cutter, the 2PlusS professional blade, the Sollex 2000 construction knife, the PRO Titan 10PT and PRO 10P hook blades, the 5K slitter blade for cutting white plastic film and the 5Z slitter blade. Clearly solid cutting technology from Sollex that continues to deliver.
New product catalogues for Roofing and Flooring
We are pleased to announce our new product sheets for flooring and roofing contractors. If you need sharp hook blades that retain their sharpness when cutting cardboard or flooring, this is a great place to get inspiration. Save the product sheet and use the buy button the next time you need a refill.
Knives for the paper industry, for cutting roofing felt, hook blades for retailers and razor blades for industrial companies
Sollex's largest invoiced customers for May 2022 are of course linked to the products we have sold. The technology company that supplies recycling solutions to the global paper industry. A global player that manufactures roofing paper buys our industrial knives. To the same roofing paper manufacturer, Sollex sells paper knives to cut roofing material. A large part of our sales are for hook blades to Swedish roofers via the dealer channel. The wholesaler and distributor if supplies all indirect products to a large retailer. The Dutch packaging company buys special knives for cutting cardboard boxes. Sollex makes deliveries to major floor layers and roofers. Swedish and global industrial companies remain the mainstay of Sollex sales. Likewise, we make good deliveries to the paint trade and industry through our established dealers. A good example is a major delivery of hanger blades to a glass manufacturing company through industrial wholesaler Ahlsell. The same product is also sold to a major car care wholesaler.
___________________
Monthly report: April 2022
In April, Sollex will close the financial year 2022
In April, Sollex will end the 2022 business year. We sum up April as a strong month with many of our initiatives yielding leads, customers and results.
Sollex New Catalogue - PDF
We have launched a new catalogue with great new knives for the manufacturing industry. There is also a selection of our best sellers, specialist knives for industries and a special selection of the best knives and tools to improve safety around the risk of cutting in the workplace.
Download the clickable PDF catalogue
Save the catalogue on your computer so you can quickly access quality knives when you need them.
Razor-sharp products for different industries
April has invited industrial customers such as roofing, label, rubber and flooring manufacturers. Other customers such as floor layers, retailers and wholesalers are rolling in Sollex sales.
Stable stalwarts at the top
We are pleased that April's sales are topped by the Slitterblade 5K, the Snap-off blade 180P and the Sollex Professional Blade 2plusS. These are three stalwarts that provide stable, high-quality cutting processes. Ceramic-coated Slitter Blades 5K for plastic film and filter manufacturers give fine cuts when the material contains many additives, which wears down the edge of the razor blade. One of Sweden's largest polyurethane manufacturers orders titanium coated reamers to cut to their material.
Professional blades for painting and industry are great when the user needs a sharp razor blade to cut through highly abrasive materials where the razor blade deforms. Our Easter campaign led to increased sales of hook blades to flooring contractors. These quality products are always in stock to ensure you have the right product for your cutting process.