Safety Knife User Manual
In this article, we will look at safety knives, their benefits and techniques for effective and safe use.​
Safety knives have nowadays become an indispensable cutting tool in various industries, ensuring the safety of the user and the goods. The design of safety knives can significantly reduce the risk of accidental injury in the workplace, as well as damage to products in boxes, packaging during packing and transportation.
About Safety Knives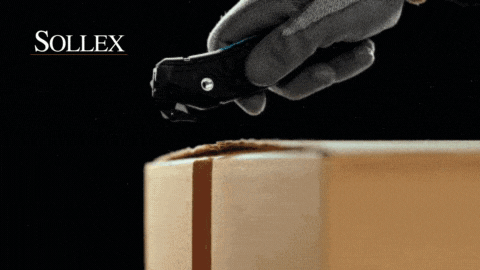 A safety knife is a knife with a special, sometimes unusual design, used primarily for opening boxes and packaging safely. Safety knives aim to reduce the risk of cutting injuries in the workplace. Most safety knives have a concealed or automatically retractable blade that retracts when the slider is pressed by the user; when the user releases the slider, the blade automatically retracts, ensuring that the worker is protected from accidental cuts compared to using a regular utility knife.
Check out this great short clip from Martor that perfectly illustrates the advantages and differences of safety knives.

Сommon Accidents Involving Knives in the Workplace
Workplace accidents often involve cutting tools, particularly knives. The most common workplace knife injuries include:
Cuts to the other hand while cutting
Cuts to the working hand if it has slipped off the handle
The knife has fallen with the blade down
Cuts in the direction of self
A chipping of the knife blade

Cuts in the hand or fingers if the knife is not properly stored in the workplace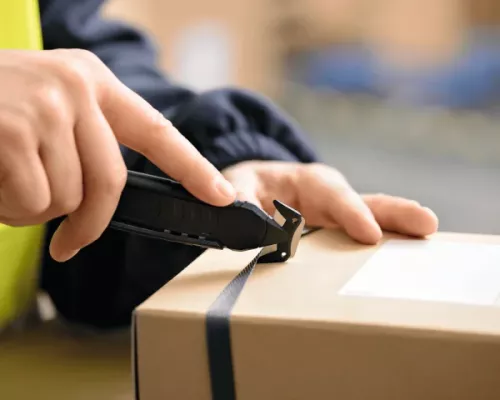 You can reduce the risk of the above injuries by using safe knives and following additional safety precautions. Understanding the features of safety knives, from blade protection mechanisms to ergonomic designs, can improve workplace safety, improve cutting accuracy and minimize the potential for injury, as well as save a lot of money and costs. To accomplish all of this, all you need to do is select the right safety knives for your operation, train your staff in the use of safety knives, and follow other rules for the use of knives in general when cutting materials. But even "safe" knives have a usage rule to ensure that they remain safe for the knife user.
Below we will describe the basic rules and steps for the correct use of safety knives.
General instructions for the use of safety knives
Select a safety knife suitable for cutting your materials and application. Different safety knives have different purposes and usage. Read more about how to choose the right safety knife here.
Try using the knife slowly on different objects and materials before you start working to find the right cutting technique.
If the user of the safety knife is left-handed, then select the appropriate knives. For example, safety knives from German manufacturer Martor are universal and suitable for both right and left-handed users.
Follow proper handling techniques and use appropriate protective gear, such as safety gloves.
Ensure that bystanders are at a safe distance while using the knife.
Special Application Safety Guidelines
Regularly check the knife for proper functioning before each use.
If possible, cut material at a 45 degree angle and avoid cutting toward yourself; always cut away from the body.
Select a knife blade length and depth of cut that suits your application. For example, if the user opens cardboard boxes and cuts the tape, there is no need for a long blade. A concealed blade or a blade with a cutting depth of up to 5-9mm is suitable.
NEVER reach for the blade or place your free hand in the cutting line.
Use only knives that are in perfect condition, with sharp, clean and undamaged edges.
Make sure the knife is not obstructed by cut material or debris around the blade.
Spare Parts Replacement
Replace dull blades with original replacement blades of the same brand of knife you have. In the case of ordinary knives, it doesn't matter what kind of blades you put in your cutter. But in the case of safety knives, it is critical.
Dispose of used blades properly - don't throw them away in regular recycling bins. There are special containers for collecting used blades that are convenient and safe. When the container is full, take it to recycling. A used blade disposal container that you can carry in your pocket we recommend the Sollex 988. There are also containers from Martor, which can be placed at workplaces or mounted on the wall - 9810.

Do not attempt any repairs on your own. If the knife shows signs of wear or aging that affect safety or performance, replace it.
Avoid modifying the product, as any alterations could compromise safety.
Storage and Non-Use
When the knife is not in use, secure it in such a way as to avoid accidental cuts. Carry your knives in a holster on your belt. Don't put knives in your pants pocket, especially if they are safety knives with a trigger or press-on handle. You may sit down and press the trigger accidentally. Why your company should provide employees with safe knives
Safety knives are an important part of workplace safety. Safety knives prevent workplace injuries, from minor cuts to more serious ones. It's important to ensure that employees can perform their duties with minimal risk, so safety knives is a solid investment.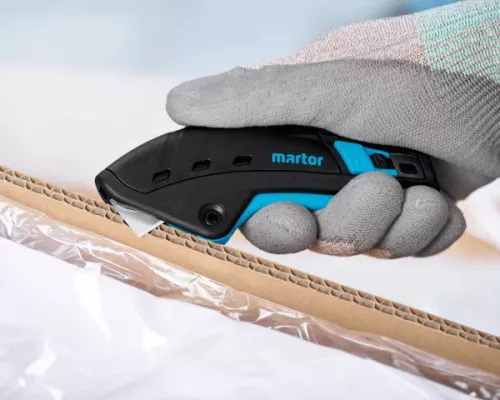 If you are not sure which type of safety knife is best for your purposes, please contact us and we will be happy to help you.
Buy Martor Safety Knives Online
Martor has been a leading manufacturer of safety knives for decades. They design and develop innovative, user-oriented products that minimize the risk of personal injury and material damage. Sollex has distributed Martor products for many years.
If you are interested in safety knives, you are welcome to contact Sollex. We can send catalogs in English or Swedish and offer test kits where you can try Martor's most effective safety knives in your business. We have plenty of Martor products in stock in Malmö for immediate delivery.
Here you can download the catalog as a pdf

If you have any questions about Martor's range or want to try some of their fine safety knives, you are welcome to contact us:
Sollex AB, Johan Falk or Beata Agrell at 035-15 75 00 #1 or info@sollex.se.