Sustainability at Elmia Subcontractor 2022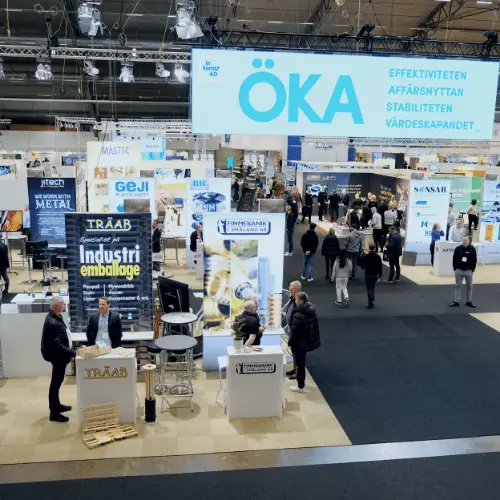 Sustainability at Elmia Subcontractor 2022
Elmia Subcontractor is Northern Europe's leading trade fair for suppliers to the process industry. Every year about 1,200 exhibitors from 30 countries gather there. For three days in mid-November, Swedish subcontracting companies gather together in Jönköping to discuss industry news and technological advances. The trade show floor brings together Sweden's best in manufacturing. The news from the 2022 trade show was, in short, a strong commitment to reducing CO2 emissions. The Swedish automotive industry will demand sustainable and cooperating suppliers

Elmia Subcontractor lifts the industry's most important industry challenges from different aspects. Much attention was paid to the exhibition's four themes of Smart Industry, Sustainability, Competence, and Collaboration.
What was really interesting from a Sollex perspective was all the new materials that were introduced at the Subcontractor fair. At the InnoDex inspiration arena you could find leather like material made from kombucha, hemp fiber products, and foam from 100% mycelium. Sollex was inspired by various new sustainable materials and gained new knowledge. Here is a sum up of all the new really cool materials that were introduced at the Subcontractor fair.
Sustainable Materials to Look Out For in 2023
Sustainable materials at Elmia Subcontractor 2022

Material or technique

Description

Manufacture

Cropfiber

This natural fiber material has similar properties as similar materials made of carbon. High level stability and low weight. It's a sustainable component that takes over the engineering and manufacturing of natural fibers.

Cropfiber GmbH POLEPOSITION COMPONENTS, Dortmund, Germany

Hardcorc

Hardcorc material is made from individually adapted recipes of laminated panels, sandwich core, prepped, and fillers. Panels, semi-finished products or molded parts can be created. Hardcorc is a very lightweight material usable for surfboards and skateboards.

Bufo technology, Hanover, Germany

Superwood

Superwood is made from recyclable wood combined with lactic acid. It looks like a marbled surface, has a matt material ascetics, with extraordinary stability. Vegetable pigments such as spiraling algae give the material a bright blue color in various nuances.

Fraunhofer WKI, Brunswick, Germany

Textiles from bacterial cellulose

Bucha Bio is an American company that makes bio based materials that can be recycled and reused. Natural and plant-based ingredients are used in this sustainable and scalable material.

Bucha Bio Inc, Houston, USA

Arfinio injection molding

Arfinio injection molding technology combines liquid polymers with minerals to create super lightweight yet durable materials. This technology gives design freedom, performance, and sustainability. Works well for products exposed to water and to be used with bio-based raw materials. High impact resistance and possible to be mechanically recycled into new products.

Covestro AG Leverkusen, Germany

Arcesso Dynamics SL, Barcelona, Spain

Circular cellulose-based fiberboard

Sludge waste from paper mills can be used to recycle waste fibers into fully recyclable, non-toxic panels. Using enzymes for bonding it is a bio-based, zero-waste, and resin-for process.

Honext Material SL, Barcelona Spain

MIRUM® biobased leather

NFW has developed biobased, 100% plastic-free materials that are perfect for footwear, fashion, automotive, accessories, upholstery, and more.

MIRUM® is a durable, premium-feel eco-leather material family made with 100% biobased ingredients. MIRUM is a material based on plant, rubber, cork, coconut fibers, rice hulls, seaweed, clay, minerals, and plant based pigments. Suitable as a sustainable alternative to leather. Recyclable and plastic free.

Natural Fiber Welding Inc., Il, USA

CLARUS® plastic free textiles

Renewable natural fibers made into textiles. Suitable for materials with moisture management, breathability, wind resistance and durability.

Natural Fiber Welding Inc., Il, USA

PLIANT™ biobased rubber

PLIANT™ - 100% biobased rubber material

Natural Fiber Welding Inc., Il, USA

TUNERA™ plastic-free foam

TUNERA™ is a bio-neutral, plastic-free foam perfect for footwear. TUNERA is a petrochemical-free foam that can replace EVA and PU in footwear.

Natural Fiber Welding Inc., Il, USA

PaperShell

Paper based material for press molding. Hard and load bearing for indoor and outdoor products. A natural fiber composite to replace press molded plastic or metallic details

PaperShell, Gothenburg, Sweden

Traceless material granulate

Traceless is a natural alternative material to plastics. Plant residues are turned into a natural biopolymer that is compostable. The material granule can be processed to solid molded applications, flexible films or coatings.

Traceless Materials, Hamburg, Germany

KohPa Protect & KohPa Therm

Kohpa is a paper from carbon and cellulose fibers with electrically conductive and radiation protective properties. and is used in ecological housing construction as well as in packaging for radiation-sensitive electrical construction components.

KohPa Therm is made with natural and recycled carbon fibers. Material thickness of only 0,2mm KomPa Therm is the world's thinnest and lightest panel heating isolation.

KohPa, Dachau, Germany

AluCoat Woven

AluCoat Woven is a woven of aluminum coated fibers that can be used for sheet molding compounds. An excellent alternative to carbon fiber in design elements.

FibreCoat, Aachen, Germany

Stone Paper Packaging

Stone paper is a type of paper made of calcium carbonate and bio-polyethylene resin (HDPE) as a binder. White color, with high density Stone Paper retains its shape over time. Waterproof, resistant to grease and washable.

Stone Paper Products, Willich, Germany

AirMycelium™

Using AirMycelium technology to grow durable, synthetic-free, and totally vegan materials. It Needs only 9 days to grow pure mycelium materials, producing sustainable alternatives to leather, plastic, and other products of fossil fuels and factory farming.

Ecovative Design, Green Island, USA

MycoComposite™

MycoComposite technology binds sustainable materials together with mycelial fibers to produce biodegradable Mushroom® Packaging and eco-friendly building materials.

Ecovative Design, Green Island, USA

Grown Forager foam

Grown Forager foam is also using the AirMycelium technology. This foam can be tailored and is available in a variety of forms with fully customizable qualities. Soft and thin or extremely firm and dense is possible. Forager foams are open-cell, fully compostable and made of 100% mycelium.

Forager, NY, USA and Ecovative Design, Green Island, USA

Morgu Flex

Based on agro-industrial residues Morgue floor flex is a collection of bio-based resilient rolls for interior design. 67% bio-based (mix of waste such as seashells and coffee grounds), free from solvents, and recyclable.

Morgu S.r.l. Inarzo, Italy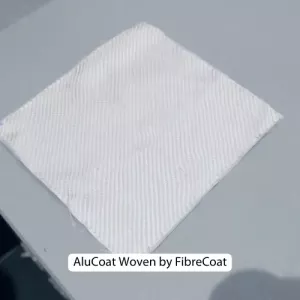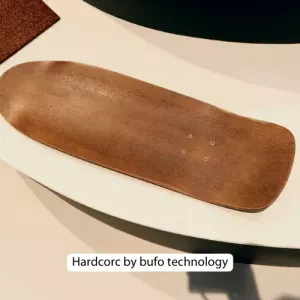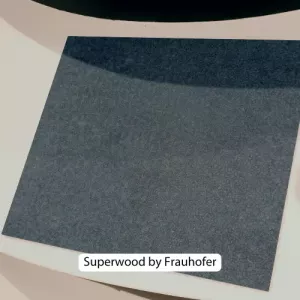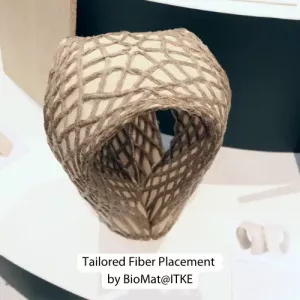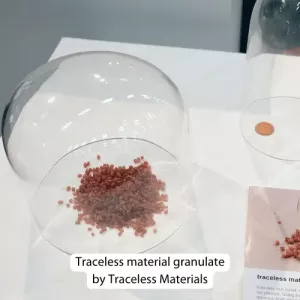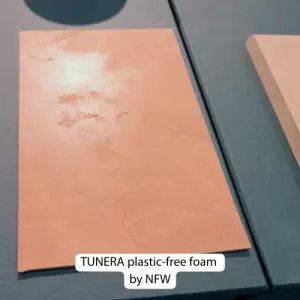 Blades for Cutting New Sustainable Materials
All these really cool materials will require really good blades to convert the materials to usable dimensions. Sollex will be happy to supply knives and blades to all customers who want to challenge these new materials and provide us feedback on performance.
Knives and blades for cutting Cropfiber, Hardcorc cellulose-based fiber boards, TUNERA, MIRIUM, PaperShell, KohPa, Fibrecoat, Forager, Traceless, and Morgue Flex will probably be the future household names for Sollex.
To summarize, the manufacturing companies have a bright future ahead of them. Many participants claimed to have received a serious and honest response. And a lot of offers.
__________________
About Sollex Knives and Blades
Our machine knives and industrial-type razor blades are made of high quality stainless steel with different coatings on the edge or side of the blades. Sole blades we make in solid tungsten carbide or ceramics. If you do not find the blade you are looking for, Sollex are able to manufacture industrial knives and razor blades according to your drawing or needs. Feel free to contact us at +4635-15 75-00 or at info@sollex.se if you have any questions regarding our industrial razor blades.
About the author Johan Falk is an expert on knives and blades and the CEO of Sollex You can contact him directly on: 0046 708 744 786 or johan@sollex.se
For general sales questions drop an email to order@sollex.se or call us on 0046 35 15 75 00