Sollex at Elmia Subcontractor 2021 in Jönköping
Smart industry, sustainability, new cool technologies and materials
Sollex regularly and continuously visits various trade fairs. This blog post tells about which fairs we plan to visit and are happy to meet customers and suppliers at. If there is a trade fair that you would like to meet us at, feel free to contact us and we will be happy to come.

_____________________
2021-11-10
Sollex on Elmia Subcontractor, 9-11 November 2021, Jönköping Sweden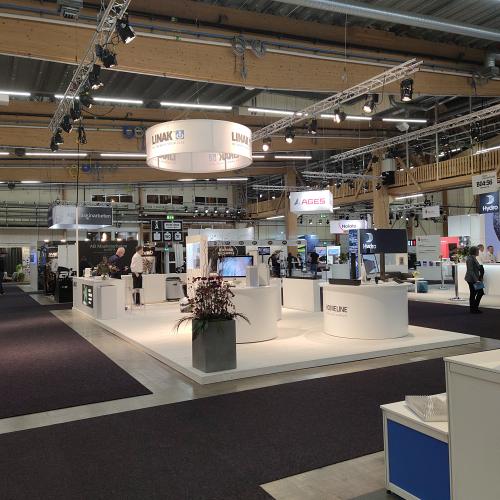 The Elmia Subcontractor fair is a yearly fair with loads of new cool stuff for manufacturing companies. Coming trends, development and new technologies. 2021 the theme was clear: smart industry and sustainability.
Sollex news about stainless steel
Product technology news for Sollex included a new supplier who is able to improve our acid-proof stainless steel knives. In addition our really large stainless steel knives will get improved delivery times.
News about blade coatings
It is always interesting to discuss coatings on blades. At Elmia subcontractor 2021 we found some new coatings that we will try and carefully test and evaluate. The tricky thing with coating blades is how to clean the blades and to know exactly which blades and coatings that works for different slitting processes. News is interesting but very seldom useful in gemba. We are proud to offer our coated blades with T, K, Z, and X coatings, optimized for slitting different materials. These qualities are proven and guaranteed to work for plastic film manufacturing industries.
However Sollex is capable of coating blades with: TiN, AlCrNAlCrN-based Crosscut Plus, TiAlN, Hardcut Plus, PVD coatings conatining TiSiN, Tetrabond Plus, CVD coatings such as Bernex 29HSA Plus alpha, aluminium oxid, PVD coatings such as DLC, Triobond, PACVD coatings, CrN and ADLC.
But before asking for these type of coatings we ask you to test our T, K, Z, and X coatings. These are well proven and we know they work over time.
New cutting edge materials
At Elmia Subcontractor 2021 we found tires made of rubber extracted from Dandelions. New biobased sandwich boards that will replace todays sandwich materials. In addition three new materials Dessertom Appleskin, and Bananatex

Desserto – vegan leather made from cactus leafs Desserto is a sustainable plant based vegan leather made from cellulose of cactus leafs. A cruelty free alternative, without any toxic chemicals phthalate or PVC. Desserto is biodegradable and has the technical specifications for fashion, furniture and automotive industries. Strong molecular bonding gives high resistance to abrasion, rubbing, tearing, and great durability. It has competitive features handling humidity and liquids, and is fully breathable.

Appleskin – leather alternative made on apples Appleskin is a leather alternative with a low carbon footprint made on apples. Apple skin consists mostly from organic residues such as stems, seeds, apple peels and fibres. The residues are first dried, transferred to a fine cellulose powder, mixed with a bioplastic and applied in layers to a carrier such as cotton. At temperature of around 130 degrees Celsius, the material fuse together. A varity of textures and thicknesses are achieved by final embossing or laser processing.
Bananatex – water resistant technical fabric made from Banana plants Bananatex is the world's first technical fabric made purely from Banana plants which are organically cultivated in the philippine highlands. At once super strong and durable, yet light and flexible, the natural beeswax coating gives it a smooth, water-resistant, viable alternative to the synthetic fabrics that currently dominate the bag industry. Bananatex is an open source project encouraged to be used.
We are looking forward to our first request for blades to cut Desserto, Appleskin, and Banantex.
_____________________
2021-09-29
Meet Sollex at the industry and technology fair HI in Herning Denmark.
Take the chance to meet Sollex at HI in Herning, Denmark.
HI takes place 2021-10-05 until 2021-10-07. Sollex will be there and working in the aisles. Sollex will be there and will have with us parts of our very wide range of industrial knives.
The Hi show challenges the mindset with the latest, greatest and most important in innovation, technology and industry. Visitors include engineers, technicians, department heads, machinists, buyers, CEOs and developers in industries such as research and development, machinery, transport, chemicals, consultancy, energy supply, food, plastics, glass and concrete.
This is the first time that Sollex is visiting the HI fair but we believe that it can be a great meeting place for customers and interested parties of our great knives, knife blades and industrial razor blades. We are happy to meet customers and stakeholders and would be very grateful if you would get in touch so we can arrange a meeting.
More about hi Tech & Industry Expo | 5 - 7 October 2021 | Scandinavian Industry expo - Automastion and Robotics: About hi Tech & Industry Scandinavia | 5-7 October 2021

More than 700 exhibitors and a host of exciting events form hi Tech & Industry Scandinavia.
When hi takes place again from 5 - 7 October 2021, it is 57 years since hi first took place. Through the years hi has become the meeting place and knowledge hub for the entire industry that gathers for three intense days where network, inspiration and knowledge are in focus.
The exhibitors are divided between five strong industry sectors:
AUTOMATION & ROBOTS
MACHINERY & PRODUCTION OF EQUIPMENT
INTERNAL LOGISTICS
SUBSUPPLIERS
FOOD TECHNOLOGY