Sollex at Powertool Pro Event & Transport Car Day | Report
About the Transport Car Day and Powertool PRO event by DMH at Solvalla in Stockholm ( 22/08/26 )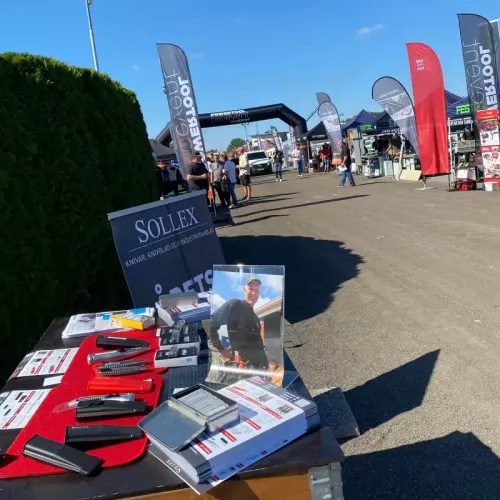 On Friday 26 August, the Transport Car Day and Powertool PRO event was organized by DMH at Solvalla in Stockholm. Together with Festool, Bosch, Cirka and Makita, Sollex exhibited. Sweden's best tool manufacturers gathered in one place.
The event was new for craftsmen who use professional tools in their trade. Visitors had a unique opportunity to test and compare the tools against each other directly on site. Cars and tools were an unbeatable combination. The transport vehicles were tested on the racetrack and the tools were tested in the sunshine.
Sollex was there. A sunny and fantastic day at Sweden's largest racecourse with the best tools. We wanted to take the opportunity to meet existing and prospective customers. Sollex exhibited and showed our sharpest new products.
Among steel horses and transport trucks we presented our classics and novelties. Many roofers, floorers and painters found us and tested our sharpest knives.
Craftsmen got to try the Sollex construction knife for cutting roofing felt with Sollex hook blades. We showed tips and tricks, such as setting the knife down to start cutting roofing felt easier and better. Then straighten the knife and make the cut.
We would like to thank so many people for showing us such great interest and welcome all new customers to Sollex.
On site for Sollex: Beata Agrell
Contact us if you have any questions about cutting and products:
Phone: 00 46 35-15 75 00
Mail: info@sollex.se