Sollex is 95 years in business
In 2022, Sollex celebrates 95 years as a supplier of knives, knife blades and industrial razor blades
2022-09-16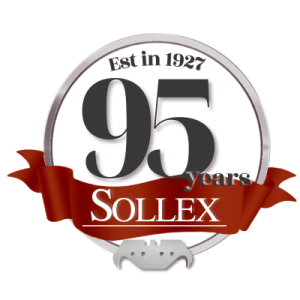 This year Sollex turns 95. A historic event that we celebrate with cake and Champagne. Since 1927, Sollex has been Sweden's "sharpest company", focusing exclusively on knives, knife blades and industrial razor blades. What started 95 years ago in a 19 year old razor factory in a basement in Halmstad is today Sweden's largest specialist with deliveries of knife blades and razor blades to the whole world. And you don't turn 95 as a company by chance. There has always been a fantastic commitment, warmth and drive in the company that has contributed to its success.
Since its foundation in 1927, Sollex has always had dynamic and evolving customers. Over the years, we have experienced events large and small, such as world wars and technological breakthroughs like the telephone and the internet.
A company of four generations From its inception in 1927 until 1984, Herman Mikael Falk was CEO and leader of the company. For a time he also employed his father. After the almost 60-year period, Mikael and Elisabeth Falk took over. When Elisabeth announced her retirement in 2010, the third generation, Johan Falk, stepped in as managing director.
Cutting edge performance also in the future. The company is proud of its history but is also investing heavily in the future. With notorious tenacity, Sollex focuses on product quality, customer care and providing information about our products online. The product range today includes 635 different knife blades. But new ones are added every week. If you contact Sollex, you will be directed to Beata Agrell or Johan Falk. We are happy to help you optimize your or your customers' cutting process.
If you like us on Google, we would be very happy and grateful: https://g.page/r/Cah3Z_MqbSQTE...
Best regards,
Johan Falk
Expert in knives, knife blades and industrial razor blades
T: 035 -15 75 00
M: info@sollex.se
___________
2020-09-16

Sollex, your supplier of knives and blades celebrates 93 years in 2020.
The knives and blades specialist Sollex was founded in 1927. Our founder Herman Mikael Falk was 19 years old when he built a razor blade factory in his parents basement. At the time there was a boom in the market and razor blades was the hotest thing.
Through world war, oil and finance crises Sollex has been a safe supplier och knives and blades. Our competitive spirit, product quality, and customer focus gives your company a competitive advantage.
We would be thrilled for your recommendation on google eller trustpilot.
Best Regards,

Johan Falk
Expert on knives and blades
T: 00 46 35 -15 75 00
M: johan@sollex.se
—
SOLLEX - Cutting edge performance