Pathology knife Pathease 80 21 pcs
80mm - gross dissection knife 1302 for forensic pathologist, researcher and cytologist
Watch this product and we will notify you once it is back in stock.
Pathology knife Pathease 80 21 pcs
80mm - gross dissection knife 1302 for forensic pathologist, researcher and cytologist
SPECIAL OFFER NOW! 40% discount on Pathease pathology knives 1301 and 1302. The offer is valid while products are in stock. Hurry up!
Gross Dissection Knife Pathease 80 for Autopsy, Trimming, Dissecting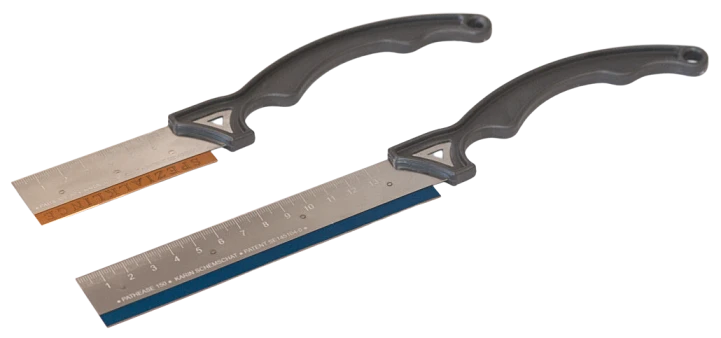 The Pathease 80 (80mm) and Pathease 150 (150mm) dissecting knives are patented and design protected, are primarily intended for use in pathology, forensic medicine and science. Pathease autopsy knives is developed for pathologists who use trimming instruments for dissection and examination of tissues, underlying structures. Pathease disposable dissection knives make it easy to cut tissue, whether hard, soft or semi-solid. The presence of a ruler on the trimming knife blade will allow the examiner to cut the desired size of a piece of tissue.
Pathease pathology tissue knives are safe, practical and time saving instruments. Trimming knife handle has a fixed construction, ergonomic design and made of environmentally friendly plastic.
With Pathease 80 gross dissection tool, the risk of cutting injury decreases notably during anatomical grossing and autopsy procedures. Thanks to the fixed construction, the razor cannot come off, and the user doesn't have to worry about changing the blade either - which has previously been a moment of risk. The ergonomic design of the handle provides a stable grip where the risk for slipping decreases. The handles are ergonomically shaped to fit comfortably in the hand. They provide extra protection for the index finger and a comfortable grip for precise cutting, sectioning, trimming, dicing and dissecting.
Dimensions:
Low weight: only 27 grams
There is a scale on the blade for easy measurement: 6cm
Blade length: 8cm
Advantages of using Pathease dissection knives

Safety:

Minimizing cutting accidents
Secure and hygienic
Fingers are protected
Non-slip handle
Tested and recommended by pathologists and autopsy surgeons

Efficiency:

Dispose after use
No blade change
Low weight
Scale for measurements
Time efficient for horizontal cuts

Durability:

Razor sharp edge with long durability
Manufactured by experts in Sweden
Easily store in package for re-use

Value:

Specifically designed for gross dissection
Less time-consuming
Nature friendly plastic
Instantly ready to use
Sollex has global sole rights for distributing Pathease, Pathease 80 and Pathease 150.