Dissection Knives by Pathease for Autopsy and Pathology
Here's Why You Should Try Pathease Pathology Knives
What is a Dissecting Knife Used for?

Autopsy dissection knives are specialized cutting tools used by forensic scientists, particularly forensic pathologists or autopsy technicians, in autopsy and postmortem examinations to make precise and clean tissue cuts to carefully inspect tissues and organs to determine the cause of death.
Along with various scissors, clamps, forceps, scalpels, special knives - autopsy knives - are usually used. Both "dissection knives" and "autopsy knives" are terms used to describe the same type of instrument designed for the purpose of performing forensic dissections. These knives are essential tools in the field of pathology and forensic medicine to gather information about the cause of death and other relevant medical findings.
Synonyms for autopsy knives, also known as dissection pathology knives or postmortem knives, include pathology knives, pathology tissue knives, forensic knives, postmortem cutting instruments, dissecting tools, gross dissection tools, trimming knives, grossing knives, autopsy razor blade knives etc.
We'd like to introduce you to the best of the best autopsy pathology knife options available today - Gross dissection knives by Pathease.
Pathease Gross Dissection Knives - Made by Pathologists for Pathologists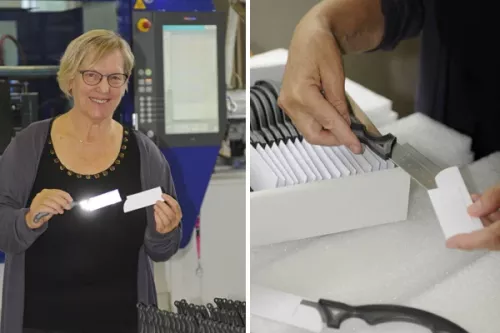 Pathease is a Swedish brand of disposable pathology dissecting knives. The idea and design belong to experienced pathologist Karin Shemschat (Leg.Läk. specialist in pathology, cytology and forensic medicine). The knife blades were developed by the Swedish company Sollex, which has over 95 years of extensive experience in the production of blades and knives for various applications. The handles were developed by JIJ-Plast AB, which is also a highly successful plastic product manufacturing and engineering company in Sweden.
The primary users of Pathease gross dissection knives are medical professionals, particularly those in the fields of pathology, forensic medicine, and anatomical sciences as: pathologists, forensic scientists, medical examiners, anatomists, pathology technicians, medical students.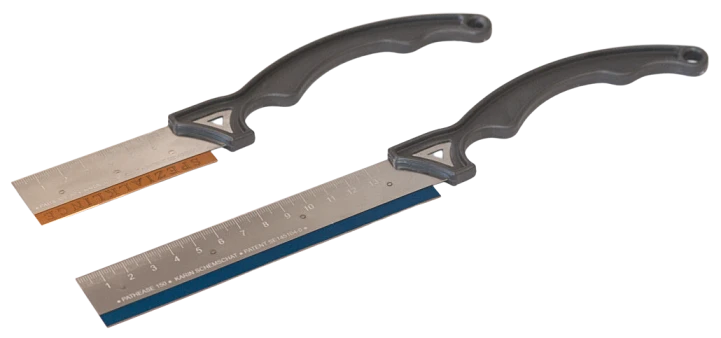 As Karin Shemschat told us, using dissection knives in autopsies usually involves a number of difficulties and dangers. She wanted to create a pathology knife that would solve these difficulties for her colleagues. Some modern dissection knives have interchangeable blades, and replacing or reassembling the blade may require removing screws to hold the blade in place. This sometimes requires additional tools, gloves removal, and an increased risk of accidental cutting. In addition, proper tightening of screws or locking mechanisms is very important to ensure the stability of the knife during operation and to prevent accidents and injuries during the autopsy process.
The use of disposable pathology knives like Pathease 80 and 150 reduces the risk of cross-contamination between different cases or specimens. After each autopsy, the used knife can be safely disposed of.

Longer trimming knives Pathease 150 /1301 (15cm) are useful for making larger incisions, while shorter Pathease 80 / 1302 (8cm) are more suitable for detailed work during autopsy. The autopsy knives turned out to be very sharp and with a built-in ruler, making them not knives but even autopsy dissection tools.
Here's Why You Should Try Pathease Pathology Knives
Pathology dissecting knives from Pathease have the most important features important for dissection and preparation of specimens for analysis.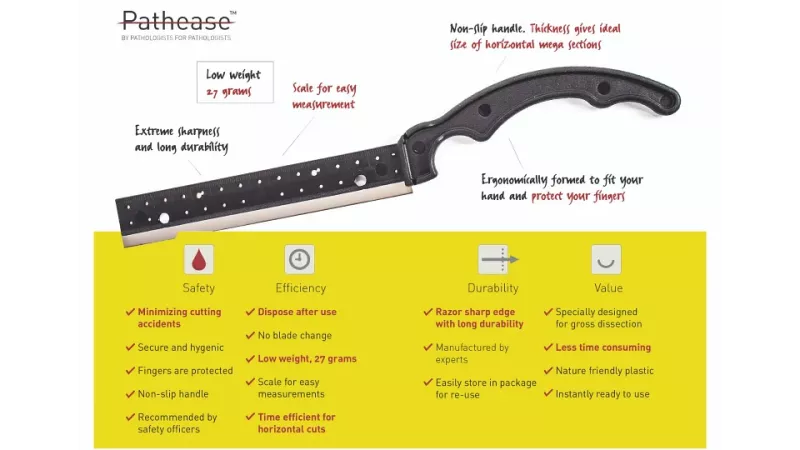 Unique sharpness of the autopsy knife razor blade
The blades of the preparation knives are made of high quality Swedish stainless steel. Swedish stainless steel retains sharpness longer than carbon steel. This steel is characterized by its durability, corrosion resistance and ability to maintain a sharp edge for a long time.
Razor sharp blades for precise cutting
Dissection knives from Pathease have razor sharp blades with a pointed tip. The sharpened tip allows for more precise cuts and punctures, especially when working on delicate structures and small areas.
Pathology knife design for user safety
Special handle design provides a secure grip and reduces the risk of injury. The handles of pathology knives are designed for a comfortable and secure grip. They are made of plastic, providing a non-slip surface.
Pathease 1301 and 1302 autopsy knives are disposable, the pathologist does not need to wash and collect the instruments.
Built-in ruler, eliminates the need to hold a ruler and the thickness of the handle is adapted for large incisions.
Advantages of using Pathease dissection knives

Safety:

Minimizing cutting accidents
Secure and hygienic
Fingers are protected
Non-slip handle
Tested and recommended by pathologists and autopsy surgeons

Efficiency:

Dispose after use
No blade change
Low weight
Scale for measurements
Time efficient for horizontal cuts

Durability:

Razor sharp edge with long durability
Manufactured by experts in Sweden
Easily store in package for re-use

Value:

Specifically designed for gross dissection
Less time-consuming
Nature friendly plastic
Instantly ready to use
It is important to note that the use of these autopsy knives is limited to trained medical professionals, particularly those with expertise in pathology and forensic medicine.
Sollex - The Sole Worldwide Supplier of Unique Pathease Pathology Knives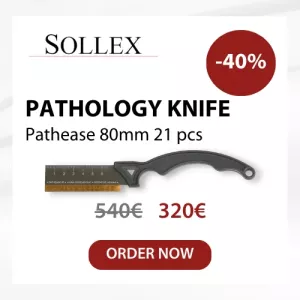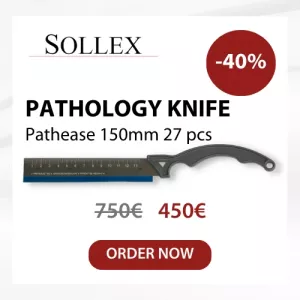 We at Sollex, the world-leading manufacturer of knives and blades for the industries, have a Pathease range of pathology knives available.
Today, we make it possible for anyone who wants to try handy and high quality Swedish pathology autopsy knives at work. Purchase Pathease 80 and 150 at a 40% discount. In the future we will work out a convenient knife supply scheme for you for a permanent stock. Offer is limited in time and quantity. Delivery of pathology autopsy knives is available worldwide.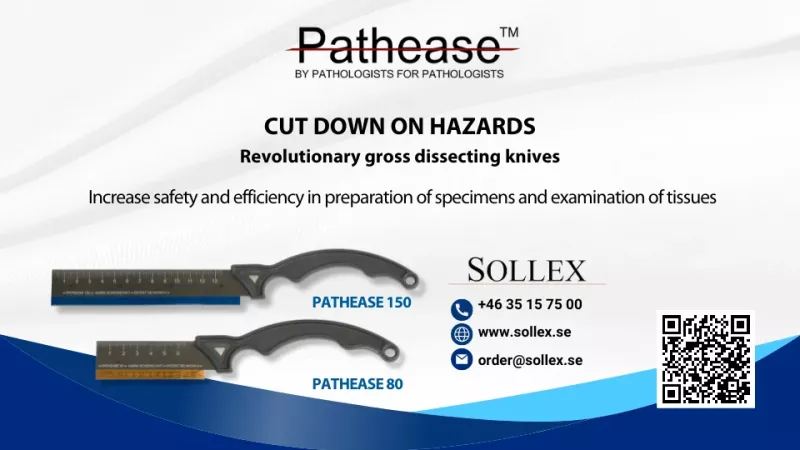 Contact our support team with any questions.