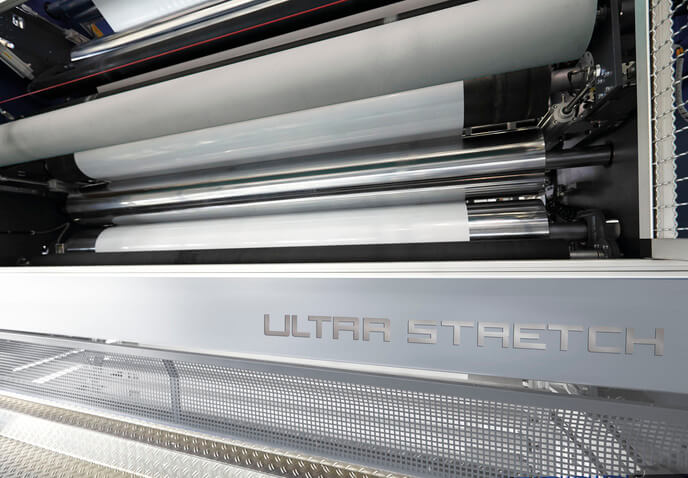 Blades for streched and recycled films
Blades for streched and recycled films or blades for Reifenhäuser's circular economy.
Another company that is also singing the recycling praise is Reifenhäuser This company made their first extruder in 1947. They pride themselves to develop, produce, and sell high performance plastics machinery. Druing the K2019 fair Reifenhäuser made a big bet on recycling with their EVO technology for standard applications (3 to 5 layers), barrier films (5-11 layers), and ultra strech.
Reifenhäuser EVO ultra strech is a new solution for processing poyethylene. The film stretching is used for breathable backsheet films in the hygiene sector. You can stretch the film using initial heat on the four to six-fold extent. This gives higher process stability and lower shrink values due to the longer cooling path. The process is both economical and ecological and gives a recyclable film with improved sealing properties, which can replace PET. The film's simple heat sealing property also allows a high degree of efficiency in the finishing process.*
Another example that Reifenhäuser was showing at the K2109 are the heavy duty Exxon bags, produced on a 5 layer line. The outer layers are made from virgin material – but the middle layer is recyclable.
Naturally all films needs to be slitted and thats where Sollex comes in an help you. Sollex has blades for raw materials like: LDPE, LLDPE, mLLDPE, PP, Ionmers, Adhesives, PA6, CoPA, EVOH, COC, PETG, MDPE, HDPE, PS, EVA, EBA, and Bio raw materials. The more layers of raw materials, the more need for the correct slitting process.
In short if you need blades for streched film, Sollex is your partner.
But the circular economy is not just in the raw materials. Its also in involves additatives. For instance Reifenhäuser uses resin producers who can develop resin needed to change technologies. Changes in additatives affect the slitting process. Given that Sollex believes there is an even larger future need to examine film and blades.
Sollex gives users and plants cutting edge performance. Customers also gets the entire package of expertise from us, such as which blade to use for stretched film. As a result, our customers can significantly improve their finished product quality and slitt film in stable processes.
*https://reifenhauser.com/en/ne...