Blades for slitting stretched film
Cutting edge performance for thin stretched film through typographic analysis
Have you ever considered why some blades perform better than others, even when they look the same?
Together with one of the world leaders in plastic film manufacturing, Sollex found years ago that our slitter blade, 5Z, performed extremely well when slitting thin stretched film. Given its success cutting thin stretched film, we put our efforts into developing an even better blade and refining our production process. Unfortunately, this new blade did not work at all - it did not cut the film. The bad blade tore the film and had to be replaced within minutes as the finished product was destroyed.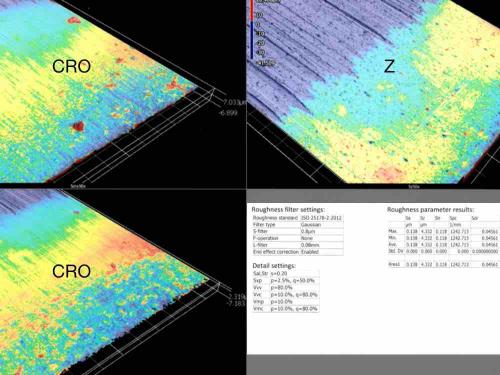 The big question of why this was happening started to ring in my ears, so Sollex embarked on a quest to try to understand the slitting process even better. The two blades are made of the same high-quality stainless steel and go through the same grinding and hardening process. Even the cutting edge coating is the same, but it is applied with two different techniques. This difference in technique has just proven to be the solution to our dilemma.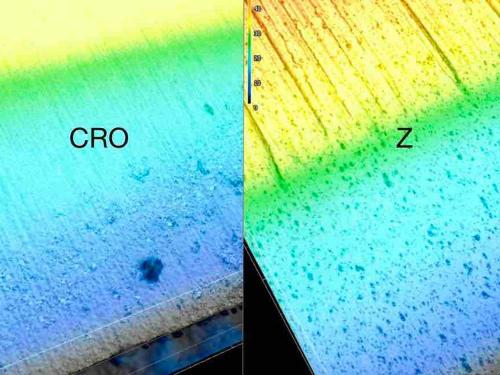 Sollex had the privilege of using a fantastic laser scanning microscope. This engineering dream has a display resolution tolerance of an astonishing 0.5 nanometers and can view objects in 28,800 resolution. We are talking fully automated rapid 3D measurement, which means that we can analyze the cutting edge typography of the Sollex slitter blades in a very detailed 50X enlargement.
Picture 1, above, shows the two blades' typography zoomed to 50X. You can clearly see the bad blade's thinner coating as the grinding of the steel is visible in the coating. You can also see an area which has disturbances. My guess is that it is these disturbances that ruin the slitting function of the bad blade. In comparison, the coating of the Sollex 5Z blade is thicker but more evenly distributed.
Further analysis, seen in Picture 2, indicates that the bad blade had clusters of topographic tops measuring up to 25 micrometers, which is actually possible to feel if you carefully slide a blade along its edge. The 5Z blade had a thicker layer and very few topographic tops. In addition, the edge and coating on the 5Z slitter blade with the zero-friction coating is razor sharp. In contrast, the edge of the bad blade was not straight at all. In 50X enlargement, it looks almost honeycombed. Conclusion: It is hard to use a blade that has a crappy edge due to coating or treatment. Be careful when choosing blades.
Our customer production facility concluded that the 5Z blade lasted for seven days. The bad blade had to be replaced after 30 seconds. The 5Z blade works especially good when slitting thin stretched film. Give it a try it may make wonders in your slitting process of thin stretched film.
Best Regards,
Johan Falk
CEO Sollex AB
T: 00 46 35 -15 75 00
M: johan@sollex.se
—
SOLLEX - Blades for film and foil - Cutting edge performance