Plastics of the Future: Sollex Insights from Plastteknik Nordic Fair 2023
Sollex visited the Plastteknik Nordic trade fair in Malmö on Wednesday the 10th of May 2023. In this article are our impressions from the leading Nordic plastic fair.
______
Plastic is a future material that cannot be replaced. It is an amazing material that, when produced and used wisely, has a positive effect on our daily lives. But plastic materials must be properly and effectively used and recycled. There are many problems and processes that need to be improved. But having been to the fair, we noticed an incredible leap in new climate-resistant technologies, materials and processes.
After the curtain of restrictions caused by the Corona pandemic fell and trade fairs were held everywhere, the trend towards climate-resilient development in all fields of industry, especially the plastic industry, became especially evident.
Bioplastic is a key material that was the talk of the fair and the developments of bioplastic materials were represented at almost every exhibitor at the fair. Plastteknik Nordic had three focus areas:
Sustainability and circular economy
The role of plastics in the public debate
Innovations and New Technologies
Focus on solving major life cycle issues and the different steps in the value chain such as raw materials, production, use and recycling was evident from all exhibitors and participants. They did not only focus on packaging, but also on the plastic flows from products, agriculture, demolition projects, etc. that do not have a functioning recycling system.
Below we will tell you about the particularly interesting participants of the Plastteknik Nordic fair from a Sollex perspective.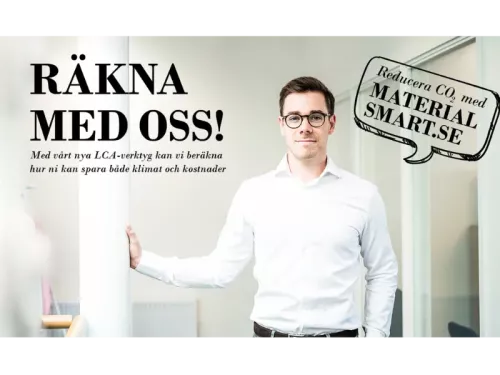 Materialsmart - The right material in the right place reduces cost and CO2-e - Polykemi Group
Materialsmart (https://materialsmart.se/) is a project presented by The Polykemi Group, which consists of Polykemi, Rondo Plast and Scanfill subsidiaries. The aim of the "Materialsmart" project is to take a smart approach to material selection, i.e. to choose the most suitable material for each individual product or packaging.
In many cases, plastic can replace metal, wood, fiber or paper and at the same time provide significant savings in terms of climate, cost and functionality. In the calculator on their website, you can easily simulate how the climate impact is reduced when switching to a more climate-smart material, i.e. a new plastic raw material, a recycled material or a combination of both.
For example, changing the packaging material from PP to PP 100% PIR reduces the climate impact by 91% and the new packaging is 10.8 times more material smart; changing PET to PET 80% PCR reduces the climate impact by 47% and the packaging is almost twice as material smart. It says they use a Life Cycle Assessment (LCA ISO 14040) method to evaluate the environmental aspects of existing or planned products.
Here in our blog article Blades for Industrial Plastic Recycling Machines [Customer Case], we share our experience with a leading plastic recycling company, Rondo Plast AB.
Nordic Bioplastics Association Showcases Sustainable Innovations at Plastteknik Nordic Fair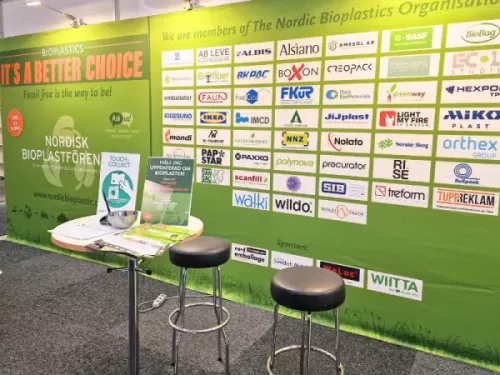 The Nordic Bioplastics Association is a Nordic platform and representative of the companies in the Nordic countries that produce, process, use or recycle bioplastics. NBF members exhibited their products at the Plastteknik Nordic fair and it was interesting to see new sustainable products and solutions: straws made of hay, compostable cups, bio bags for waste, biodegradable tools and packaging etc.
It was also great to see Sollex customers among the Nordic Bioplastics Association members who are thinking about the future and developing new biomaterials, solutions and technologies in the plastics industry using Sollex knives for plastic film manufacturing and recycling.
The most comprehensive Nordic resource on bioplastics that we can say is the NBF website. If you have any questions about bioplastics, material knowledge, types of bioplastics, applications and recycling, you will surely find the answer there. Learn all about bioplastics on their website www.nordicbioplastic.com
Startups at Plastteknik Nordic
Seminars on improving the circularity of plastics with startups and larger companies did not leave our attention. Listed below are the startups presented that we are confident will soon scale up and bring great value to the plastics value chain.
Bioextrax - Technologies for the production of bio-based and biodegradable polymers
Ekbacken Studios - Sustainable masterpiece furniture from recycled materials, with an innovative business model.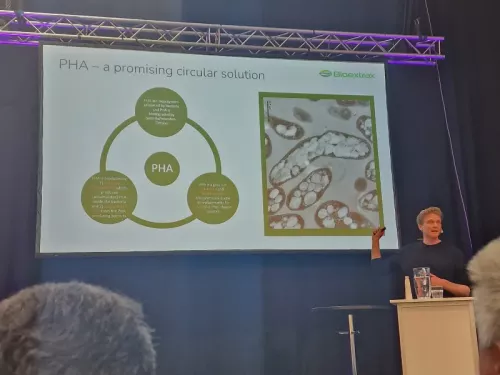 Norbite - Alternative waste management based on the decomposition of plastic by insects into nutritious feed.
Preference - Pyrolytic processing of plastic waste and data and decision-making solutions.
Re:Lab - Offers a circular solution for lab plastic to syngas to product.
Circular Ocean - Recycles discarded fishing nets into new sustainable recyclable material.
HUD - Innovative textile that absorbs and wicks away moisture instead of plastic gloves.
Recircle Solutions / Novoplast - Solutions for recycling plastic and using recycled plastic.
R-Cycle - Software that creates a digital product passport for plastic items.
Swestep - Catalysis plants as one of the solutions to global waste challenges.
Exploring a Diverse Range of Sustainable Plastic Materials
At the Plastteknik Nordic fair, the following plastic materials, their derivatives and additives were presented: Recycled plastic, Bioplastics, Polyurethanes (TPU/PUR/Rubber), Elastomers (SBS, SEBS, TPV), Olefin plastics (PE/EVA/EEA/EMA/EBA/PP), Polyesters (PETa/PETg/PETc), Hydrophobic wood fiber, Additives (PBT, POM, PPS, PSU, PVC, PCR, PIR, SAN), Expanded polypropylene (EPS), Polypropylene (PP), Polyamide, ABS Life Science Polymers (TPE/TPO/SAN/PET), Construction plaster.
Diverse Range of Plastic Materials

| | |
| --- | --- |
| Recycled plastic (PCR, PIR) | Recycled plastic refers to plastic materials that have been processed and transformed from post-consumer or post-industrial waste into new usable products, promoting sustainability and reducing environmental impact. |
| Bioplastics | Bioplastics are a category of materials derived from renewable sources such as plant starches, vegetable oils, or biomass. They offer an environmentally friendly alternative to traditional plastics and can be used in various applications, including packaging and disposable products. |
| Polyurethanes (TPU/PUR/Rubber) | Polyurethanes (TPU/PUR/Rubber) are a class of polymers known for their excellent flexibility, durability, and resistance to abrasion, making them suitable for applications such as foams, adhesives, coatings, and flexible plastics. |
| Elastomers (SBS, SEBS, TPV) | Elastomers (SBS, SEBS, TPV) are elastic materials that exhibit high resilience and flexibility, commonly used in products like gaskets, seals, tires, and shoe soles. |
| Olefin plastics (PE/EVA/EEA/EMA/EBA/PP) | Olefin plastics (PE/EVA/EEA/EMA/EBA/PP) are a group of thermoplastic polymers characterized by their lightweight, chemical resistance, and ability to be easily molded. They find applications in various industries, including packaging, automotive, and textiles. |
| Polyesters (PETa/PETg/PETc) | Polyesters (PETa/PETg/PETc) are synthetic polymers that offer excellent strength, durability, and resistance to moisture and chemicals. They are widely used in the production of bottles, fibers, films, and packaging materials. |
| Hydrophobic wood fiber | Hydrophobic wood fiber is a material derived from wood that has been chemically treated to repel water. It finds applications in composite materials, insulation, and as a reinforcement in plastic products. |
| Additives (PBT, POM, PPS, PSU, PVC, PCR, PIR, SAN) | Additives (PBT, POM, PPS, PSU, PVC, PCR, PIR, SAN) are substances added to plastic formulations to enhance specific properties such as flame resistance, UV stability, impact strength, and color. |
| Expanded polypropylene (EPS) | Expanded polypropylene (EPS) is a lightweight, rigid foam material with excellent insulation properties. It is commonly used in packaging, automotive parts, and building insulation. |
| Polypropylene (PP) | Polypropylene (PP) is a versatile thermoplastic polymer known for its high strength, chemical resistance, and low density. It is used in a wide range of applications, including packaging, textiles, and automotive components. |
| Polyamide | Polyamide, also known as nylon, is a synthetic polymer with high strength, toughness, and resistance to wear. It finds applications in engineering components, textiles, and electrical insulation. |
| ABS Life Science Polymers (TPE/TPO/SAN/PET) | ABS Life Science Polymers (TPE/TPO/SAN/PET) are specialized polymer materials designed for use in medical and healthcare applications. They offer properties such as biocompatibility, sterilizability, and chemical resistance, making them suitable for devices, implants, and drug delivery systems. |
| Construction plaster | Construction plaster is a versatile material commonly used in the construction industry for applications such as creating molds, filling gaps, and providing structural support. |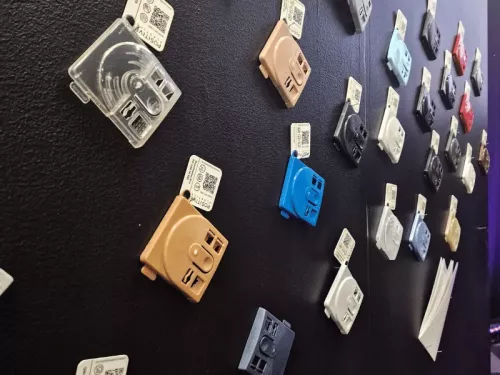 Another interesting project we encountered at the fair was Positive Plastics https://www.positiveplastics.eu/. Positive Plastics aims to bring designers, engineers and product managers a more acceptable perspective on plastics through the presentation of Positive Plastics Kits. Positive Plastics offers 2 sample sets of various innovative, commercially available polymers. The kits include post-consumer recycled materials (PCR), post-industrial recycled materials (PIR), mass-balanced grades, bio-based grades and biocomposites. All grades are suitable for injection molding for durable products such as consumer electronics, home appliances, sporting goods, automotive interiors, accessories, etc. Below is a list of some of the materials that are included in Positive Plastics and are available for use in the production of "positive" sustainable plastic goods.
Positive Plastics Materials

AKRO-PLASTIC // AKROMID® NEXT 5.10 3 GF 30 black

A 100% bio-based PA derived from corn and castor oil from a castor bean plant. Reinforced with 30% glass fibers.

MOCOM // Cellidor® CP 410-10

A cellulose acetate propionate (CAP) partially derived from renewable cellulose from wood.

Lignin Industries // Renol® ABS

An ABS with 20% chemically transformed and polymerized lignin derived from wood.

Trinseo // APILON™ 52 BIO TL 25

A flexible thermoplastic polyurethane (TPU) with a biobased content of 54%.

Covesto // Desmopan® CQ 9385D MBC 091

A thermoplastic polyurethane (TPU) with a biobased content of 36% using a mass balance approach.

Arkema // Rilsan® PA 11 BMNO

A polyamide 11 (PA11 or Nylon 11) derived 100% from castor oil.

Borealis // Bornewables™ RF365MO

___

Borealis // Borcycle™ UF582SA-90

A bio-based polypropylene derived from used vegetable cooking oil.

___

A white PP with 55% PCR

Brightplus // BrightBio® LOIMU-D11

A crosslinked polyester with a 68% bio-based content based on mainly polylactic acid (PLA), soybean oil, and inorganic components.

Covestro // Makrolon® 2407 RE

A polycarbonate (PC) with 72% bio-based content

BIO-FED // M∙VERA® GP1015

A 70% bio-based polyester with relatively high rigidity. Molded products with low wall thickness are biodegradable.

Covation Biomaterials // Sorona® PTT K1441

A poly trimethylene terephthalate (PTT) polymer with a bio-based content of 37%

Made of Air // Prime Flex

A bio-based polyolefin compounded with biochar that has a very high content of carbon from waste biomass.

Sappi // Symbio PLA25

A composite of 75% bio-based polylactic acid PLA polymer and 25% cellulose fibers.

Authentic Material // Qilin Semi-Rigid

A polyether block amide elastomer made up of a biobased polyamide 11 blocks (nylon) and softer polyether blocks. Filled with 50% crushed oyster shells which is a waste product from the food industry.

Stora Enso // Biocomposites

This material is a mixture of 40% wood fibers and 60% mass-balanced polypropylene (PP). Thanks to the wood fibers, the material is soft and warm to the touch.

UPM // Formi EcoAce WB50

A renewable biocomposite product made from 40-60% wood fibers and bionaphtha (BioVerno) which is based on tall oil from wood.

MOCOM // ALFATER XL® ECO A75I 2GP0001 BK0002-00

A thermoplastic vulcanizate elastomer based on 40-45% post-industrial polypropylene recyclate and partly-biobased (70%) EPDM derived from sugar cane

PolyVisions // DuraPETTM 0624 PCR ST

A PET plastic consisting of 91% PCR material from used water bottles

Furukawa Electric Company Limited // APFU H60

A cellulose fiber-reinforced plastic composite made from 60% PIR carton waste (Tetra Pak) and 40% virgin HDPE with additives.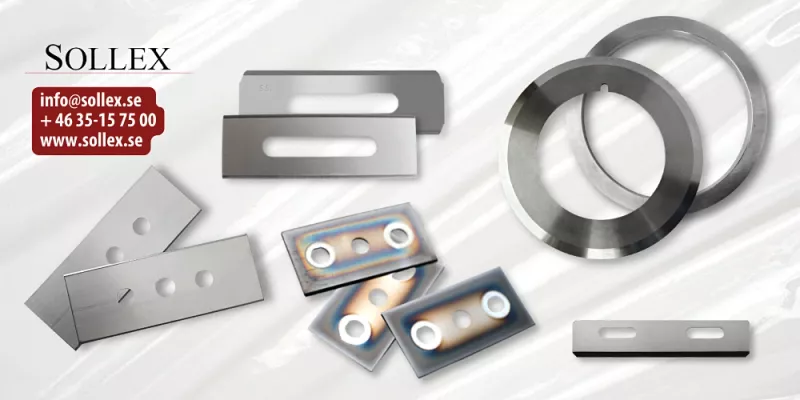 These materials showcased at the Plastteknik Nordic fair represent a diverse range of plastic options with various properties and applications, catering to the needs of different industries and promoting innovation in the field of plastics.
It was two exhibition days filled with educational seminars, new products and innovations that will help move the plastics industry forward. We thank them for the new insights and experiences and look forward to the next fair in 2025.

Cutting Solutions for Sustainable Plastic Materials: Explore Sollex Industrial Knives
We would like to remind you that if you need industrial knives for cutting plastic film (bioplastic, PCR, PIR other) or recycling plastic waste - Sollex can provide them for you. Together we will find the cutting solution that will give the best results. New environmentally friendly plastic materials and formulas are being created all the time and you will probably face the problem of cutting such materials, e.g. bioplastics, because they are made of bacteria or starch for example, and blades adapted for cutting conventional plastic film from petroleum may not give an acceptable result. Contact us for more information