High Quality Blades for Plastic Film Slitting
Plastic Film Slitting & Converting
Slitting is one of the most important material converting processes and refers to the slitting of a larger roll of plastic film wound on a reel into narrower strips. The process of slitting plastic film is most often performed in conjunction with unwinding processes, as it requires first unwinding the parent roll, slitting the plastic film material with industrial razor blades or slitting machine knives, and then rewinding it onto smaller spools. These processes are performed in parallel on slitter-rewinders - special cutting machines designed to convert plastic film. The slitting and winding of plastic film are the final converting steps in the industrial film production process.
Industrial Razor Blades for Cutting Film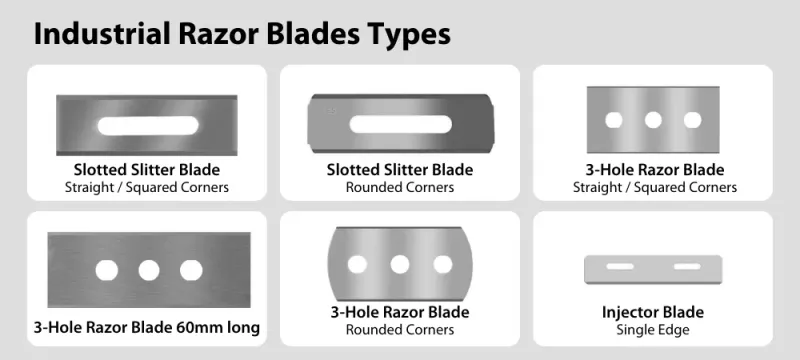 When it comes to razor slitting, Sollex offers the following industrial razor blades for film cutting and converting:
Slotted Slitter Blades. They come with straight or rounded corners. The thickness of these slitter razor blades is 0.40 mm and 0.20 mm. The standard blade size is 57x19x0.40 mm.
Industrial razor blades with 3 holes. These blades also come in straight and rounded corners. The dimensions are 43x22 mm and the thickness of the blades varies from 0.10 mm to 0.40 mm depending on the cutting film material.
Injector blades. These are small industrial blades, usually measuring 38x8x0.25 mm. They have 2 holes for installation in the slitter machine.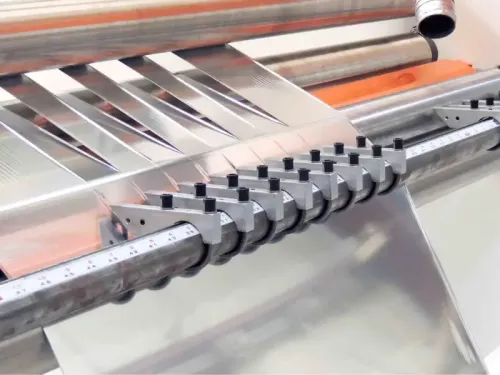 The razor cutting method provides the cleanest cutting edge possible with the right industrial blade for the specific cutting application.
Sollex offers high-quality industrial slitting razor blades to convert and slit the common types of plastic film:
Slitting Blades for PE Film
Slitting Blades for PET Film
Slitting Blades for PA Film
Slitting Blades for CPP Film
Slitting Blades for EVA Film
Slitting Blades for PVC Film
Slitting Blades for PI Film
Slitting Blades for Bopp Film
Slitting Blades for Metalized Film
Slitting Blades for Aluminum Foil
Slitting Blades for Laminated Films and many others.
Try Sollex Zero Friction blades: Type Z for stretched thin films without additives. For film with additives, such as white pigments, try Type K blades. A basic TiN coating blade type T can be used in a wide selection of applications.
PP with additives (for instance such as calcium carbonate which makes it similar to rubber) is really tough on the blade. Cutting such film requires extreme performance and durability. Sollex V quality such as 5V can work in cut extreme cases. Normal PP without additives should work with Sollex K and Z blades. C blades stay sharper even longer as they are self grinding. But the C quality is also bit fragile. Sollex X quality works if something between V and K is needed.

Most Sollex industrial razor blades are delivered in a so-called partner pack. A package that is very suitable for industrial production. The razor blades lie on top of each other on two spears in a plastic package. The edges of the slitting blades do not come into contact with the packaging. For the user, it is easy to see how many razor blades are left because the lid on the partner pack is made of transparent plastic.
Order High Quality Film Slitting Blades
Sollex has the largest stock in Europe of razor slitting blades for plastic film converting. We have all types of slitting blades, round and straight 3-hole slitting blades and injector blades in stock. Due to the variety of materials to be slit, we offer all these blades in a wide range of thicknesses, materials, edge geometries and coatings. We offer same day shipping on all standard industrial slitting blades from our warehouse in Malmö, Sweden. Read our terms and conditions for ordering and delivery here.
Regardless of the slitting application, we will provide you with advice and assistance in selecting the right industrial razor blade for the best cutting performance and results! Not only do we offer these blades in carbon steel, stainless steel, and tungsten carbide, but we also offer them with ceramic, titanium, and zero-friction coatings.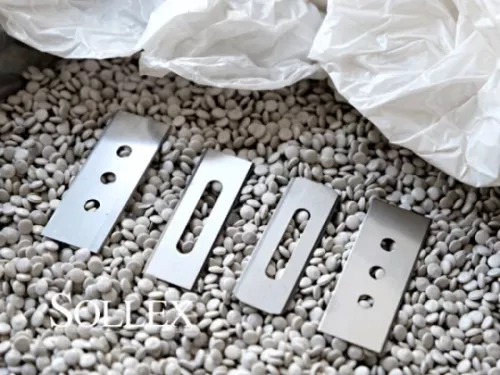 Our customers - leaders in the plastic and flexible packaging industries and rely on us for the right slitting blade. We value our reputation and the quality of our machine knives and blades, which is why we have been providing only quality solutions to our customers for over 96 years.
If you do not find the blade you need, Sollex can manufacture industrial knives and razor blades to your drawing or to suit your needs. If you have any questions about our industrial razor blades, please contact us at +4635-15 75-00 or info@sollex.se.