Problems and Solutions when Cutting Honeycomb Cardboard
Cutting characteristics and what you need to know. How to choose the right knife for cutting honeycomb.
Today, honeycomb is the most promising material for making ultralight and durable structures for various purposes. Honeycomb is an environmentally friendly alternative to wood and plastic products. To analyze the process of cutting honeycomb material, let's take a closer look at the definition and characteristics of honeycomb paperboard.
Also read another article on a similar topic on our blog "Cutting Methods in Cardboard Production"

What is a Honeycomb Cardboard Material?
Honeycomb cardboard material, also known as honeycomb board or honeycomb panel, is a type of packaging material that utilizes the structural properties of honeycomb hexagonal geometry. The honeycomb panel consists of two layers of cardboard glued together, with a honeycomb core between them.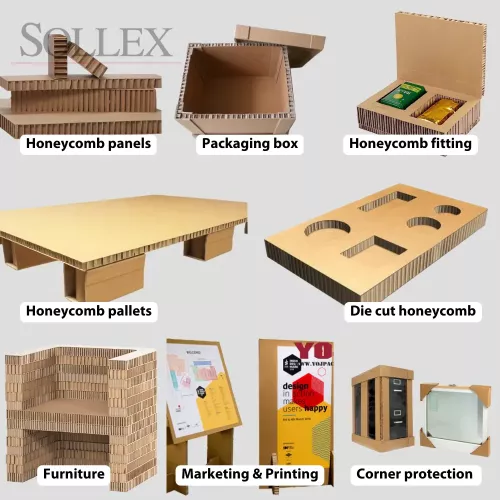 The main parameters of the honeycomb material are: the size of cell pitch, node, node size, cell size, the honeycomb core, type and density of the cardboard used. The overall strength of the honeycomb material depends on the diameter of the honeycomb core mesh. By varying the thickness of the filler, the manufacturer adjusts the physical characteristics of the finished product. The core structure of the honeycomb carton provides it with exceptional strength-to-weight ratio and rigidity.
In addition to the fact that the base of the cardboard is most often made from recycled paper, safe, water-based adhesives are usually used in its manufacturing process, so this material becomes more environmentally friendly.
Why Choose Honeycomb Cardboard?
High durability with low weight, low cost, environmental friendliness, high thermal and acoustic insulation, the ability to well absorb shock loads, high technology of processing - all these factors determine a wide range of honeycomb products. Honeycomb materials are made from renewable resources, such as paper or cardboard, which are biodegradable and recyclable. Using honeycomb material aligns with the principles of a circular economy by promoting the reuse and recycling of materials.
Application of Honeycomb Core Material
Honeycomb cardboard has a unique design that can withstand high loads. Products made of this material are 100% recyclable, have great durability and, what is equally important, affordable price, thus replacing wooden and plastic analogues. The properties of honeycomb cardboard open up a wide range of applications.
Applications of honeycomb cardboard

| Applications | Description |
| --- | --- |
| Packaging material | transportation of goods of food, agriculture, pharmaceutical industry |
| Production of furniture | furniture filler, production of pallets, cabinet furniture, a substitute for wood components in doors |
| Advertising | signs, stands, decorations, honeycomb products can be decorated with different types of printing |
| Light industry | production of toys, souvenirs |
| Trade | production of stands, shelves |
| Freight | pallets for transportation, use as a cavity filler in crates to provide greater impact protection |
Honeycomb boards are used in various industries. It is commonly used to package fragile items such as glassware, electronics, furniture and artwork. It can also be used in construction as a lightweight and strong alternative for partitions, doors and flooring. Automotive, aerospace and other industries requiring lightweight, high-strength materials also use it.

some of European Manufacturers of Products of Honeycomb Material

| Category | Company | Country | Products |
| --- | --- | --- | --- |
| Packaging and Logistics | Strömsnäs Förpackningar AB | Sweden | Honeycomb pallets and packaging materials |
| | Diab Group | Sweden | Honeycomb cores, composite materials |
| | AR Packaging Group AB | Sweden | Honeycomb packaging materials |
| | Smurfit Kappa Group | Ireland | Honeycomb packaging solutions |
| | Eltete TPM Ltd | Finland | Honeycomb pallets and packaging solutions |
| | Cartonplast Group GmbH | Germany | Honeycomb sheets for reusable packaging |
| Automotive and Transportation | EconCore NV | Belgium | Honeycomb cores, lightweight composite panels |
| | Polycasa N.V. | Belgium | Honeycomb sheets, sandwich panels |
| | Panel Systems Ltd. | United Kingdom | Honeycomb panels, components |
| | Fibroverre Industries | France | Honeycomb structures for automotive applications |
| | Plasteurope Honeycomb Products B.V. | Netherlands | Honeycomb panels, packaging materials |
| Construction and Architecture | Tricel Honeycomb Corporation | Ireland | Honeycomb panels, building materials |
| | CellXion Ltd. | United Kingdom | Honeycomb panels, cladding systems |
| | KIK UK Ltd. | United Kingdom | Honeycomb panels, decorative materials |
| | Corex Honeycomb | United Kingdom | Honeycomb panels, lightweight structures |
| | XLam Dolomiti | Italy | Honeycomb panels, sustainable construction |
| Furniture and Interior Design | Hiberform | Ireland | Honeycomb furniture, interior design elements |
| | Bencore S.r.l. | Italy | Honeycomb panels for furniture and design |
| | Woodoo | France | Honeycomb-based materials for design |
| | Proteus Facades | United Kingdom | Honeycomb cladding systems |
| | Featherstone Leigh | United Kingdom | Honeycomb furniture components |
| Renewable Energy and Sustainable Solutions | Ecovative Design LLC | Netherlands | Mycelium-based honeycomb materials |
| | Ecodek | United Kingdom | Honeycomb composite decking |
| | Greenspec | United Kingdom | Honeycomb insulation materials |
| | Gurit Holding AG | Switzerland | Honeycomb cores, sustainable composite materials |
| | Green Unit Limited | United Kingdom | Honeycomb-based sustainable structures |
About Honeycomb Pallets for Transporting
Honeycomb pallets are a strong and lightweight alternative to the standard pallets made of wood and plastic. The environmentally friendly honeycomb pallet is the solution to many freight transportation problems. Transportation pallets are made of cellulose honeycomb core and cardboard. Such pallets are capable of carrying a dynamic load of up to 1500 kg. One of the Swedish manufacturers of such environmentally friendly honeycomb transport pallets is the company Strömsnäs Förpackningar AB (www.stromsnas.nu).
The main advantages of honeycomb pallets:
Honeycomb pallets are often made from recycled materials, making them an environmentally friendly alternative to traditional pallets.
Honeycomb pallets can be manufactured in various sizes, shapes and load capacities to suit different products and shipping requirements.
These pallets are used as disposable packaging, but can be reused.
Honeycomb cardboard is lightweight due to the hollow cells in its core, and the weight of honeycomb pallets is 2-5 kg instead of 15-20 kg of their wooden counterparts, which makes them much easier to work with directly.
Reduction of transportation costs and easier handling
Honeycomb pallets do not require special marking and phytosanitary control when exporting goods.
Honeycomb Cardboard Industrial Cutting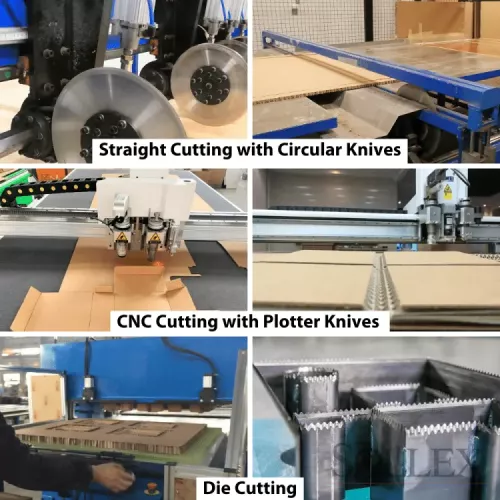 Honeycomb material usually comes in large rolls or sheets. These rolls or sheets are unwound and fed into the manufacturing line. Once the material is measured and marked, it is fed into cutting or slitting machines. These machines use various cutting techniques depending on the specific requirements.
Common cutting methods of honeycomb material include:
Straight cutting: This involves cutting the material into straight lines or strips using rotary circular knives or blades. Here, the web with the honeycomb material moves toward the rotating circular knife at a given speed, calculated according to certain parameters
Die cutting: Die cutting involves using a specialized tool, called a die, to cut the honeycomb material into specific shapes. The die is a custom-made cutting template that is pressed onto the material to create the desired shape.
CNC cutting: Computer numerical control (CNC) cutting machines or digital cutter plotters use computer-controlled tools to precisely cut honeycomb material into complex shapes and contours. This method is often used when high precision and intricate designs are required. The blades used for this type of cutting on plotters are V-cut knives and oscillating blades. During cutting, the honeycomb material does not move and is fixed on the cutting surface of the cutter, while the knife tool moves and cuts according to the loaded and set drawings.
Problems when Cutting Honeycomb Cardboard and Solutions
Honeycomb has a tough structure and is an abrasive material that wears down knives and blades. When cutting and slitting honeycomb material in the manufacturing process, several challenges or problems may arise. Here are some common issues:
If the cutting blades or tools are not properly set or dull, they can cause excessive pressure or tearing, leading to the separation of paper layers and non straight cutting.
The material Honeycomb is built up by cells that provide its unique strength and cushioning properties. Cutting or slitting Honeycomb with excessive force or pressure may result in cells being crushed or collapsed
When cutting honeycomb material, dust and debris can be generated. This can be problematic if not managed properly, as particles can affect the cleanliness of the production environment and potentially contaminate the finished product. In addition, the dust that accumulates on the cutting edge of the knives, negatively affects the durability of the industrial knife and its rapid wear and tear.
There is a risk of burning when cutting honeycomb material. Precautions may vary depending on the speed of the knife relative to the web, the composition of the honeycomb material, the adhesive used, the cutting method, and the equipment used.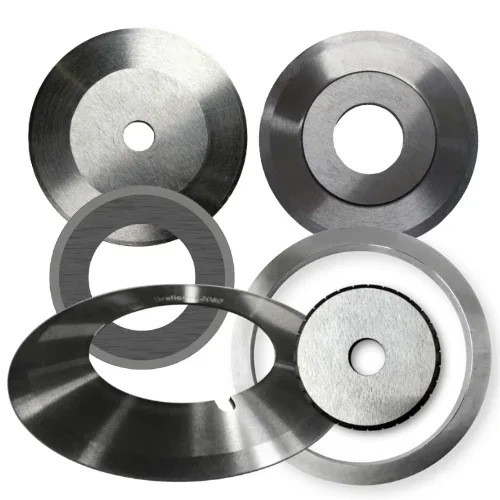 In order to overcome these problems, manufacturers may use a variety of strategies:
Ensuring clean and accurate cuts by regularly maintaining and re-grinding industrial knives
Store and handle regrinded knives in a professional way
Use the right cutting method. Sharp blades and tools gives a clean cut without excessive friction or heat
Keep the speed of rotation / movement of the slitting blades and the web of material being cut the same
Use the right industrial knife for cutting and slitting honeycomb material. Our customers typically use a robust circular knife with a single side grinding. We can help you find the right specifications and have been successfully producing slitter blades for cutting cardboard, paper, and honeycomb material for many years
Polishing the blade edge can improve the cutting of the material by reducing the accumulation of dust on the cutting edge of the knife and increase its service life
Fire resistance can be increased by applying flame retardant coatings or treatments to the cellular material
Fine-tuning cutting parameters and optimizing machine settings to achieve accurate dimensions while avoiding excessive pressure on the material
Manufacturers can optimize the cutting and slitting process to produce high-quality honeycomb material with accurate dimensions and structural integrity by addressing these potential issues and implementing appropriate measures.
Sollex Circular Slitting Knives to Order
Sollex circular knives are commonly used for slitting and converting paper, plastic film and foil, rubber, textiles. We supply slitter blades according to your needs and designs.
Dimensions of dished circular knives we can produce

| | |
| --- | --- |
| Outer diameter | 62–250 mm |
| Inner diameter | 40–140 mm |
| Thickness | 0,6–4,0 mm |
| Standard cutting angle | 30° |
| Standard inner dished angle | 5° |
| Materials | D2, HSS-M2, Tungsten Carbide |
| Polishing | Standard Ra 1.6 or Mirror-polishing on demand |
| Coating of knife edge | On demand |
Dimensions of circular slitting knives we can produce

| | |
| --- | --- |
| Outer diameter | 18–900 mm |
| Inner diameter | 20–140 mm |
| Thickness | 0,3–10,0 mm |
| Standard cutting angle | 30° |
| Materials | D2, HSS-M2, Tungsten Carbide |
| Polishing | Standard Ra 1.6 or Mirror-polishing on demand |
| Coating of knife edge | On demand |
Our high-quality blades have been trusted in the industry by a wide variety of users for over 96 years. Contact Sollex with questions or advice via e-mail at info@sollex.se or call us and we'll be happy to help!
Contact us at order@sollex.se or call +46 35-15 75 00 to get an offer or order industrial machine knives for cutting cardboard, paper, sandwich boards, honeycomb cardboard.
____
Choosing appropriate cutting techniques that minimize heat generation will help reduce the risk of honeycomb material burning when cutting. For example, using sharp blades or tools that create clean cuts without excessive friction or heat may be a safer option.
A balanced speed between the blades and the material being cut is generally recommended for optimal results when cutting honeycomb material. The concept of maintaining a constant speed is to ensure a smooth and clean cut, minimizing potential problems such as abrasion, delamination or uneven edges.
If you need wear-resistant, quality industrial knives and are interested in improving the quality of cutting cardboard, honeycomb material in your production - contact Sollex. With our extensive experience in manufacturing circular knives and blades for advanced paper and cardboard manufacturers, we can help solve your needs as well. We also coat and polish knives as needed, which will increase their life of use.