Slitting Methods to Cut Web Material: Shear, Crush and Razor Slitting
In recent years there has been a considerable increase in the demand for slitter rewinders and superior quality industrial knives due to the speedy expansion of the packaging industry, particularly labels and flexible packages. On the market today, several companies are offering customers a wide selection of slitting machines with prices varying from tens to several hundred thousand euros - all of which come with different features.
First of all, it is important to note that there are two words in English "cut" and "slit". Slitting will always mean cutting the material web lengthwise, and cutting will mean cutting both lengthwise and crosswise. Hence the name of the roll slitting machine is a slitter.
A slitter/rewinder is a type of industrial machine used for cutting a large roll of material into smaller rolls or strips, and then winding them onto smaller spools or bobbins. The slitting machine has circular or razor blades that are positioned across the width of the material and cut into smaller widths as it passes through. The material then passes through a set of rollers that rewind the newly cut strips onto smaller cores or spools. Slitter rewinders are commonly used to process materials such as paper, film, foil, and nonwovens. They are used in a variety of industries, including packaging, printing, and textiles.
Slitting Roll Methods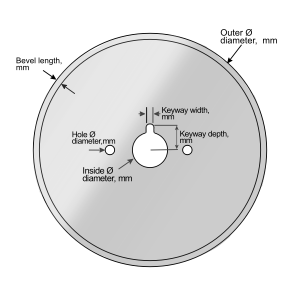 Depending on the type of cutting tool, there are cutting methods using a circular knife or razor blade: share cutting and crush cutting with circular knives and razor slitting with industrial razor blades.
Shear Cutting
Shear slitting is one of the most common slitting methods used in the converting industry. Shear slitting uses a pair of circular knives: a top knife and a bottom knife, that creates a rotating "scissor" effect on the incoming web. The bottom knife is tangential to the web material at the cutting point. This slitting method provides excellent slit quality at high speeds, reduced dust generation and long knife life. Shear slitting can be used on a wide variety of materials including film, paper, laminates, tapes, textiles, foils and more.
For shear slitting, the optimum cutting angle depends on the diameter of the top and bottom knives, the thickness of the material, and the relative positions of the top and bottom knives. The bottom knives are usually the ones that are in drive. The top knives are usually not driven, but they rotate due to friction between the bottom knife and the material. In order to achieve the effect of a shear cut, the bottom knives must run 3-5% faster than the top knives.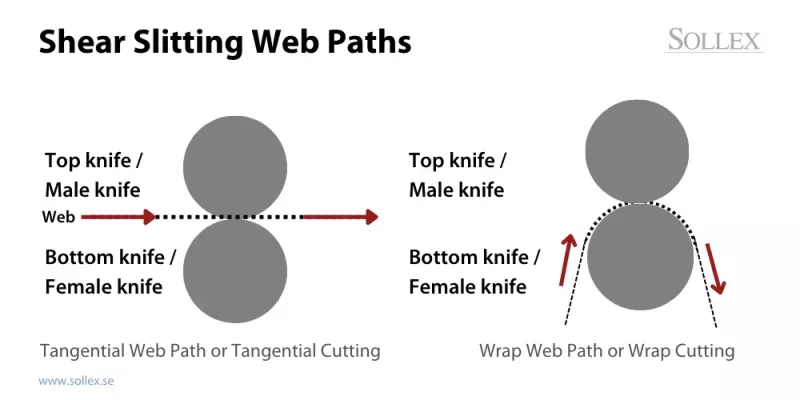 Shear slitting has 2 path options for roll slitting: Tangential Slitting and Wrap Slitting. With a tangential cut, the web only touches the top tangent point of the bottom knife. Factors to consider in tangential slitting are: a cut point, web tension, shear angle, knife overlap, and dimensional runout. In wrap slitting, the web wraps around the bottom knife. Some products do not wrap and must be slit tangentially.
Score Slitting or Crush Cutting
Score slitting or crush cutting uses a rotating knife pressed against an anvil/crush shaft. Crush cutting uses brute force to push a knife blade through materials. Typically, this force is applied by means of a pneumatically operated knife blade holder against a hardened and tempered anvil roller. The effectiveness and quality of the cut can be greatly influenced by the choice of blade radius and cutting angle.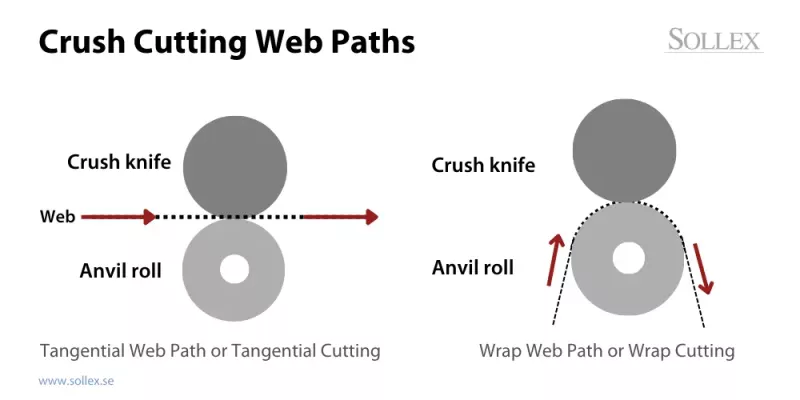 Crush cutting is used for very tough materials like rubber, abrasives or laminates. If the material is brittle, there is increased dust, and if the material is elastic, the edges become thicker along the cutting zone, negatively affecting winding. This method can be used on a wide variety of materials, including tapes, textiles, linoleum, paper, nonwovens, foams, rubber, and more. There are some industries where only this cutting method is possible, such as the manufacture of sandpaper.
Razor Slitting
Razor Slitting uses razor blades mounted at an angle in individual holders or as multiples in cassettes to slit the moving web. Razor slitting has low tooling costs, with simple adjustment and maintenance. It's generally best used for thin films and light foils. Used primarily with light and non-abrasive materials, this method employs a simple razor blade slit in the air or in a grooved roll. The use of oscillating holders, new blade materials, coatings, and sharpening angles, which extend the life of the blade, are the main improvements in slitting technology. The main problem is the friction of the blade on the material, which generates heat and limits the maximum possible cutting speed, which is particularly noticeable when highly abrasive films are cut.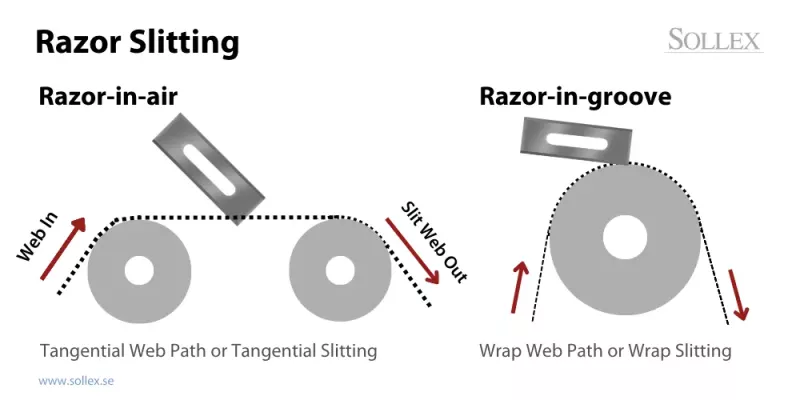 The razor-in-air method used for razor slitting requires no extra support at the slitting area and is better for slower speeds. Razor-in-groove method uses a roll with grooves that provide additional support at the point of slitting for higher running speeds.
Industrial Slitter Rewinder Blades
High-quality slitter blades for cutting rolled materials are the key to uninterrupted production and a quality end product. We at Sollex offer a large range of slitter blades for all kinds of cutting: razor slitting, crush and shear cutting.
Sollex industrial knives blades are available in the following materials and coatings: tool steel, stainless steel, carbon steel, solid tungsten carbide, T - TiN titanium nitride coating, Z - zero friction, K - ceramic coating, X - full ceramic coating. Sollex manufactures knives from high quality Swedish and German steel. In addition to steel, we also have solid tungsten carbide knives in our range.
Solid tungsten carbide slitting blades are used for heavy duty applications, thick flexible materials, highly abrasive films, or plastic films with additives. Additional coating of the cutting edge is used to extend blade life while reducing friction between the web material and the slitting blade. Coated cutting edges make them smoother and last longer than rough blades that are not coated.
Industrial Razor Blades for Razor Slitting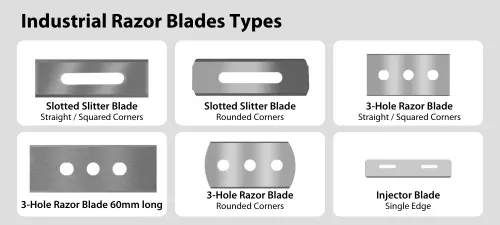 We offer an assortment of blades you won't find anywhere else! When it comes to razor slitting methods, sollex.se offers a wide range of different industrial razor blades:
1. Slotted slitter blades. They come with straight or rounded corners. Thickness of such slitter blades are 0.40 mm and 0,20mm. Standard blade size is 57x19x0.40mm.
2. 3-hole industrial razor blades. Such slitting blades also come with straight and rounded corners.
3. Injector blades. These are small industrial blades, usually sized 38x8x0.25mm. They have 2 holes for mounting in the slitter machine.
Crush Cut Knives for Crush Cutting
Crush cut knives are machine knives used in crush or score cutting. These industrial knives are also referred to as Crushing knife, Perforating knife, Crush cut perf knife, Score / crush cutter, Score cut knives, Circular Crush / Score knife.
The key to production efficiency and quality of cut material is to select the correct crush cut blade radius and cutting angle. As a general rule of thumb, crushing knives with an angle of 45 degrees (there are 3 alternatives: 30°, 45°, 60°) and a radius of 0.15 mm can be considered universal. You will then be able to confirm, on the basis of practical experience, which particular blade radius and angle is the best to consider in your case. If the crush cutter life is too short, a larger radius or angle may be considered. Crush cutters are available in D2, HSS-M2, Tungsten Carbide. We manufacture and supply both standard and custom crush cut knives and blades for most applications.
Crush cut knife / Crusher knife dimensions
Dimensions of crush knives we can produce

| | |
| --- | --- |
| Outer diameter | 50–140 mm |
| Inner diameter | 19–65 mm |
| Thickness | 2.5–5.0 mm |
| Standard cutting angle | 30°, 45°, 60° |
| Edge radius | 0.05 - 0.30mm |
| Materials | D2, HSS-M2, Tungsten Carbide |
Shear Slitter Knives for Shear Cutting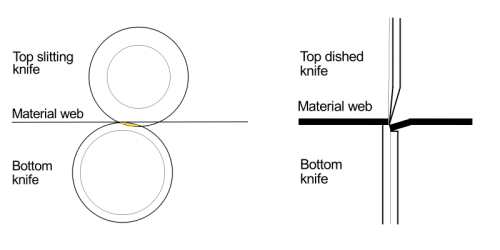 Shear slitting blades can be referred to as top / bottom slitter knives, circular slitter blades, circular shear slitter, rotary slitter knives or rotary shear blades.
Since the shear blades work in pairs, there are 2 knives: a top (male) circular knife or a bottom (female) circular knife.
The top knives can be referred to as rotary shear blades, top shear knives, shear slitting knives, rotary slitting knives, etc. The top knives can be of two types, flat and dished, and are referred to as flat top circular knives and top dished circular knives / circular dished shear slitters accordingly.
The bottom knives can be referred to as grooved circular knives, female circular knives, bottom circular knives. There are different types of female bottom knives, such as: plain bore bottom knives, motor or web driven bottom knives, grooved bottom knives or multi-grooved bottom knives.
Sollex shear knives are commonly used for slitting and converting paper, plastic film and foil, rubber, textiles. We supply shear slitter blades according to your needs and designs.
Dished circular knives dimensions
Dimensions of dished circular knives we can produce

| | |
| --- | --- |
| Outer diameter | 62–250 mm |
| Inner diameter | 40–140 mm |
| Thickness | 0,6–4,0 mm |
| Standard cutting angle | 30° |
| Standard inner dished angle | 5° |
| Materials | D2, HSS-M2, Tungsten Carbide |
| Polishing | Standard Ra 1.6 or Mirror-polishing on demand |
| Coating of knife edge | On demand |
Flat top circular knives dimensions
Dimensions of circular slitting knives we can produce

| | |
| --- | --- |
| Outer diameter | 18–900 mm |
| Inner diameter | 20–140 mm |
| Thickness | 0,3–10,0 mm |
| Standard cutting angle | 30° |
| Materials | D2, HSS-M2, Tungsten Carbide |
| Polishing | Standard Ra 1.6 or Mirror-polishing on demand |
| Coating of knife edge | On demand |
Our high-quality blades have been trusted in the industry by a wide variety of users for over 96 years. Contact Sollex with questions or advice via e-mail at info@sollex.se or call us and we'll be happy to help!