Trapezoid blade type Martor no 614 ceramic coated 50 pcs
59x19x0.65mm - knife with ceramic coating - sharpened on the two short sides - for cutting plastic in horizontal direction 
Watch this product and we will notify you once it is back in stock.
Trapezoid blade type Martor no 614 ceramic coated 50 pcs
59x19x0.65mm - knife with ceramic coating - sharpened on the two short sides - for cutting plastic in horizontal direction 
Utility blade 950K with ceramic coating. Equivalent to Martor trapezoid blade 614. Also available without ceramic coating (950).
Former Martor 614 has been discontinued. Luckily Sollex makes 950 which is the very same blade. The 950K blade is based on Martor 614 but with a ceramic coating on the edges. The 950K blade is special as it is a Utility blade (Trapezoidal shaped) but with side grinding. So the blade have two edges grinded with one sided double grinding. On the grinding we have Sollex ceramic coating to give the blade superior performance and durability.
Blade is optimized for cutting packaging materials especially when two rolls of materials are put together and you need a horizontal cut. The ceramic coating gives long lasting performance on packaging materials such as paper and film with additives.
Suitable for:
Horizontal cuts
Packaging materials such as paper
Film with additives
Dimensions:
Material:
Grinding:

Double edged
One sided
Double bevel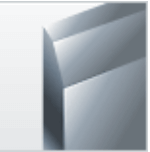 Coating:
Ceramic
Certified coating cleared by FDA and may therefore come in contact with food in the Unites States of America
Packaging: