Blades for Adhesive, Tacky, and Sticky Films and Foils
How to cut different types of adhesive plastic film
Adhesive or sticky films can be used for a variety of household applications. Many texts have been written about how to apply or remove adhesive film and residue. This text is about how to cut adhesive, sticky or tacky film in an industrial way.
Adhesive film can be called sticky or tacky. Stretched film is not the same as adhesive, sticky or tacky, although it may be. Stretch film has been pre-stretched and rolled up during production. When applied, the stretched film will move back to its original length, creating a film suitable for protecting food and goods during transport. In addition, stretched film adheres by electrostatic force.
Adhesive, tacky, or sticky film has some type of adhesive that makes it adhere to the surface to which it is applied. Slitting adhesive film is a challenge for all flexible plastic film manufacturers. It is also a major challenge for the slitting or cutting process.
What is Adhesive Tape or Film?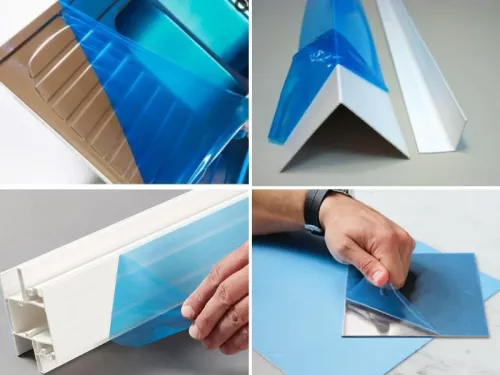 An adhesive or sticky material is a small piece of paper or film that is designed to adhere to a surface. The most common application is to remove a layer from the front or back of a label.
The term adhesive refers to a sticky or tacky substance, while something that is self-adhesive will stick to the product without wetting the application of glue. An example of the most common type of adhesive label is probably the postage stamp. Stickers are also a good example of self-adhesive labels.
Some plastic film manufacturers produce sticky plastic film. It "sticks" to a material by electrostatic attraction. It is widely used to encapsulate food and materials. It can be applied to small surfaces.
Standard tapes are most often made with acrylic adhesive or a UV-sensitive adhesive. Standard tapes (without UV adhesive) are easier to make and therefore more economical. UV tapes have an adhesive that is sensitive to UV rays. Curing for a specific wavelength affects the bond strength of the adhesive film.
There is a wide range of dicing or back-grinding tapes with a variety of models with different tacks and thicknesses. The adhesive force can then be strong or weak. Adhesive films are usually made with LDPE (low density polyethylene), Co-Ex (co-extruded low density polyethylene), PVC (polyvinyl chloride).
PVC is more expandable with acrylic adhesive or other polymers. Without the addition of silicone, the adhesive film is contamination-free. The thickness of an adhesive film is usually between 80 and 270 microns. The thicker the film, the more protection it provides against abrasions, scratches, etc. Thicker films tend to be stiffer and may be more difficult to apply to contoured surfaces.
Temperature is important when making and cutting the film. Never use adhesive film when cold (not below 20 degrees). Temperature resistance for an adhesive label can be -30°C to +90°C (bonded to metal). However, the recommended application temperature is usually above +10°C.
Sticky Stretch Film and Non-Sticky Stretch Film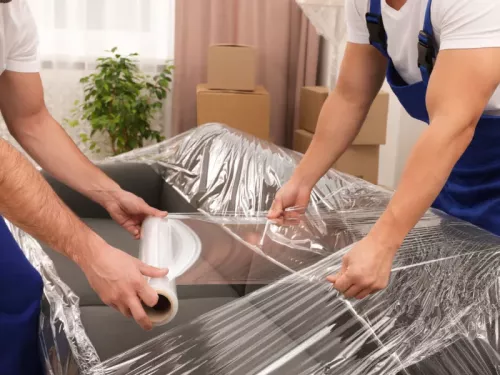 Stretch film is usually made from PE as a raw material. Stickiness is important for stretch film. But why are some films sticky and others not?
The stickiness of stretch film depends on the quality characteristics of the material. The ideal film is ultra-thin, strong, transparent, self-adhesive, and resistant to low temperatures. There are two types of tackiness: one-sided tackiness and two-sided tackiness.
The character of stretch film is cushioning strength, puncture and tear resistance, thin thickness, performance and price. Pre-stretch ratio can be more than 400%. It can be mounted, waterproof, dustproof, scattered and anti-theft.
PE stretch film is made of EVA as the self-adhesive material, and the base material is mainly LLDPE for LLDPE stretch film. By using different layers and materials, it is suitable for different applications.
Higher peel viscosity means better adhesion and seal-ability. High overlap viscosity means less longitudinal displacement of the film. Therefore, the peel viscosity and overlap of the stretch film must be balanced to achieve a strong package. This is usually done by adding PIB additives. Typically, between 1-3% of the material is additive. There are PIB tackifier masterbatches on the market that should be easy to use.
What is Adhesive Plastic Film Used for?
So what are the characteristics of an adhesive stretch film and what is it used for? Electrostatic self-adhesion is the key to the success of a self-adhesive stretch film. Due to its electrostatic attraction, self-adhesive film adheres to a surface. In this way, the self-adhesive stretch film protects the goods from shocks, tilting and even from the problems of scattering during the movement and transportation. It greatly improves the safety of cargo during transportation.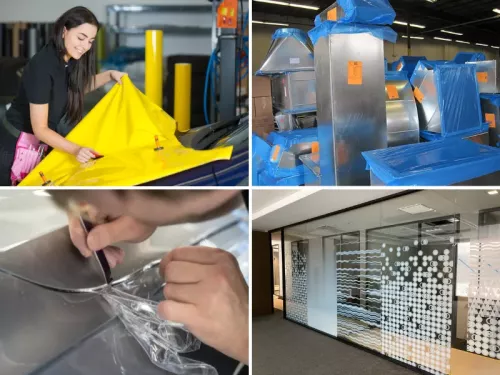 Adhesive Plastic Film in Everyday Life
Regular sticky back film is very common and is used for decoration and crafts, with trendy designs and colors. In everyday life, it is used to cover books, notebooks, boxes, etc. It is also used to make crafts and to customize objects and furniture.
Sticky Plastic Films for Capsuling Food
A self-adhesive plastic packaging film can consist of several layers, called multilayer films. There are films with surface layers made of PE resin and at least one core layer made of a PP-based resin. Such a combination provides excellent tack, microwaveability and flexibility.
The film can also be a see-through tacky plastic film containing PIB compound. This makes it suitable for shrink bags, skin, thermoforming and lidding. This type of film is transparent and gives the protected product a crystal clear appearance. Flexible packaging suppliers are able to produce packaging with a glossy appearance on the retail shelf. Typically, a PE or PET based tray is covered with a shrinkable plastic film. To do this, you need controlled tension shrinkability in your film.
Sticky Plastic Films for Banners, Signs and POS-materials
Self-adhesive film is also a good choice for banners, directional signs, POP displays, window graphics and other general indoor and outdoor signage.
A monomeric PVC film is a cost-effective alternative for short-term applications. Still, it can be water-based, permanently adhesive, with fine cutting and weeding properties and low shrinkage. Adhesive film is also applied to windows.
Adhesive Film for Protecting Parts and Equipment
Use this film on metal and plastic parts, appliances, and electronic equipment for protection against damage during packaging, shipping, and installation.
Sticky Surface Protective Film for Laser Cutting
Often used to protect sheet metal during fiber and CO2 laser cutting, this film also works well for other fabrication processes such as bending, stamping and forming. You can even leave this film on finished parts to protect them from damage during shipping and storage.
Sticky film for Heavy Duty Surface-Protection
Made of woven polyethylene fabric, this is a most puncture-, abrasion-, and tear-resistant surface protection. This film is commonly used on heavy equipment, it guards metal, plastic, composite, and painted surfaces from damage. It can also be used as a protective layer beneath other materials.
Adhesive film for Wear-Resistant Surface-Protection
Commonly used on stair rails, vehicle panels, and heavy equipment, this durable rubber film is tear resistant. Use it to protect metal, wood, plastic, composite, and painted surfaces from damage.
Adhesive film for Multi-Layer Surface Protection
Press this optically clear film into place on windows, mirrors, and glass surfaces. When one layer gets scratched or marred, peel it away to expose a new layer.
Adhesive film for Metallized Surface Protection
The protective film for a metallized surface is a layer of plastic film to protect the manufactured metal product from damage during transportation, storage, handling, processing, installation and other processes. After the metal product is installed or just before use, the protective film is removed so that the metallized surface is clean and has the desired brand-new appearance. With its reflective, mirror-like finish, this film is often used to repair or create new decorative finishes on edge trim, panels, and other flat surfaces.
Adhesive and Dissolvable film
Dissolvable films are polymeric films containing reagents or other active materials that are designed to erode or dissolve in a fluid or liquid. Dissolvable films can be designed to provide a specific release over time. Our experience is that dissolvable films can be adhesive and can be applied as microfluidic cartridges or drug delivery devices.
Converting and Cutting Sticky Plastic Film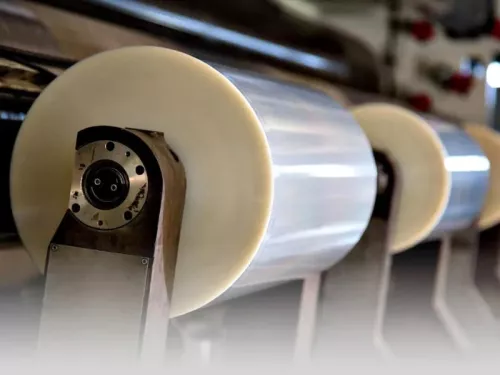 Generally, plastic film is blown or cast. This means that plastic resin is heated and forced through a die that forms a thin film. The next step is to set the desired dimensions of the film. For sticky and tacky films, this is usually done in-line. However, it is also possible to convert the film in a separate process. Film converting, such as rewinding, trimming, and slitting, is done with knives.
There are machines and software to assist in the conversion and trimming process. But in the end, it all comes down to the quality of the cut. Less variance in a precision cut means less trimming, less waste, less scrap, and fewer customer complaints.
How Do You Cut Adhesive Plastic Film in an Optimal Way?
We have found that sticky plastic film has similar characteristics to thin stretched film without additives. To cut this type of film, your blade must have an optimal friction-reducing coating so that the blade can operate at high speed, as heat is generated by friction between the film and its contact with the blade.
In general, try to use the thinnest blade possible, but be aware that a blade that is too thin is more flexible and will generate vibrations. Major adhesive film manufacturers use Sollex 0.30mm thick blades for a combination of thickness and stability during high speed production.
Therefore, we generally recommend Sollex Zero Friction Coated blades for sticky plastic films and thin stretched films. For cutting paper, plastic and adhesive labels, we have found that our ceramic coated blades perform better.
Challenges when Cutting Adhesive Plastic Film
1. Use Correct Blades to Avoid Edge Burns or Reduce Friction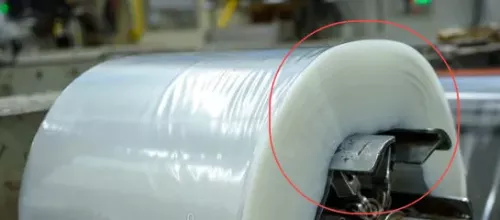 In the production of stretched adhesive films, there can be a problem with heat generated edge burns. These are localized hot zones that blur the edges of the film. Edge burns occur on the side of a roll as the extruded film is wound.
During winding, the heat and pressure distort the film.This distortion makes it impossible to unwind. The amount of heat depends on the film structure, resins and additives. Films with tough additives and a sticky nature, such as mLLDPE, are sensitive to this problem and create more friction than others during slitting. Friction and speed generate heat that causes edge burns.
You can dramatically improve your slitting quality by reducing friction when slitting sticky or tacky films. Sollex Zero-Friction Technology is designed for manufacturers of adhesive, sticky or tacky films.
Sollex Zero-Friction blades keep your film cool and ensure an optimal slitting process. However, we have found that our ceramic coating performs better on tough additives.
2. Sollex Blades for Avoid Dust or Particles on Adhesive Film
Due to static electricity, particles can "jump" from the slit onto the material when slitting adhesive film. If film and "too many" particles are wound up, it can spoil the final product. Therefore, there is a risk of reduced production or potentially scrapped products due to any loose particles in the process.
Your process needs blades that minimize dust and particles. There are basically two options. Blades that minimize dust or rolls that remove particles. Using the right blade is a far more efficient and cost effective way to keep your film free of dust and particles than particle-removing rolls. Sollex Zero-Friction Blades create a minimum of particles when cutting adhesive or sticky films. Using Sollex blades can eliminate the need for particle removal rollers.
Blades for Digital Cutting Systems and Plotter Cutters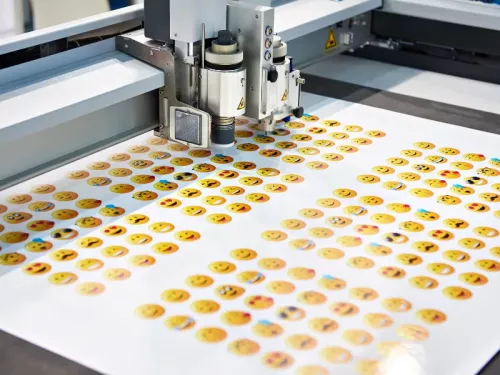 Over the past 20 years, it has become increasingly common to cut sheets of self-adhesive film, such as stickers, with paper using cutting or plotter systems.
This type of cutting is a completely different process than cutting film in-line. The same point on the plotter knife is used over and over again. In addition, a sticker on paper is a very abrasive material. Therefore Sollex uses solid tungsten carbide for knives that are used in cutting systems such as Zund or Summa. We have a wide range of blades for Zund and Summa.
Sollex Snap-off Blades for Manual Cutting of Adhesive Films
Sollex knives and blades are well known accessories for everyone in the display, sign and graphic industry. Made in Germany, these blades are a symbol of top quality for self-adhesive plastic films. They are suitable and recommended for all self-adhesive films and textile vinyls. Sollex manufactures blades that can be used for both personal and industrial applications.
Caution: Sollex blades are extremely sharp. Handle with care.
Sollex snap-off knives and blades are suitable for all types of self-adhesive films. Sollex snap-off blades will easily and safely cut static cling without damaging the film. Sollex blades are also suitable for paper, vinyl, art, graphics, crafts and much more.