Blades for Blown Film Extrusion, Flexographic Printing, and Converting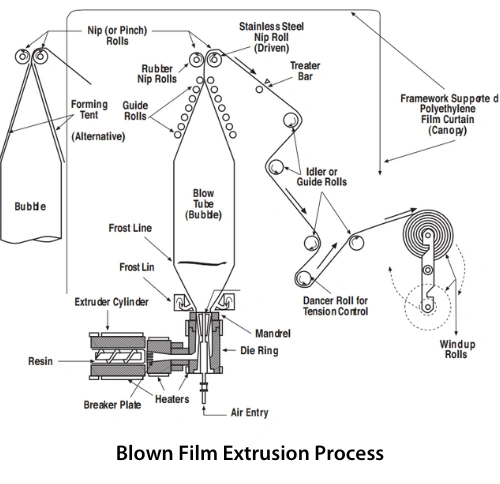 Plastic film products for industrial usage are all over in everyday life. Blades for making industrial packagings and technological film is essential for making high quality film products. The different processes in blown film extrusion, Flexo printing, and converting make it essential to chose and use the right blade. This text describes optimized blades for blown film extrusion, blades for stretched film, blades for films with additives, blades for co-extruded films, blades for converting films, and blades for printing on films.
Blown Film Extrusion Process Overview
Let's start by defining what film extrusion is. Blown film extrusion is one of the most common methods for obtaining plastic film from resin plastic materials. Film can be extruded either as a thin-walled tube, cooled by air, or as flat sheet cast onto chilled rolls or into water. To understand what type of blade that are needed in the different processes we firstly describe how blown film is manufactured.
Plastic film blowing process is an extrusion process. Melted plastic resin is extruded through a die. The melt is cooled before leaving the die to yield a weak semi-solid tube. A giant blown film bubble. In this case the extrusion die is shaped as a circle and air pressure is used to let the film expand. Air pressure expands the tube's diameter, and the tube is drawn upwards with rollers, stretching the plastic in both the transverse and draw directions.
Stretching the plastic film makes it thinner and aligns the polymer molecular chains. How the film is blown and drawn decides the characteristics of the film. When it reach desired dimensions it is cooled and solidified. This is called the frost line in blown film extrusion. Films are typically defined as less than 0.254 mm (10 mils) in thickness, although blown film can be produced as high as 0.5 mm (20 mils).
Blown film extrusion can make monolayer blown film as well as more complex multilayer blown film. Co-extrusion is when more than one plastic is used when making a single film. Filler and color masterbatches are used to improve the film and give it a certain color. Desiccant masterbatch solves moisture problem when storing the film.
Which material is used for blown film extrusion?
Many different polymers can be used in blown film extrusion. The most common materials are polypropylene and polyethylene (LDPE, HDPE and LLDPE). Sometimes special film properties are required, such as a combination of stiffness and strength, which can be obtained by blending LLDPE or mLLDPE with HDPE. Adding LLDPE to HDPE increases impact strength, tear resistance and can improve sealing properties.
Other polymers that are processed by blown film extrusion are: polyvinyl chloride (PVC), polystyrene (PS), ethylene vinyl acetate (EVA), ethylene vinyl alcohol (EVOH), polyamide (PA), and polyurethane (PU).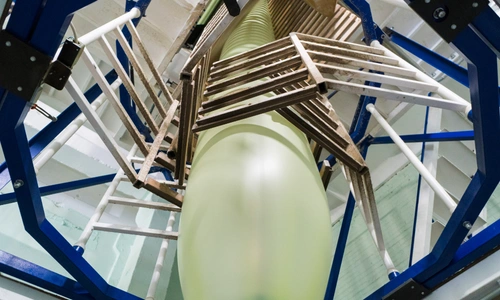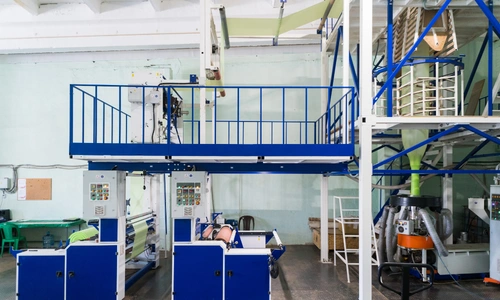 What type of final product can blown film process?
Blown film is used to produce a wide variety of products. Simple monolayer films for bags is one every day usage. Complex multilayer films can be used in food packaging. Multilayer films can be made by blown film co-extrusion which is when two or more polymer materials are extruded together.
Blown film extrusion is the base for industrial films, bags, agricultural- and construction films, barrier films, stretched films, PVC cling films, laminating films, and high barrier small tube systems.
Example of blown film extrusion products

| | | | |
| --- | --- | --- | --- |
| General flexible packaging film | Film for filling and sealing packaging | Films for transport packaging | Film for waste bags |
| Label film | Protection film | Barrier film | Stretch wrap film |
| Bio plastic films | FFS heavy-duty sacks | Laminating film for coatings | Collation shrink film |
| Stretch hood film | Shrink hood film | Construction film | Agricultural film and many more |
Blown Film Extrusion Machine Manufacturers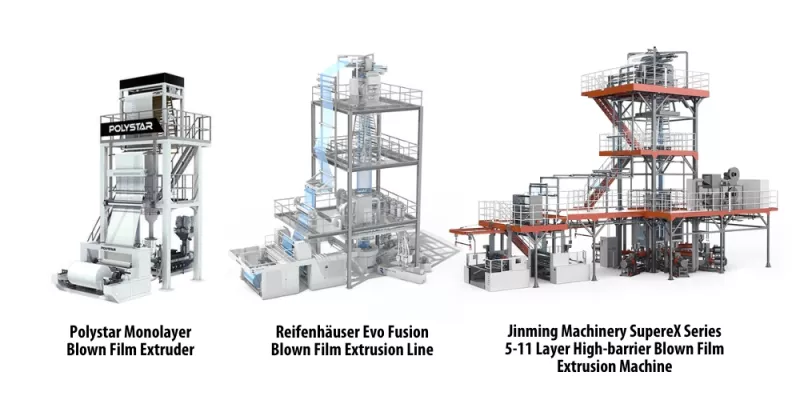 The leading manufactures of blown film lines are: Windmöller & Hölscher, Polystar Machinery Co. LTD, Reifenhäuser GmbH & Co. KG Maschinenfabrik, BANDERA, Hosokawa Alpine AG, Colines S.p.A., OCS Optical Control Systems GmbH, Ferrarini & Benelli Srl, B.G. Plast Implant S.r.l., Brabender GmbH & Co. KG, COLLIN Lab & Pilot Solutions GmbH, Davis-Standard LLC, Rieckermann GmbH Machinery & Industrial Solutions, MACCHI SPA, Lung Meng Machinery Co. Ltd, Jinming Machinery (Guangdong) Co. Ltd, Polystar Machinery Co.
Advantages of blown film extrusion
Blown film extrusion has a number of advantages. As a manufacturer, you have the ability to control the mechanical properties of the final product. You can stretch the film in both directions, which gives it strength. In addition, blown film is a flexible production method that allows a wide range of single and multi-layer films of different thicknesses and widths to be produced.
Blades for Extrusion Blown Film Machines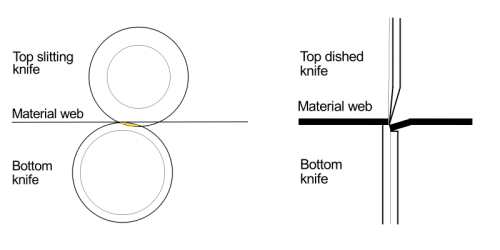 Circular top knives and bottom knives provide the most durable slitting technique in the packaging industry. As the edge rotates, film wear on the knife is evenly distributed along the rotating edge. In addition, the bottom knife holds the web in place for the slitting process.
The circular knife is durable. However, the final plastic film product is cut better with a razor blade. Circular knives are useful for films over 100 micrometers thickness. Below that thickness, use razor blades. Another common advantage of using circular knives is that you can usually cut film at a very high speed if the speed of the knife is the same as the speed of the blade. But you will probably end up having to cut the film in the converter again at a slower speed to get a decent end product. With the right razor blade, you can cut the web straight down in line, avoiding the second cutting/converting process.
Blades for cutting films with additives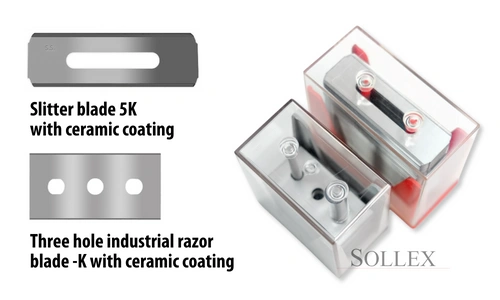 There are many different materials with polyethylene and the addition of functional additives. For example, a white film with chalk additives. Or a film with VCI to protect metals against corrosion. Or a film with titanium as an additive. These additives modify the film so that the slitting process becomes solely a wear problem.
In this case, the Sollex K coating performs well. The 5K slitting blade or the 2-013-K, 2-020-K or 2-030-K three-hole razor blade has superior wear resistance compared to conventional blades. With Sollex K coating, which means ceramic coating on the edges of blade, you can get razor blade cut quality in line without a second conversion process. The key to optimal performance is blade thickness. A thinner blade provides a better cut. We have found that the 5K works in line. If the film is of extreme abrasive character we suggest you try our X, V, or C blades. These Sollex blades withstand abrasion like no other. So start by trying Sollex K quality. If extreme durability is needed try the X, V, C blades.
Blades for recycled plastic and bio materials
Film containing biomaterials and recycled plastic (e.g. PCR) is generally much more difficult to cut perfectly compared to virgin film. To cut recycled film and biomaterials, a thinner blade, such as 0.13 mm, is used to get the thinnest possible cut line. We made sure that the 2-013-K and 2-013-Z work with recycled and biomaterials.
Blades for blown stretch film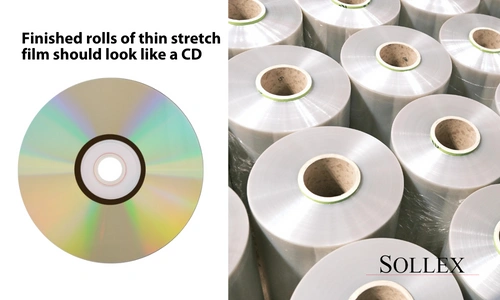 The thinnest possible blade will make the thinnest cut. However, when cutting thin stretched film at high speed, speed creates stress in the blade, which can cause the blade to vibrate. Therefore, for thin stretch film at high speed, you will need a slightly thicker blade.
Sollex has found that our 5Z and 4-60-030-Z blades work very well in high speed machines producing thin stretched film. These blades perform at optimum performance on films from 8 to 40 micrometers thickness. The combination of optimum stainless steel, grinding and zero friction coating makes the 5Z Slitter blade and 4-60-030-Z Three hole blades well suited for slitting or cutting thin stretch film. Finished rolls of thin stretch film should look like a CD disk when viewed from the side. Sollex 5Z and 4-60-030-Z provide CD-roll quality on the finished stretched film.
Co-extrusion Blown Film Process Overview
A single polymer cannot meet all the demands for some desired applications. For these applications there is the co-extrusion process. Co-extrusion is simultaneous extrusion of multiple layers of material. This multilayer blown film extrusion process uses two or more extruders to melt and push a continuous melt of plastic resin to a single extrusion die that extrudes the materials. Thickness of the layers are controlled by speeds and sizes of the individual extruders delivering the materials.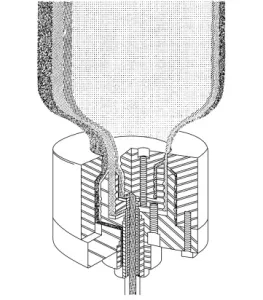 Co-extrusion of multiple layers within a film can increase the options available in designing films. For example, each layer can be optimized to perform a different function for example:
Incompatible resins can be used in different layers
High gloss surfaces can be produced
Non-sealing layers may contain a higher density blend to provide stiffness without affecting sealing

Antiblocking additives can be added to only the surface where they are required

Stretch wrap film can be produced with high cling on only one side

In some cases, film can be produced with more slip on one side.
Common multilayer blown film machine manufacturers are: Windmöller & Hölscher, Davis-Standard LLC, Macro Engineering & Technology Inc, Alpha Marathon Film Extrusion Technologies Inc., BANDERA SpA, Windsor Machines Pvt. Ltd., Plasco Engineering Inc.
Blades for Co-extrusion Blown Film Machines
Coextrusion allows mixed material to be extruded. Coextrusion is good because the separate materials are arranged in different layers in the final product. This gives the advantage of material placement and different properties such as oxygen permeability, strength, stiffness and abrasion resistance. In specific cases where Sollex has dealt with co-extrusion or combined extrusion knives, we have found that the Sollex part 5K or 2-020-K works wonders. We highly recommend that you try these co-extrusion knives in line.
Blades for Flexo printing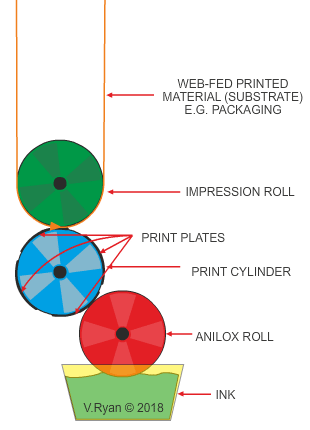 Flexographic printing, or Flexo as it is better known, is a direct rotary printing process. Images are transferred from a flexible photopolymer embossed plate onto a continuous substrate that comes in rolls. It can be printed on virtually any flexible substrate material such as paper, plastic, cellophane, metal films, wax paper, ribbon, metal foil, and many others.
Sollex supplies different industrial blades to flexible packaging manufacturers. Most Sollex customers have their own flexo print process with a variety of flexo printing machines. Flexo printing is the most common printing process on plastic film as a second step in the production process. It is printed using photographic clichés. You can print in four colors. In some cases a printing press can be installed in the extrusion line. Meaning it is possible to extrude film and print on it in line.
For converting, and flex printing processes, it must always be considered that the ink acts as an abrasive material while cutting it with an industrial blade. Therefore, in order to facilitate the cutting process do consider to slit the film in the non-printed area.
But customers who do require film slitted in the print area, Sollex highly recommends the 2-013-K and 2-013-X industrial razor blades because these blades are resistant to abrasion from color. In addition, these blades are so thin that you'll get optimal results in the final product.
Blades for Converting
Converting - the final step in industrial blown polymer film processing efter extrusion and printing. Converting machines is the core of flexible packaging production. Narrow web converting equipment performs converting processes such as Slitting and Rewinding, Die-cutting and Finishing. Medium and wide web equipment is used for Slitting and Rewinding as well as Laminating.
Basically a blown film with certain measurements is cut down by knives for the converting industries. Converting knives are needed to get the desired final product design
Sollex has numerous blades for converting film and foil to desired final products. In the end it depends on what type of film your machine is converting. Thin stretched film can be converted in high speed with 5Z, 4-60-030-Z or 2-020-Z. Film with abrasive additives are best converted with 5K, 2-020-K or 2-013-K. Usually the thinest blade convert with the best edge result. But in high speed the thickness is needed to keep the blade stable.
Sollex - Your supplier of industrial knives and blades
Sollex is your industrial blade manufacturer and supplier. We are based in Sweden, Europe and work solely with circular knives, industrial blades and razor blades. We have a large variety of different industrial razor blades such as slitter blades, straight three hole blades, round 3 hole slitter blades, reinforced single edge blades, injector blades, industrial double edge razor blades.
Our industrial-type razor blades are made of high quality stainless steel with different coatings on the edge or side of the blades. Sole blades we make in solid tungsten carbide or ceramics. If you do not find the razor blade you are looking for, Sollex are able to manufacture industrial razor blades according to your drawing. Feel free to contact us at +4635-15 75-00 or at info@sollex.se if you have any questions regarding our industrial razor blades.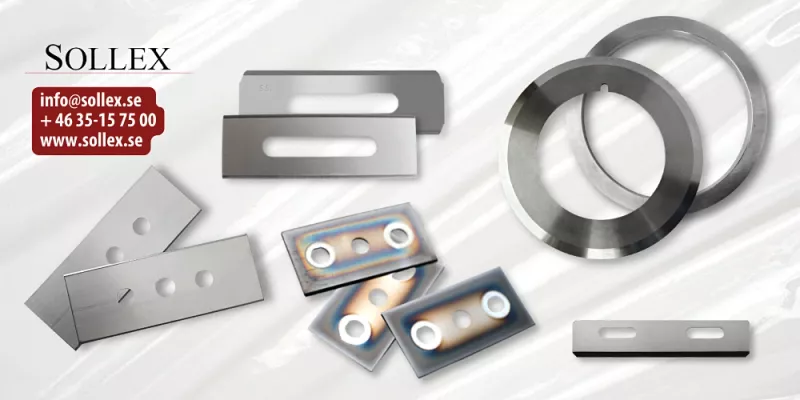 ________________
*The data input this blog post comes from : Plastic extrusion https://en.wikipedia.org/wiki/Plastic_extrusion#Blown_film_extrusion, Qenos Polyethylene Technical Guide Series: 3. FILM EXTRUSION AND CONVERSION, 2015; www.draken.se. Pictures by V.Ryan (2018) from technologystudent.com and Dynisco, Introduction to Extrusion: dynisco.com